Events
We're sorry, but we couldn't find any events
About
The award-winning confrontational comedian
From his early writings and performances at secondary school, London-born Nick Helm has grown into one of the UK's best loved comedians.
He began doing stand-up in 2007 and quickly built a reputation for his rollercoaster live shows. Known for being brash and bullish, Time Out called him "a true comedy daredevil."
In 2010, Helm took his first solo show, Keep Hold Of The Gold, to Edinburgh Festival. Later that year Helm made his TV debut on Russell Howard's Good News.
Since then he's become a regular face on panel and comedy programmes like Live At The Apollo, Celebrity Mastermind and Comedy Central's Drunk History. Audiences have also loved seeing him serenade and flirt with lexicographer Susie Dent on 8 Out Of 10 Cats Does Countdown.
Over the years, Helm has returned to Edinburgh Festival Fringe numerous times with critically acclaimed shows including 2011's Dare To Dream (nominated for the Fosters Best Show award), 2012's This Means War and 2013's One Man Mega Myth.
In 2014, not only did Helm receive the Best Breakthrough Artist at the British Comedy Awards and The Times Breakthrough Award, but he also landed several notable TV roles. He played Andy King, a depressed musician who starts caring for his quirky 12-year-old nephew, on the BBC sitcom Uncle from 2014 to 2017. Plus, in 2017 Helm starred as Watto in the Channel 4 show Loaded about a group of IT entrepreneurs, before embarking on his first full UK tour with There Is Nothing You Can Do To Me That I Haven't Already Done To Myself. 
Following his 2019 Edinburgh Festival Fringe run, Helm returned to the road with the show Phoenix From The Flames, which saw him "shaking his ass, singing songs and righting wrongs".
During the lockdown of 2020, he created the seven-episode YouTube sitcom about an online quiz called Angry Quiz Guy.
In February 2021, Helm announced a special livestream performance of his Phoenix From The Flames show for 24 April 2021.
News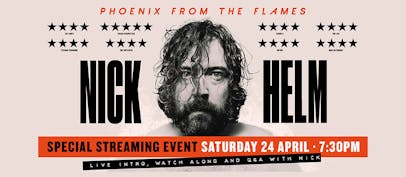 Nick Helm announces a livestream performance
Catch his latest show, Phoenix From The Flames, during a special streaming event on 24 April 2021.
FAQS
Nick Helm has announced a livestream performance for Saturday 24 April 2021, complete with an intro and a Q&A. The show will also be available for download.

The two-time Edinburgh Comedy Award nominee and self-proclaimed "International Treasure In Waiting" will be performing his latest show, Phoenix From The Flames, which is full of singing, dancing, a**-shaking and the righting of wrongs.

Tickets for Nick Helm's livestream show go on sale from 10:00 on Thursday 25 February 2021.