Events
International Events
1 Events
About
The Welsh pop-punk outfit
Buy Neck Deep's All Distortions Are Intentional here
Hailing from the town of Wrexham in Wales, Neck Deep initially formed when vocalist Ben Barlow met lead guitarist Lloyd Roberts through Barlow's older brother, Seb. Having penned a number of tracks on his own, Barlow and Roberts posted their song What Did You Expect online under the Neck Deep moniker, going on to enlist guitarist Matt West, drummer Dani Washington and bassist Fil Thorpe-Evans. Following the release of their debut Rain In July EP in 2012 and A History Of Bad Decisions a year later, the five-piece signed to Californian independent label Hopeless Records. Their debut full-length, Wishful Thinking, followed in 2014.
The album quickly cemented Neck Deep as one of the most exciting voices in contemporary pop-punk both in the UK and further afield, securing the band a position on the Billboard Heatseekers Albums chart in the United States. Its release has since been credited as a defining moment in UK pop-punk, injecting life back into an otherwise dwindling scene.
With various members foregoing prior commitments in favour of the band, Neck Deep settled into their stride, touring heavily across the UK and the US with the likes of We Are The In Crowd and Knuckle Puck, and securing a spot on the globally renowned Warped Tour. Capitalising on their popularity, their sophomore full-length Life's Not Out To Get You followed in 2015, breaking into the top 10 on the UK album chart and peaking at No.17 stateside.
Celebrating the album's release with further live shows across the globe, Neck Deep parted ways with founding member Lloyd Roberts who was replaced by former Climates and Blood Youth member Sam Bowden. With Bowden in place, the band recorded their third studio album The Peace And The Panic. Released in 2017, it reached No.4 on both the UK and US album charts. Shortly afterwards, Thorpe-Evans departed the band to pursue an individual production career, replaced by Joshua Hailing on bass. The new formation went on to join pop-punk veterans blink-182 and crossover rapper Lil Wayne on a high profile US tour.
At the beginning of 2020, Hailing was replaced by Ben Barlow's older brother and longtime collaborator Seb Barlow on bass, and the band unveiled new single Lowlife – the lead track from their fourth studio album All Distortions Are Intentional. The album followed in July 2020, alongside news that Neck Deep would support it with a headline UK tour.
In March 2021, the band announced those dates had been rescheduled to January 2022.
News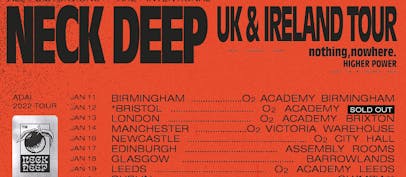 Neck Deep announce rescheduled tour
The band will take their latest album All Distortions Are Intentional across the UK in January 2022. Original tickets remain valid.
FAQS
Neck Deep have announced UK headline dates for 11 – 19 January 2021.

Neck Deep will play shows in the following cities in 2021:

Birmingham
Bristol
London
Manchester
Newcastle
Edinburgh
Glasgow
Leeds

Tickets for Neck Deep's 2021 tour dates are on sale now. Original tickets remain valid for rescheduled shows.

Neck Deep are:

Ben Barlow
Dani Washington
Matt West
Sam Bowden
Seb Barlow

Neck Deep have released four studio albums.

Wishful Thinking (2014)
Life's Not Out To Get You (2015)
The Peace And The Panic (2017)
All Distortions Are Intentional (2020)

Neck Deep's songs include:

In Bloom
December
Can't Kick Up The Roots
Serpents
A Part Of Me
Motion Sickness
Lowlife
When You Know
Fall

Neck Deep formed in Wrexham, Wales, in 2012.