Events
Loaded 20 out of 31 events
About
The side-splitting Irish mammy
Award-winning comedian and writer Brendan O'Carroll created Mrs. Browne, a Dublin widow with numerous children, in the early '90s when he was a struggling performer. At the character's first appearance on RTÉ 2 in 1992, the actress who was set to play her didn't show up, so then 35-year-old O'Carroll stepped in and was a huge success.
A series of stage shows, radio plays and books written by O'Carroll followed throughout the decade, with the 1999 film The Mammy starring Angelica Houston adapted from a script he wrote called Agnes Browne.
After several straight-to-DVD films were recorded, the character was retired for a while until BBC approached him about making a sitcom. Mrs. Browne lost the "e" and Mrs. Brown's Boys launched on television in early 2011. Although the first TV series didn't receive critical acclaim, it returned in 2012 and picked up five major awards including a Bafta for Best Scripted Comedy. By the time the third series came out in 2013 (kicking off with two Christmas specials), Mrs. Brown had a legion of fans.
Several live shows followed throughout the 2010s, with Mrs. Brown's Boys D'Movie – about a company threatening her livelihood by trying to shut down her fruit and veg stall – released in 2014.  
In 2017, the TV series returned to BBC as All Round To Mrs. Brown's, a chat show hosted by the foul-mouthed Irish mammy. Again racking up record-breaking viewing figures, it returned in 2018 as a quiz called For Facts Sake hosted by Mrs. Brown and again in 2019 with the specials Orange Is The New Mammy and A Wonderful Mammy.
In addition, Mrs. Brown's Boys D'Musical? played in UK arenas throughout 2019. Mrs. Brown's Boys D'Live Show, an extension of that popular musical, was set to tour in 2020, but the dates were rescheduled to 2021. On 1 December 2020, five additional shows were added in Sheffield and Manchester due to demand.
Performing in some venues and cities that they haven't appeared in for many years, O'Carroll promised a side-splitting experience saying, "It's the funniest thing I've ever written. Even I laugh and I know what's coming next!"
News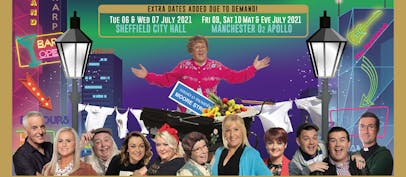 Extra dates added in Sheffield & Manchester
Due to huge demand, Mrs. Brown's Boys announced five additional shows in July 2021. Tickets on sale 10:00 Friday 4 December 2020.
FAQS
Mrs. Brown's Boys D'Live Show – dubbed "The Musical For Moore Street" – is touring the UK from 4 June – 18 July 2021.

Mrs. Brown's Boys D'Live Show is stopping in the following places in 2021:

4 – 5 June 2021 – The SSE Hydro, Glasgow
7 – 9 June 2021 – Bonus Arena, Hull
11 – 12 June 2021 – Eventim Apollo, London
14 – 16 June 2021 – Blackpool Opera House
21 – 22 June 2021 – Bournemouth International Centre
25 – 26 June 2021 – Motorpoint Arena, Cardiff
2 – 3 July 2021 – Utilita Arena, Birmingham
6 – 7 July 2021 – Sheffield City Hall (new dates)
9 – 10 July 2021 – O2 Apollo Manchester (new dates)
16 – 18 July 2021 – Edinburgh Playhouse

Tickets for Mrs. Brown's Boys' Sheffield and Manchester shows go on sale from 10:00 on Friday 4 December 2020. All other Mrs. Brown's Boys tour dates are on sale now.