Events
Loaded 17 out of 17 events
About
Liverpudlian rock crooner with swagger and a sharp sense of style
Get the album Change The Show here
Miles Kane was raised in Wirral, where he was surrounded by music. He learned to play saxophone and guitar as a child – plus two of his cousins, James and Ian Skelly, became founding members of The Coral.
When he was 18, Kane began performing in a group called The Little Flames. They often gigged at the same pubs as the Arctic Monkeys. After disbanding in 2007, Kane formed a three-piece named The Rascals that wound up supporting the Arctic Monkeys.
While touring together, Kane and Arctic Monkeys' frontman Alex Turner started a side project as The Last Shadow Puppets to experiment with new ideas on musicianship. They even recorded a debut album, The Age Of Understatement, which topped the UK charts when it came out in 2008. Their first live performance was a secret acoustic set at Glastonbury that summer.
In 2009, Kane left The Rascals to strike out on his own. On the heels of lead singles Inhaler and Come Closer, his debut solo album Colour Of The Trap arrived in 2011, with many of its tracks co-written by Turner. Kane soon found himself supporting Courteeners and Liam Gallagher on tour.
Influenced heavily by classic and glam rock as well as artists ranging from John Lennon and Lee Hazlewood to Serge Gainsbourg and Paul Weller, he quickly grew a loyal fan following as well as a reputation for energetic performances and blistering live shows.
Produced by Ian Broudie of The Lightning Seeds, Kane released his second solo effort, Don't Forget Who You Are, boasting two tracks co-written by Weller (Fire In My Heart and You're Gonna Get It), in 2013.
Kane later joined forces with Mark Ronson to write the song Johanna for the 2015 film Mortdecai, plus got back together with Turner to record The Last Shadow Puppets' follow-up, 2016's Everything You've Come To Expect. The next year, he was part of The Beatles cover band Dr Pepper's Jaded Hearts Club alongside Muse's Matt Bellamy and Blur's Graham Coxon.
In 2018, Kane released his third solo album Coup De Grace, titled as a reference to the closing move of his favourite WWE wrestler. Among the songs are a couple of collaborations with artists like Lana Del Rey and Jamie T. Following a string of festival appearances, he unveiled the single Blame It On The Summertime and then embarked on an intimate run of UK and Irish dates.
In early 2021, Kane duetted with Scottish singer Brooke Combe in a soulful cover of Womack & Womack's Teardrops. That September, he revealed the lead single Don't Let It Get You Down from his fourth album Change The Show, due out on 21 January 2022. In addition to elements of Motown and soul, it features a guest appearance from Grammy-nominated singer Corinne Bailey Rae on Nothing's Ever Gonna Be Good Enough.
After selling out a September 2021 show at London's Omeara, Kane confirmed a UK tour with support from Combe in January and February 2022.
News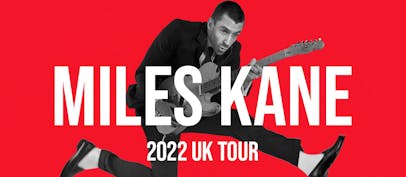 Miles Kane to tour the UK in 2022
The soulful artist announced he'd be hitting the road in January and February 2022 in support of his forthcoming album Change The Show. Tickets go on sale from 10:00 on Friday 10 September 2021.
FAQS
Miles Kane is touring the UK from 28 January – 19 February 2022 in support of his forthcoming album Change The Show.

Miles Kane will be visiting the following UK cities on his 2022 tour:

Manchester
Sheffield
Newcastle
Birmingham
Cardiff
Bristol
Oxford
Southampton
Norwich
Cambridge
Northampton
London
Nottingham
Liverpool

Support for Miles Kane's 2022 tour will come from Scottish singer Brooke Combe.

Tickets for Miles Kane's 2022 tour dates go on sale from 10:00 on Friday 10 September 2021.