Events
Loaded 20 out of 30 events
About
Playful, intelligent comedian who lays himself bare on stage 
Known for his thought-provoking, often visceral stand-up, Mike Bubbins is a former Elvis impersonator who made it to the finals at the European Elvis Tribute Act Championship. In addition to being a comedian, he's built a strong reputation as a TV, radio and podcast writer and star.
Hailing from Barry, South Wales, Bubbins was a professional rugby player, coach and PE teacher before he launched his stand-up career in 2008. He began performing at many of the UK's arts and music festivals and made his debut at the 2009 Edinburgh Festival Fringe with It's Not The End Of The World (But You Can See It From Here).
Over the years, Bubbins has appeared in numerous popular programmes for BBC Radio Wales including the Machynlleth Stand-Up Show, Kafka's Metamorphosis, To Hull And Back and Under The Stars. Plus, he co-created and starred in The Unexplainers, a hit paranormal comedy in which he investigated mysteries that ran for five series and then transferred to television.
Bubbins' other radio credits include Blood On The Tracks and Fighting Talk as well as writing and starring in Mike Bubbins: Daytripper and Two Men One Job.
In 2017, Bubbins returned to the Fringe with the stand-up show Retrosexual Male, his ode to the 1970s. The following year, he began appearing on TV with Sally Phillips in Tourist Trap, a semi-scripted comedy set at a fictional tourist board in Wales.
Bubbins launched The Socially Distant Sports Bar podcast in 2019 that he continues to host with Elis James and Steff Garrero. He's also a regular contributor on the rugby podcast Blood And Mud, and stars on the cult hit The Beef And Dairy Network as deranged slaughterhouse owner and religious leader Eli Roberts.
In early 2021, Bubbins revealed he was piloting a BBC sitcom called Mammoth about a macho '70s PE teacher. He also announced he would be hitting the road with his first ever solo UK stand-up tour Throwback from February to April 2022.
News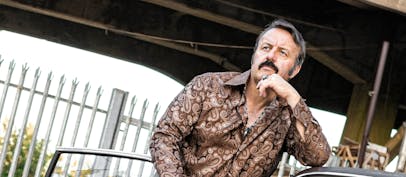 Mike Bubbins announces 2022 UK tour
The comedian is heading out on a solo UK stand-up with the show Throwback from February to April 2022. Tickets go on sale from 10:00 on Friday 30 July 2021.
FAQS
Mike Bubbins is touring the UK from 12 February – 8 April 2022 with his brand new show Throwback.

Mike Bubbins will be visiting the following UK cities on his 2022 Throwback tour:

Northampton
Edinburgh
Glasgow
Newcastle
Leamington Spa
Port Talbot
Portsmouth
Birmingham
Cheltenham
Nottingham
Swindon
Colchester
Bristol
Sheffield
Leeds
Barry
Brighton
Aberystwyth
Leicester
Carmarthen
Winchester
Treorchy
Rhyl
Newport
Cardiff
Maidenhead
Milford Haven
Caernarfon
Shrewsbury
Chorley
Runcorn
Ffwrnes
Bridport
London
Norwich
Barnsley

While Mike Bubbins likes to think of his brand new stand-up show Throwback as an hour of comedy that pushes boundaries, defies descriptions and challenges the audience... it's actually more like 90 minutes of really funny stories, pretty impressive characterisations and possibly a song (he'll see how that goes), along with nostalgia for the good old days and a bit of optimism about the good new days. Never one to take himself or anything else too seriously, Throwback will see Bubbins having a laugh about life.

Tickets for Mike Bubbins' 2022 tour dates go on sale from 10:00 on Friday 30 July 2021.