Events
International Events
1 Events
Loaded 14 out of 14 events
About
The deeply soulful singer-songwriter
Buy KIWANUKA by Michael Kiwanuka here
Michael Kiwanuka always knew the kind of music he wanted to play, it just took him time to allow himself to do so. The son of Ugandan immigrants, Kiwanuka stumbled through two aborted university degrees and session gigs as a guitarist for music he never cared for before finally coming to terms with the fact that it was perfectly acceptable for a black man to play soulful folk.
The young Kiwanuka discovered a passion for the guitar, something he kept to himself until discovered that Jimi Hendrix wasn't a "punky white guy". A bit of digging uncovered more talented black guitarists who fit more with the music that appealed to him. Still, it took a bad experience playing back-up for a rapper to point Kiwanuka in the right direction.
Gigging around London led to Kiwanuka being embraced by the Communion collective and Paul Butler of The Bees. A memorable 2011 followed, with Kiwanuka touring with Adele – which he approached as a performance apprenticeship – signing with Polydor and appearing on Later… With Jools Holland.
Before his debut album had even been released, Kiwanuka was named the BBC's Sound of 2012. When Home Again arrived two months later, it reached number four in the album charts and was nominated for the Mercury Music Prize.
Kiwanuka toured relentlessly in the wake of Home Again, not returning to the studio until 2015 to start work on his second full-length Love & Hate. Released in 2016, the critically acclaimed, Danger Mouse-produced album went to No.1 on the UK album charts. Its epic opening song Cold Little Heart became the theme song to the HBO series Big Little Lies.
In 2019, Kiwanuka released his third album KIWANUKA, again to rave reviews and yet another Mercury Prize nomination (his third in three albums). The album found Kiwanuka once more exploring a world where psychedelic folk, jazz and soul co-exist in harmony, drawing influences from diverse pots such as Pink Floyd, Bill Withers and Stevie Wonder. It was an ever-present on most end-of-year best album lists.
Kiwanuka announced a tour to support the album. In March 2021, the tour was rescheduled to May 2022.
News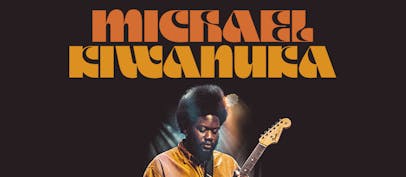 Michael Kiwanuka reschedules his UK tour
He'll be back on the road playing his latest album KIWANUKA in May 2022. Original tickets remain valid.
FAQS
Michael Kiwanuka is taking his new album on tour from 6 – 25 May 2022.

Michael Kiwanuka is playing the following cities in 2022:

• Glasgow

• Leeds

• Leicester

• Cambridge

• Blackpool

• Hull

• Manchester

• Newcastle

• Brighton

• Plymouth

• London (O2 Academy Brixton)

• London (Alexandra Palace)

Tickets for Michael Kiwanuka's 2022 tour dates are on sale now. Original tickets remain valid for rescheduled dates.