Martial Arts
Michael Bisping
Events
International Events
1 Events
About
First ever British UFC champion takes to the stage
Michael "The Count" Bisping was born in Cyprus and raised in Lancashire. He got his first experiences of martial arts with jujitsu when he was eight, before progressing to kickboxing in his teens. Attempts to turn pro didn't quite pan out at first and Bisping was forced to abandon full-time training to find regular work, primarily as a labourer on building sites.
With the advent of MMA and UFC in the early 2000s, Bisping saw an opportunity to make something of himself and quit his job to return to training. He made his professional debut in 2004 but still found it a struggle to make ends meet as a fighter. It was only through the US reality series Ultimate Fighter in 2006 that Bisping finally started to break through, beating Josh Haynes to become the series' first non-American winner.
Bisping's reputation only grew over the years that followed. By 2016, he went into a championship fight against Luke Rockhold with a 14-6 record and eight KOs to his name. He was unfancied against the American, but staged a surprise victory with a first-round KO, becoming the first ever British UFC champion.
Bisping lost his title in November 2017 when he was defeated by Georges St-Pierre via a technical submission. Later that month, he sustained an eye injury in a defeat to Kevin Gastelum that forced him to retire from the sport. In 2018, Bisping was added to the UFC Hall of Fame.
Following his retirement, Bisping published his memoir Quitters Never Win: My Life In UFC and landed a series of acting roles in XXX: Return of Xander Cage, Twin Peaks: The Return, My Name Is Lenny and Den Of Thieves.
In 2021, Michael Bisping announced he would be swapping the octagon for the stage with an October 2021 UK tour entitled An Evening With Michael Bisping. The live show would feature Bisping recounting tales from his journey to the top of UFC. In August 2021, he added a second tour with six new dates in October 2022.
News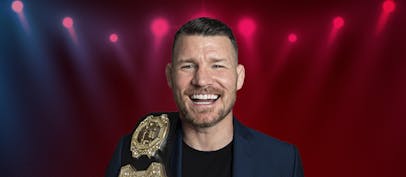 Michael Bisping announces 2022 tour dates
Due to demand, the UFC Hall of Fame fighter and former Middleweight Champion has added more dates for his show An Evening With Michael Bisping next year in the UK and Ireland.
FAQS
An Evening With Michael Bisping will feature the former UFC Middleweight Champion recounting tales of his adventures in the octogon on his way to becoming the first ever British UFC Champion.

An Evening With Michael Bisping will tour the UK from 6 – 10 October 2021, and return for a second run from 7 – 22 October 2022.

An Evening With Michael Bisping will visit the following UK and Irish cities:

2021 tour

London
Birmingham
Glasgow
Manchester

2022 tour

Dublin
Newcastle
Leeds
Cardiff
Liverpool
London

Tickets for both the 2021 and 2022 tour dates of An Evening With Michael Bisping are on sale now.