Events
International Events
1 Events
Loaded 13 out of 13 events
About
The creative indie-tinged electronic act
Get the 10th-anniversary edition of The English Riviera here
Metronomy is one of the UK's best loved modern electro-pop groups whose live performances often include dance routines and light shows. It was formed in 1999 by Joseph Mount, who grew up in South Devon. As a teenager he began using his father's old computer to write electronic compositions. Influenced by bands like Autechre and Funkstorung, he chose the name Metronomy because it sounded similar and interesting.
In 2002, Mount moved to Brighton and recruited his cousin Oscar Cash and an old friend, Gabriel Stebbing, to join the band. Their debut album was 2005's Paine (Pay The £5,000 You Owe) and it drew influences from acts like Devo, N.E.R.D and David Bowie.
In those early years, Mount was building a reputation as a multi-instrumentalist, producer and master remixer for numerous other bands, and he often used the Metronomy name for those projects too.  
Their sophomore album, Nights Out, arrived in 2008 and featured the singles Radio Ladio, A Thing For Me and Heartbreaker. Shortly after its release, Stebbing left the band to pursue other projects, but he reappeared for future shows and albums.
With the addition of Olugbenga Adelekan on bass and Anna Prior on drums, Metronomy recorded the album that would make them famous, 2011's The English Riviera. A love letter to the stretch of coast where Mount grew up, many of its songs – like the title track, The Bay and The Look – boast sounds of seagulls and waves. Metronomy received a Mercury Prize nomination that year and the album was certified gold in the UK.
The band released three more albums – 2014's Love Letters, 2016's Summer 08 and 2019's Metronomy Forever –  in the decade that followed plus added Michael Lovett, who'd been part of their touring band, as a permanent member.  
To celebrate, the 10-year anniversary of their career-changing album, Metronomy announced The English Riviera will be re-issued on 30 April 2021 with six previously unreleased tracks including Picking Up For You. They also confirmed details for a UK tour in April and May 2022, culminating with a huge headline gig at London's Alexandra Palace on 7 May 2022. 
News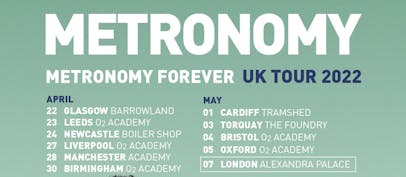 Metronomy announce 2022 UK tour
In celebration of the 10th anniversary of The English Riviera, the album will be re-isused and the band will play shows around the country in April and May 2022.
FAQS
Metronomy are touring the UK from 22 April – 7 May 2022 in support of the 10th anniversary of The English Riviera.

The Metronomy Forever tour will be visiting the following UK cities in 2022:

Glasgow
Leeds
Newcastle
Liverpool
Manchester
Birmingham
Cardiff
Torquay
Bristol
Oxford
London

Tickets for Metronomy's 2022 tour dates go on sale from 10:00 on Friday 26 March 2021. Want to get tickets early? Presale tickets will be available from 10:00 on Wednesday 24 March 2021.