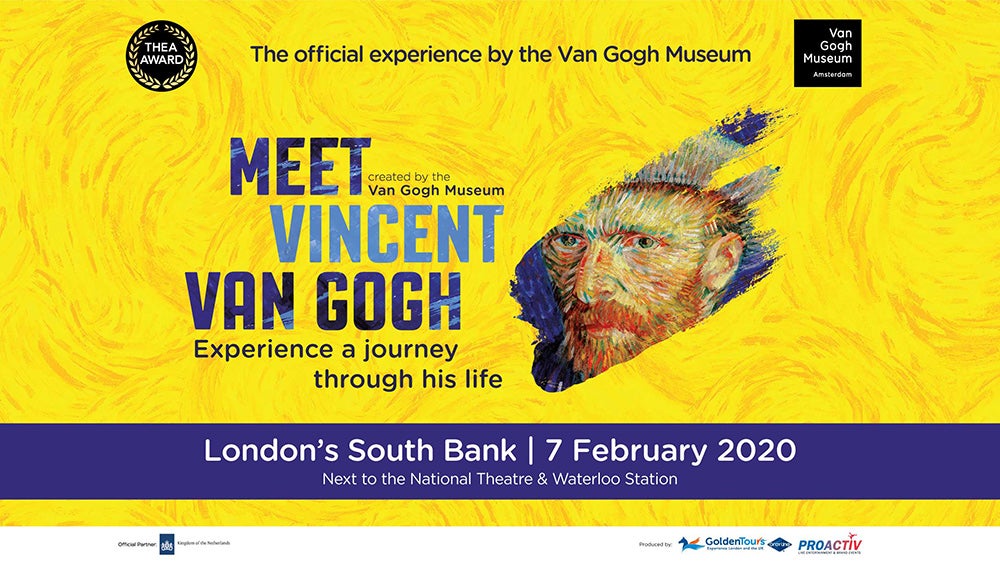 "Immerse yourself in the life and work of this unique artist"
99 Upper Ground | London South Bank | 7 February 2020 - 21 May 2020
The Award Winning Exhibition
ABOUT MEET VINCENT VAN GOGH LONDON 2020
The world-famous Van Gogh Museum invites you to step into Vincent Van Gogh's incredible life story and get closer to the brilliant artist than ever before.
Touch, look and listen to Van Gogh's life and truly get inside the mind of the misunderstood genius. Meet Vincent is an entirely accessible experience that is not just for the artistic elite. It has been beautifully curated so that children, adults, artists, and those new to Van Gogh will be moved and inspired.
Following record-setting attendances at the Beijing, Seoul, and Barcelona exhibits, along with an upcoming Lisbon experience, this is an incredible cultural event not to be missed!
Ticket sell-out expected, advance booking recommended.
---
GROUPS
If you would like to purchase group tickets for 10 or more people, please contact us at: groups@ticketmaster.co.uk or call 08844 844 2121.
---
EDUCATION

Affordable school rates are available. Book tickets for your school by contacting our groups team.

For more information on school group bookings, please contact education@ticketmaster.co.uk or call 0844 248 5176.
---
MEET VINCENT VAN GOGH FAQs
Where is the Meet Vincent van Gogh exhibition?
The experience takes place on 99 Upper Ground, South Bank, London, SE1 9PP, behind the National Theatre, from 7th February 2020 to 21 May 2020.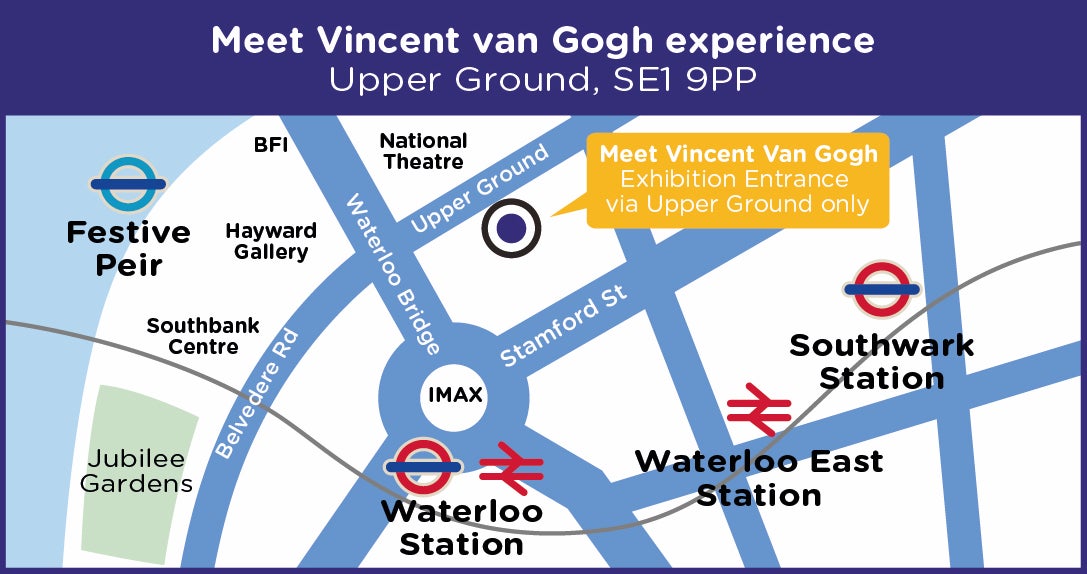 Do I need to book ticket in advance?
You are able to buy tickets at the event but as we are expecting this event to sell out, we do recommend purchasing tickets in advance to avoid disappointment.
What languages does the audio guide come in?
The audio guide is available in English, Spanish, Mandarin, French and German.
How long does the visit last?
We recommend you stay in the exhibit for approximately 90 minutes to fully enjoy the experience, but there's no need to rush, stay as long as you want!
When is the Meet van Gogh experience taking place?
The exhibitions take place daily from 7th February - 21st May 2020. Please note that times may vary. The opening hours are from 10:00 - 22:00 on Thursday - Saturday, and 10:00 - 18:00 on Sunday - Wednesday each week.
Cash or card?
Cash and card payments are both accepted
Is there a cash machine at the exhibition?
There is no cash machine on site
Is there wheelchair access throughout?
The exhibition has full wheelchair access throughout
Are dogs allowed inside the exhibition?
Unfortunately, dogs are not allowed into the event with the exception of assistance dogs
Eating and drinking
Apologies, but no food or drink is allowed inside the experience however, refreshments can be purchased on site
Are there toilet and baby changing facilities?
We have 4 unisex toilets and one disabled toilet on site with baby changing facilities
Can I bring in my bag/luggage/pram?
Small bags are allowed inside the experience but all oversized luggage (including prams) must be left at the cloak room to avoid overcrowding
Is there security at the exhibition?
Security checks may take place on entry which includes but is not limited to bag checks. Please note there will be CCTV inside the exhibition
Is there a cloakroom?
Yes, we have an onsite cloakroom that will tag all items and give you a ticket
Can I smoke at the exhibition?
Smoking is only permitted in designated smoking areas and not inside the exhibition
What if the weather is bad?
The exhibition and queuing areas are under cover and inside a temporary heated structure
What can I touch?
Visitors are encouraged to engage with and touch all elements of the Meet Vincent van Gogh Experience. However, please make sure you treat all installations and work, as well as your fellow visitors, with respect.
How can I buy group tickets?
If you would like to purchase group tickets for 10 or more people, please contact us at:
groups@ticketmaster.co.uk or call 08844 844 2121.
Top