Cambridge Theatre, London / West End Shows
Matilda The Musical
About Matilda the Musical
Matilda the Musical is the spectacular theatre show adapted from Roald Dahl's much-loved 1988 children's novel, Matilda. The live stage adaptation takes place at Cambridge Theatre in London's West End and is booking throughout 2021 in to 2022.
The spell-binding story follows childhood genius Matilda Wormwood as she dreams of escaping to a life much different from her own. Neglected by her parents, Matilda finds solace in books and her love of literature. On her journey she is confronted by the menacing headmistress Miss Trunchbull – nicknamed The Trunchbull – with the former athlete single-handedly running a reign of terror across the school. However, despite being misunderstood by her family and the hardship she faces, Matilda finds a friend in her teacher Miss Honey and discovers she has the power to change her destiny.
Matilda the Musical has won over 90 international awards, including 23 for Best Musical, seven Olivier Awards and five WhatsOnStage Awards. With a stunning set, big musical numbers, lots of laughs and plenty of on-stage talent, this must-see theatre show is the perfect family-friendly West End night out.
Experience the magic as Roald Dahl's childhood classic story is brought to life on stage – Matilda the Musical is a beautifully reimagined masterpiece in theatre that is not to be missed.
Matilda the Musical Photo Gallery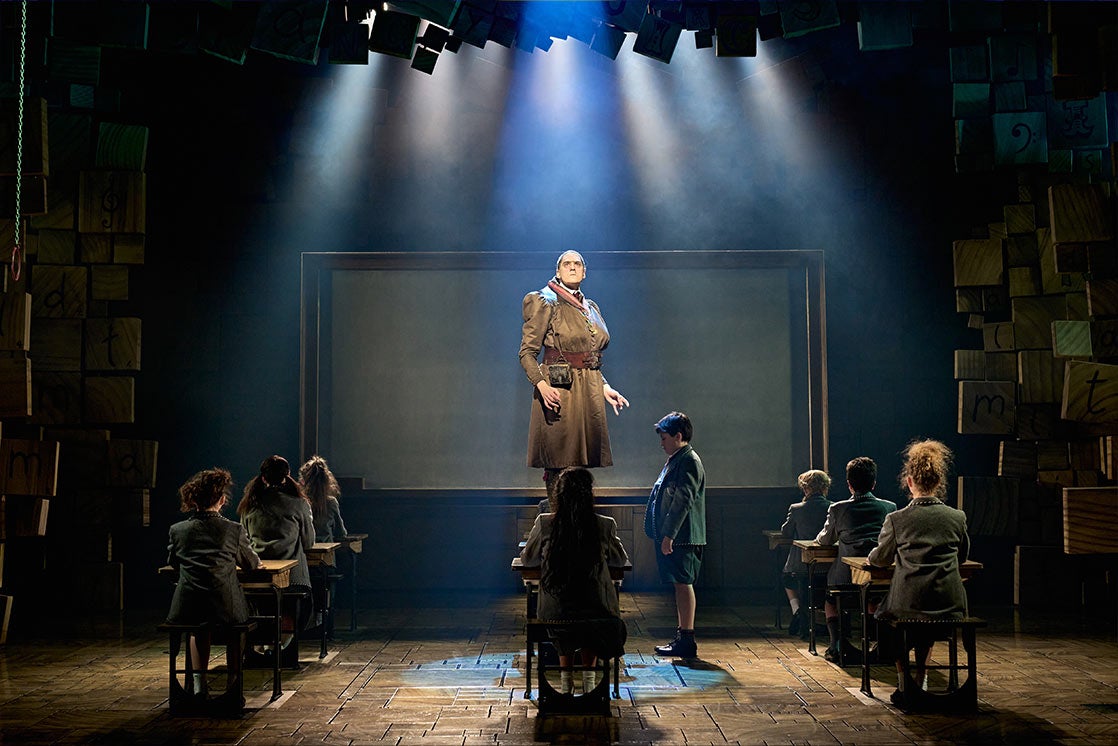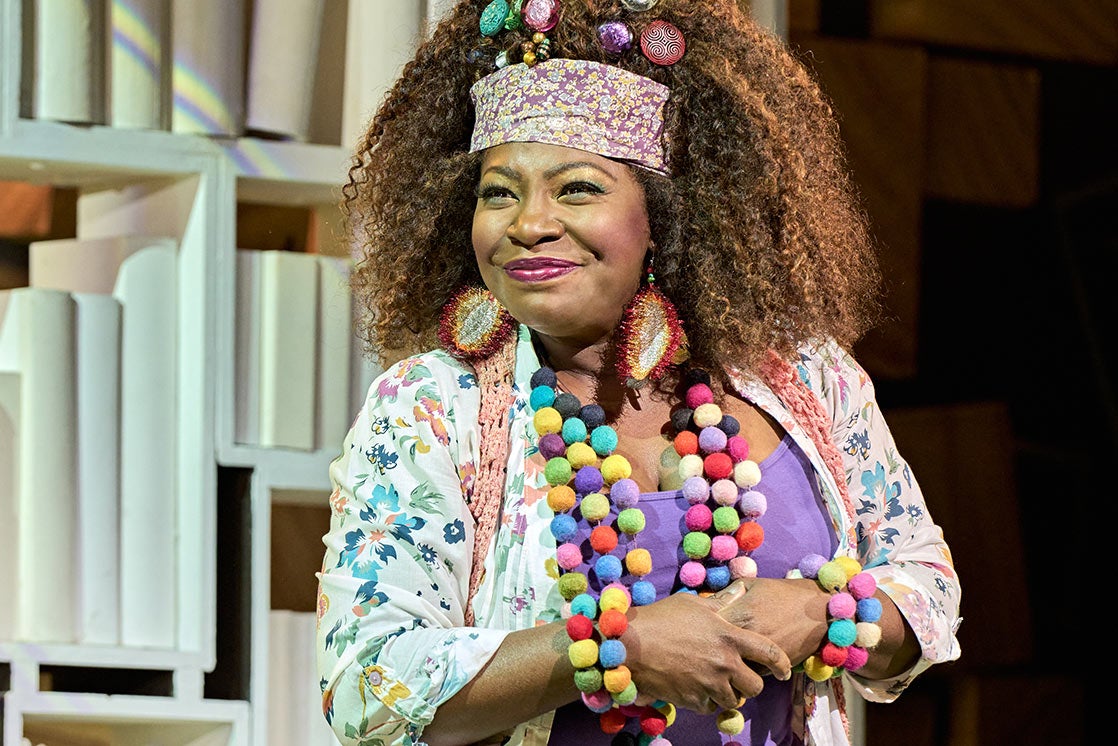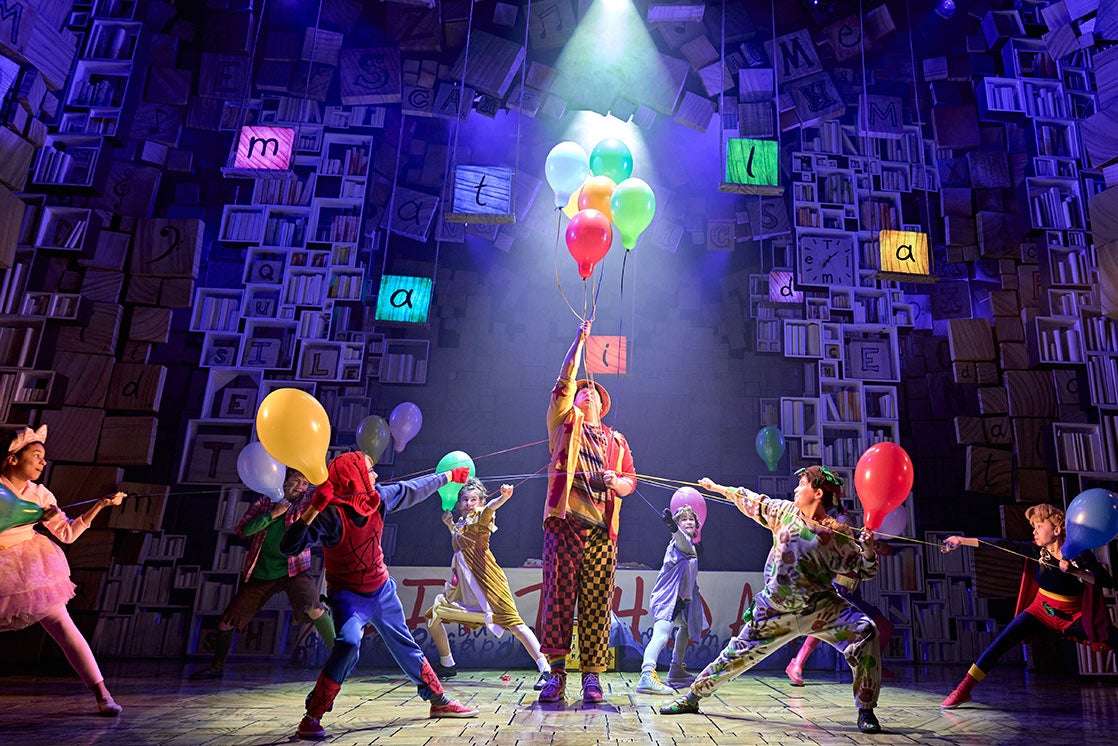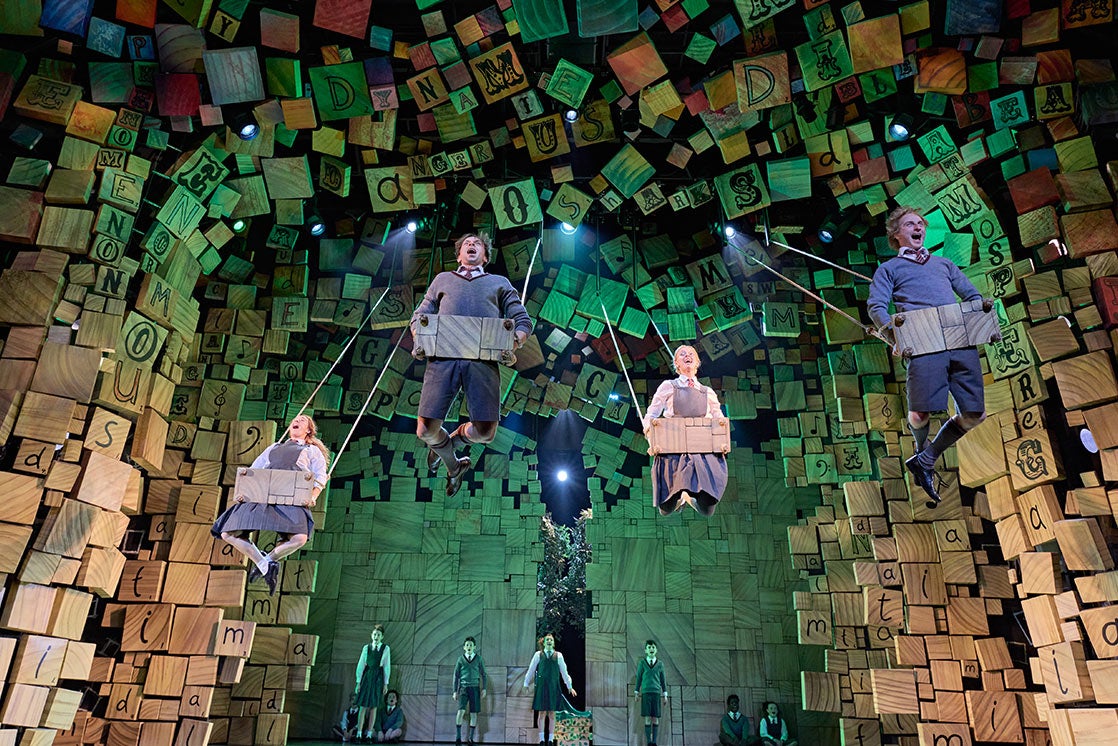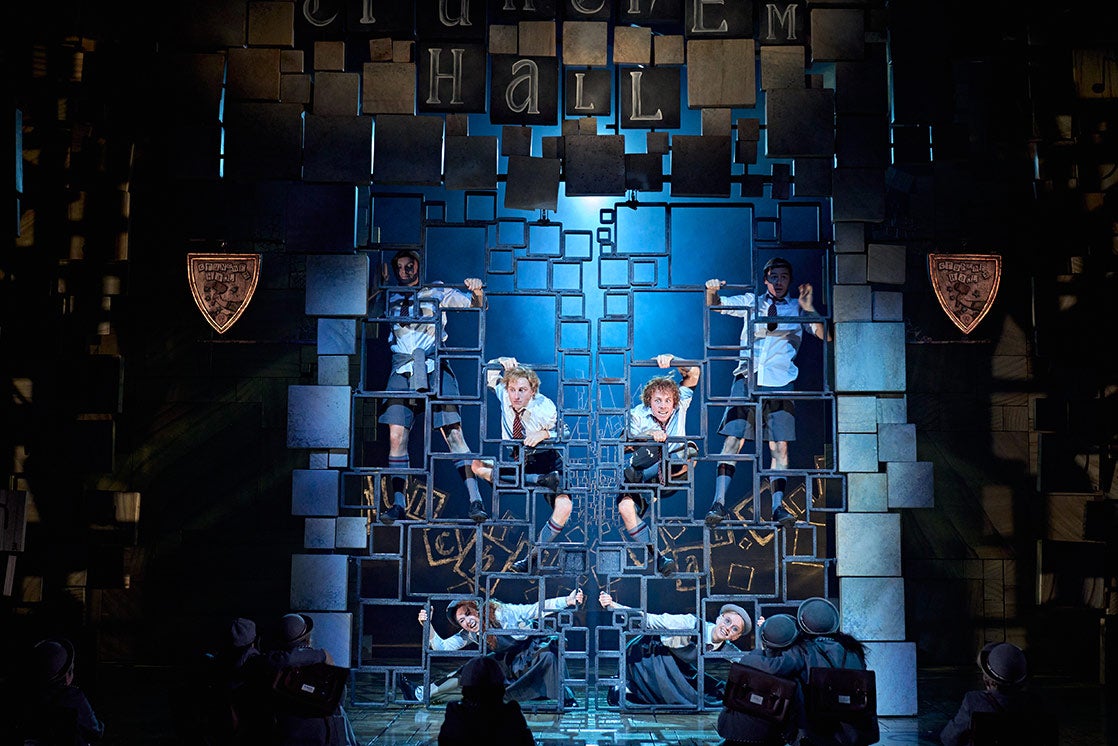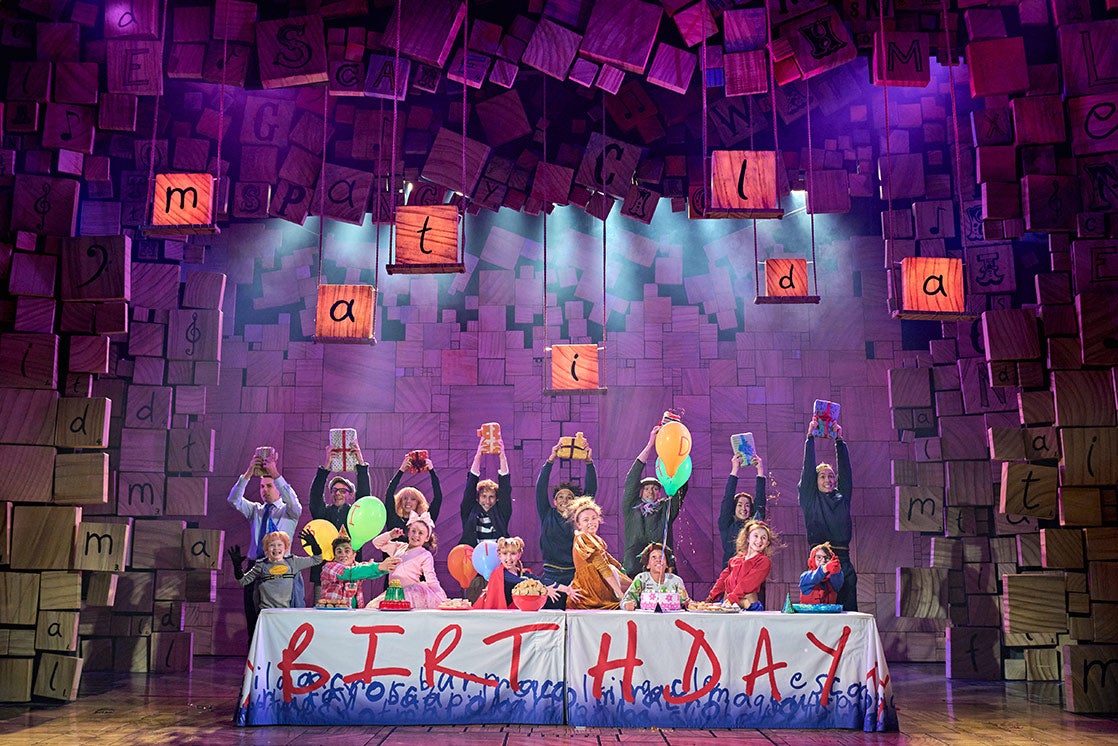 Matilda Tickets
Theatre tickets for Matilda the Musical are available for the show in Cambridge Theatre in London's West End. Book theatre tickets for the Matilda London show through the link below for all performance times and dates this year.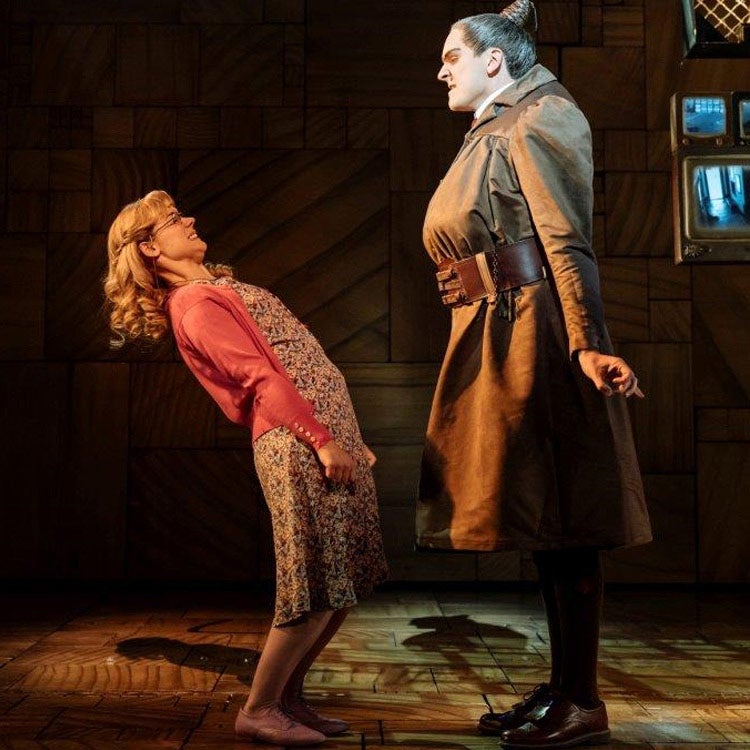 Matilda Musical Cast and Creative
The cast for Matilda musical in London includes the following:
Matilda – Tilly-Raye Bayer; Olivia Juno Cleverly; Alex Munden; Zoe Simon
Miss Honey – Gina Beck
Miss Trunchbull - Elliot Harper
Mr Wormwood – Sebastien Torkia
Mrs Wormwood – Marianne Benedict
Michael Wormwood – Connor Lewis
The theatre show is based on Roald Dahl's 1988 novel along with its subsequent 1996 film. Developed and directed by Matthew Warchus, the production has a book by Dennis Kelly, choreography by Peter Darling along with music and lyrics by comedian Tim Minchin, including original songs. Please note cast and line-up are subject to change.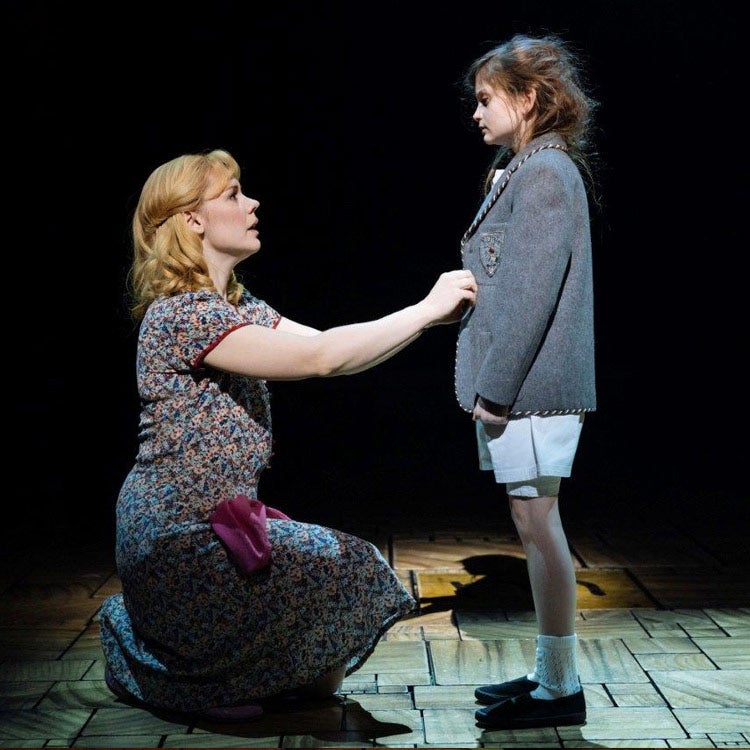 ACCESSIBILITY
Cambridge Theatre welcomes guests with access requirements and strives to make the show accessible for everyone. Two-for-one tickets are available for eligible guests who require an essential companion.
---
Cambridge Theatre Access Information:
FAQs
Where is Matilda playing in London?
Matilda takes place at the Cambridge Theatre in London's West End. The address for the Cambridge Theatre is 32-34 Earlham Street, Covent Garden, London, WC2 9HU, UK.
How to get to Matilda London and Cambridge Theatre:
By Tube/Underground - The nearest tube station is Covent Garden on the Piccadilly line, which is located five minutes from the theatre. You can also get the Northern line or Piccadilly line to Leicester Square tube station.
By Bus - Bus routes which stop by Cambridge Theatre include the 14, 19, 24, 29, 38 and 176.
By Train - The closest train station is Charing Cross station.
By Car - Public transport is highly recommended as car parking is limited. The nearest carpark to the theatre is the National Car Park located in St Martins Lane.
When is Matilda the Musical on in London?
Matilda performance times and dates are every Tuesday - Friday at 19:00, along with a Saturday show at 19:30. There are additional matinee shows on Wednesdays at 14:00, Saturdays at 14:30 and Sunday at 15:00. Matilda London is playing every week from September 2021 until December 2022. It is recommended that you arrive at least 15 minutes before the performance begins.
How long is Matilda the Musical?
Matilda the Musical in Cambridge Theatre has a running time of 2 hours 35 minutes.
Is Matilda family friendly and are there age restrictions?
Matilda is largely a family-friendly show but is recommended for children who are aged six and above, though younger guests are welcome. The show is quite long, quite loud in parts and may be scary for younger children. Please note that babes in arms are not permitted. Each child requires their own seat and should stay seated at all times during the performance. Children need to be seated with their parent/guardian.
What songs are in Matilda the Musical?
Songs in Matilda include Miracle, Naughty, The Hammer, The Chokey Chant, When I Grow Up, The Smell of Rebellion and Revolting Children, amongst many more. The music and lyrics for Matilda the Musical include original songs which are produced by comedian Tim Minchin
Are accessible tickets available?
Yes, accessible seating is available. Please call 0844 412 4648 for access seating or email access@lwtheatres.co.uk, or visit the Matilda Access page here. Read more about access tickets on our Accessibility Help Page for general information about access and events.
Is Matilda touring in the UK in 2021?
There are no confirmed UK tour dates for Matilda so far in 2021. Matilda is currently playing at Cambridge Theatre in London - keep checking back for news on UK theatre tour dates!
How much are theatre tickets for Matilda?
Tickets for the Matilda are available at various price points on our interactive seating map of each theatre. Depending on availability, tickets can be purchased at prices starting from £24.25 upwards. Theatre tickets from Ticketmaster are verified and safe to buy. Please note that all tickets and prices are subject to availability.
Are cheaper tickets available for Matilda?
Yes, cheaper tickets are available for the Matilda musical in London depending on which section you are sitting in the theatre. Our ticketing system has colour-coded ticket options at various price points to choose from, ranging from the lowest priced tickets to the highest. View all tickets here.
Keep an eye on our Offers guide for all of our theatre ticket deals, including discounted shows and 2-for-1 ticket options for multiple events. Please note that offers are limited and subject to availability.
Please note that Ticketmaster can only deal with questions and issues regarding tickets. For all other enquiries regarding the show, please visit the Matilda the Musical website or contact them directly.