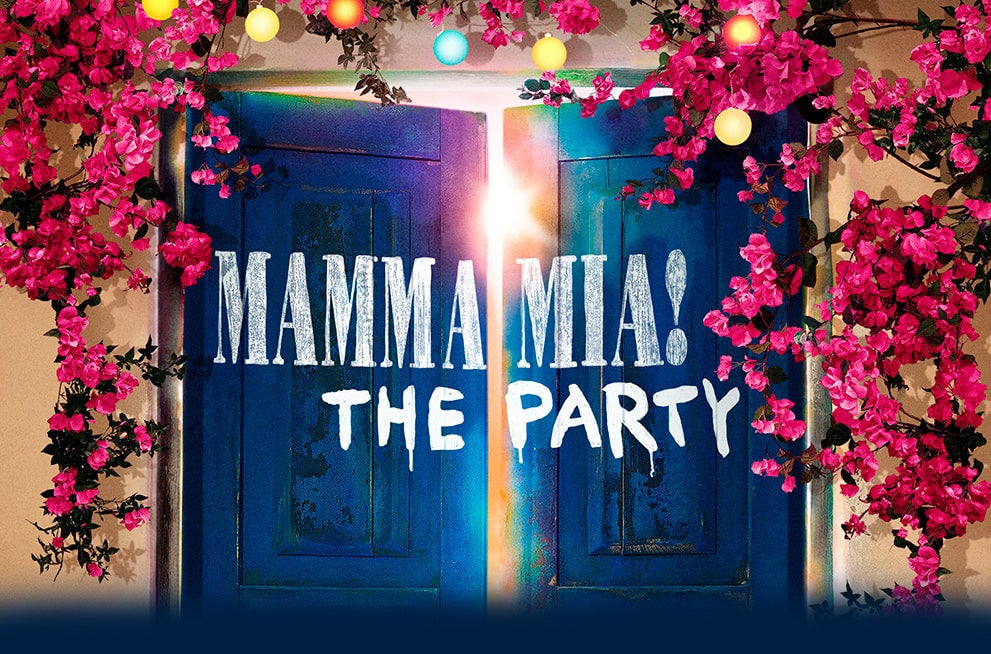 Mamma Mia! The Party Tickets
Tickets can be booked for the London show up to Sunday 31 May 2020.
---
About Mamma Mia! The Party
Mamma Mia! The Party is a unique entertainment experience, including a stunning live show and a four-course meal, all set to the iconic music of ABBA. Created by ABBA's Björn Ulvaeus, this immersive event takes place at The O2 in London, which is transformed into the Nikos Taverna, a Greek island restaurant where our story unfolds. Your ticket includes a four-course meal while the show plays out around you and an Abba disco all in one unforgettable evening!
The story in Mamma Mia! The Party follows Nikos and his wife Kate and their family and friends as they run the exotic Nikos Taverna restaurant. The experience begins as soon as you enter the taverna, with the venue transformed into the idyllic Greek island of Skopelos – the setting of the first Mamma Mia! film. Enjoy being seated in the middle of the action as the heartwarming story unfolds around you, all while enjoying a gourmet Greek meal.
The story is a celebration of love, romance and comedy in a warm and energetic performance. The unforgettable four-hour experience is the ultimate evening of live entertainment, mixing ABBA songs into the story seamlessly along with a mouthwatering Mediterranean feast to enjoy. Enjoy the immersive live experience from your taverna table before joining in the party when the ABBA-themed disco gets started. Voulez Vous? You know you want to!
A limited number of tickets for Mamma Mia! The Party go on presale from 09:00 on Thursday 14 November 2019 with all tickets on sale from 09:00 Friday 15 November 2019. The show is booking until 31 May 2020.
---
History and Production
Mamma Mia! The Party is created by ABBA's own Björn Ulvaeus, and originally opened in Stockholm in January 2016. Now in its fourth sold-out year, the incredible production has extended its run in London until 31 May 2020 due to popular demand. The show is co-directed and choreographed by Stacey Haynes and Roine Söderlundh. The stunning set is designed by Bengt Fröderberg, with lighting designed by Patrick Woodroffe and sound designed by Gareth Owen. Annsofi Nyberg heads up costume design while music supervision is by Robin Svensson and casting by David Grindrod for David Grindrod Associates. MAMMA MIA! THE PARTY has music and lyrics by Benny Andersson and Björn Ulvaeus along with some songs with Stig Anderson. The story is by Calle Norlén, Roine Söderlundh and Björn Ulvaeus. The story has been adapted for UK audiences by writer, comedian and broadcaster Sandi Toksvig. MAMMA MIA! THE PARTY is produced by Björn Ulvaeus and Ingrid Sutej for MM! The Party Ltd.
---
Discover More About Mamma Mia! The Party
Read more about the immersive dining and theatrical experience here:
---
FAQs
Where in London can I see Mamma Mia The Party?
Mamma Mia The Party takes place in a specially adapted venue within The O2 complex in London. The address for the venue is The O2, Peninsula Square, Greenwich Peninsula, SE10 0DX, London, UK.
How to get to Mamma Mia! The Party at The O2
By Underground - The nearest tube station is North Greenwich station where you can get the Jubilee Line. The Jubilee line connects with all other tube lines, so the venue is easy to reach across London along with connecting National Rail passengers from all over the UK. The station is around 200 metres from the main entrance of The O2.
By Train - You can get the Docklands Light Railway (DLR) to Canary Wharf or Canning Town station and then get the Jubilee line. You can also get the South-eastern rail service to Charlton train station, about a ten-minute bus journey from the venue.
By Bus - The bus routes 108, 129, 132, 161, 188, 422, 472 or 486 stop nearby North Greenwich station.
By Car - There is limited car parking at The O2 - you can park in carparks 2, 3 or 4 or else use car park 1 as the drop off point. The Peninsula and other areas of Greenwich are Controlled Parking Zones and there is no parking on the roads surrounding The O2.
By Boat - Get into the spirit of the Mamma Mia experience and get the River Bus boat by Thames Clippers, from key central London piers along the Thames.
When is Mamma Mia! The Party on?
Mamma Mia! The Party Performance Times and Dates: The show opens each evening from 18:30 every Wednesday to Sunday. There is also an additional show on Saturday and Sundays at 12:00. There are limited Tuesday performances on 26 November and 17 and 31 December 2019, with doors opening for these shows at 18:30.
How long does Mamma Mia! The Party last?
The running time for Mamma Mia! The Party is approximately four hours, starting from 18:30 and finishing at around 22:30. The earlier performances on Saturdays and Sundays start from 12:00 and finish at approximately 16:00 each afternoon. The ABBA disco stays open for an additional hour after the end of the show for those who want to keep the party going!
When is Mamma Mia! The Party playing over Christmas?
The Christmas 2019 and early 2020 performances of Mamma Mia! The Party includes the following shows and dates:
Tuesday 17 - Friday 20 December 2019 - 18.30
Saturday 21 - Sunday 22 December 2019 - 12.00 and 18.30
Wednesday 25 December 2019 - No Performance
Thursday 26 December 2019 - 12.00 and 18.30
Friday 27 December 2019 - 18.30
Saturday 28 December - Sunday 29 December 2019 - 12.00 and 18.30
Tuesday 31 December 2019 - 12.00 and 18.30
Wednesday 1 January 2020 - Friday 3 January 2020 - 18.30
Saturday 4 January 2020 - Sunday 5 January 2020 - 12.00 and 18.30
What is the seating plan for Mamma Mia! The Party?
The seating policy at Mamma Mia! The Party is similar to that which you would experience in a restaurant: you make a reservation for your group in advance, give your name to the host on arrival at Nikos Taverna and then are directed to your table. Nikos Taverna is a sociable place so you may find yourself sharing a table with other guests depending on the size of your party. We can't guarantee that groups will be able to sit together due to table sizes, but we will aim to sit you on adjacent tables.
Towards the end of the evening some Band A tables will be cleared and moved to create a spectacular dance floor, and Nikos will invite those lucky guests to join in with his fabulous ABBA finale. It is not possible to book specific tables, and we are unable to guarantee availability of any particular size table.
Who are the cast in Mamma Mia! The Party?
The London cast and musicians for the live show include:
AJ Bentley
Allie Ho Chee
Dawn Spence
Elin König Andersson
Fed Zanni
Gregor Stewart
Jessica Spalis
Joanna Monro
John Donovan
Jonathon Bentley
Julia Imbach
Kathryn Tindall
Kimberley Powell
Linda John-Pierre
Luke Higgins
Mark Pusey
Matt Wesley
Molly Cleere
Oscar Balmaseda
Pauline Stringer
Steph Parry
Steve Rushton
Please note that cast list and line-up is subject to change.
Are there age restrictions for Mamma Mia! The Party and is it family friendly?
The show is family friendly and has an age recommendation of five and over for children. All guests who are aged under 18 need to be accompanied by a parent or legal guardian.
How much are Mamma Mia! The Party tickets?
Tickets for the show begin from £85 plus booking fees subject to availability. Your ticket includes admission to the show, a four-course set meal and a welcome drink. Additional drinks cost extra. View all ticket prices by availability here.
Is there a cloakroom?
Yes, there is a cloakroom on site which is free of charge.
Are accessible tickets available?
Yes, accessible tickets are available and Mamma Mia! The Party is a fully accessible venue with lifts to all levels, accommodating multiple wheelchairs plus paying companions. To book accessible tickets plus essential companion tickets, please phone 0333 344 6250. To find out more about accessible tickets, check out our Accessibility Help Page.
Please note that Ticketmaster can only deal with questions and issues regarding tickets. For all other enquiries regarding the show, please visit the Mamma Mia! The Party website or contact them directly.
---
Top