Novello Theatre, West End London / UK Tour
MAMMA MIA! Musical
ABOUT MAMMA MIA! MUSICAL 2021
MAMMA MIA! is the iconic musical which combines the smash-hit songs of ABBA with a story full of family, friendship, love and laughter on the Greek island paradise of Kalokairi. Taking place at Novello Theatre in London's West End, and coming to Birmingham, Blackpool and Brighton as part of the show's UK tour, Mamma Mia! continues to delight audiences over 20 years later, following its debut in 1999.
Inspired by the magic of ABBA's songs, the feel-good story of MAMMA MIA! follows Sophie Sheridan and her upcoming marriage to her fiancé Sky. Sophie has never met her father and wants to invite him to her wedding; however, she soon discovers she has three possible fathers after reading the diary of her mother Donna. Find out what happens next as Sam, Harry and Bill arrive to the island they last visited 20 years ago...
Set to an incredible musical soundtrack, MAMMA MIA! features hit ABBA songs such as Dancing Queen, Mamma Mia, Take A Chance On Me, Super Trouper, Thank You For The Music, Money Money Money, Voulez-Vous and SOS. Enjoy a sing-along with Donna and the Dynamos as they perform ABBA classics in eclectic eighties outfits and get ready for the time of your life – you'll be dancing in the aisles.
Experience the magic of MAMMA MIA! brought to life live on stage in this sunny and irresistible theatre show. With a stunning set, incredible production and ABBA-filled musical score, you won't want to miss this top West End musical.
The MAMMA MIA! Theatre Photo Gallery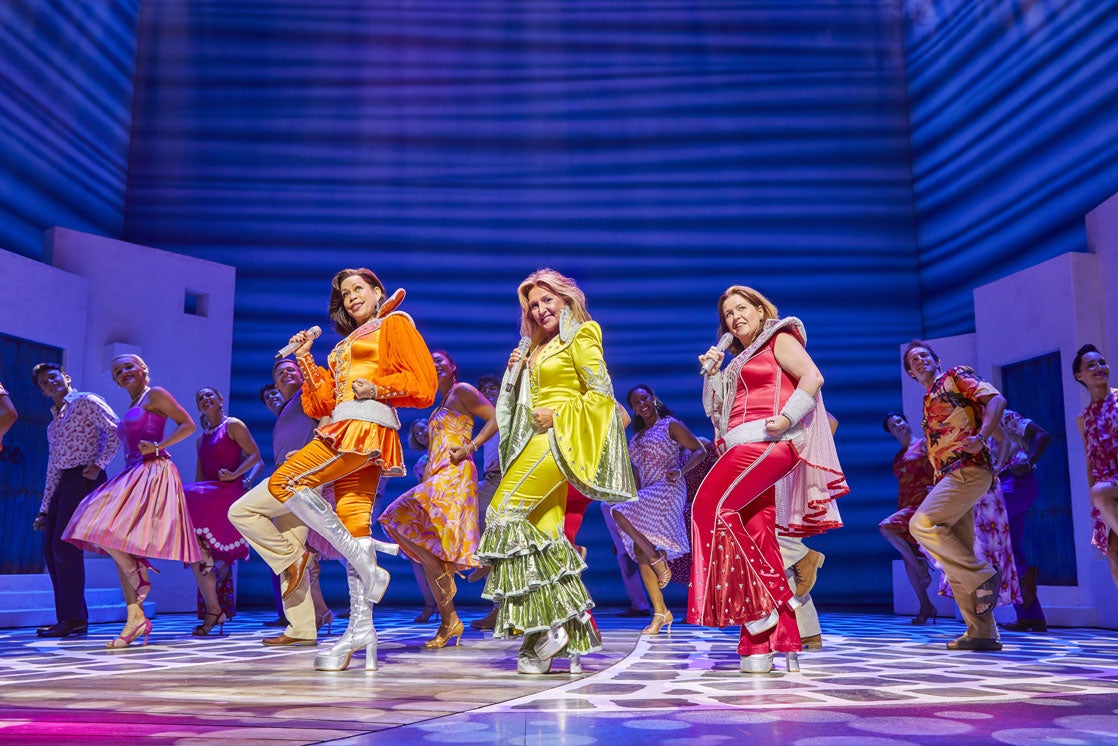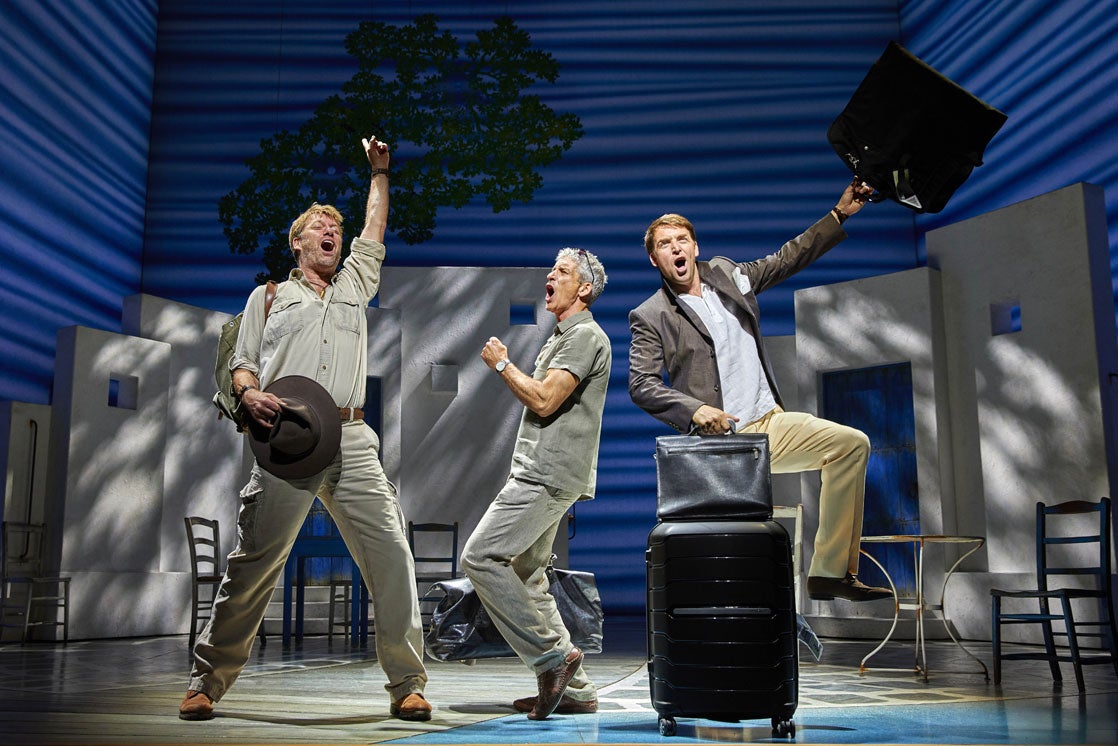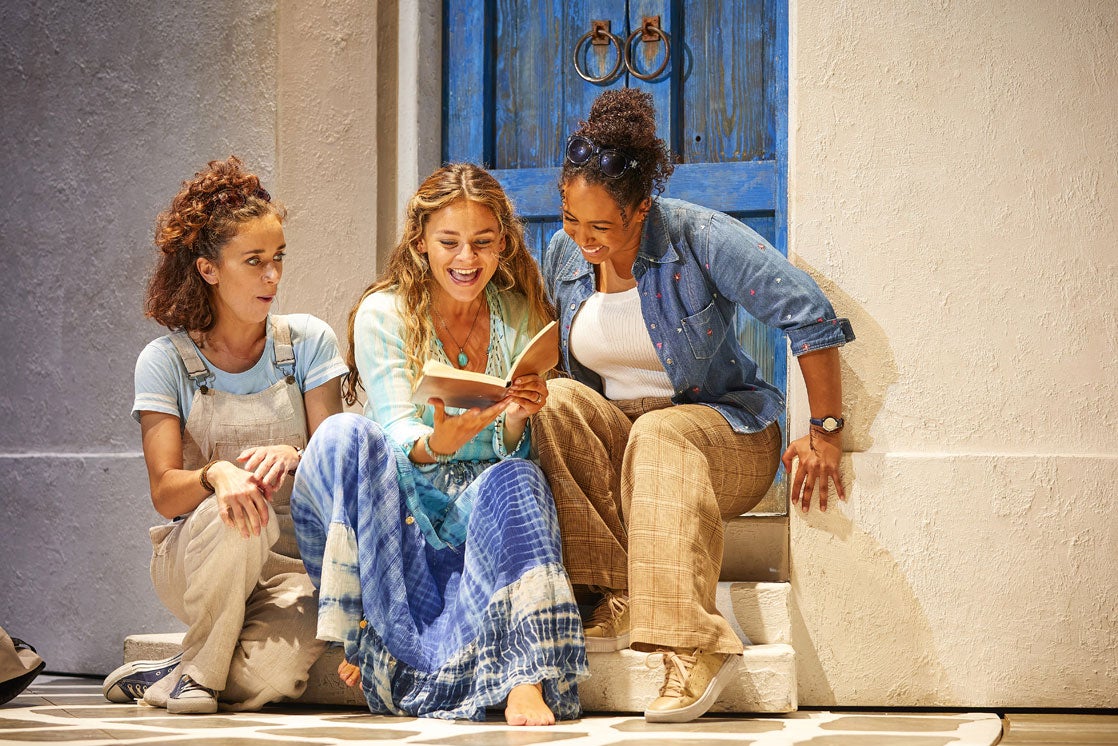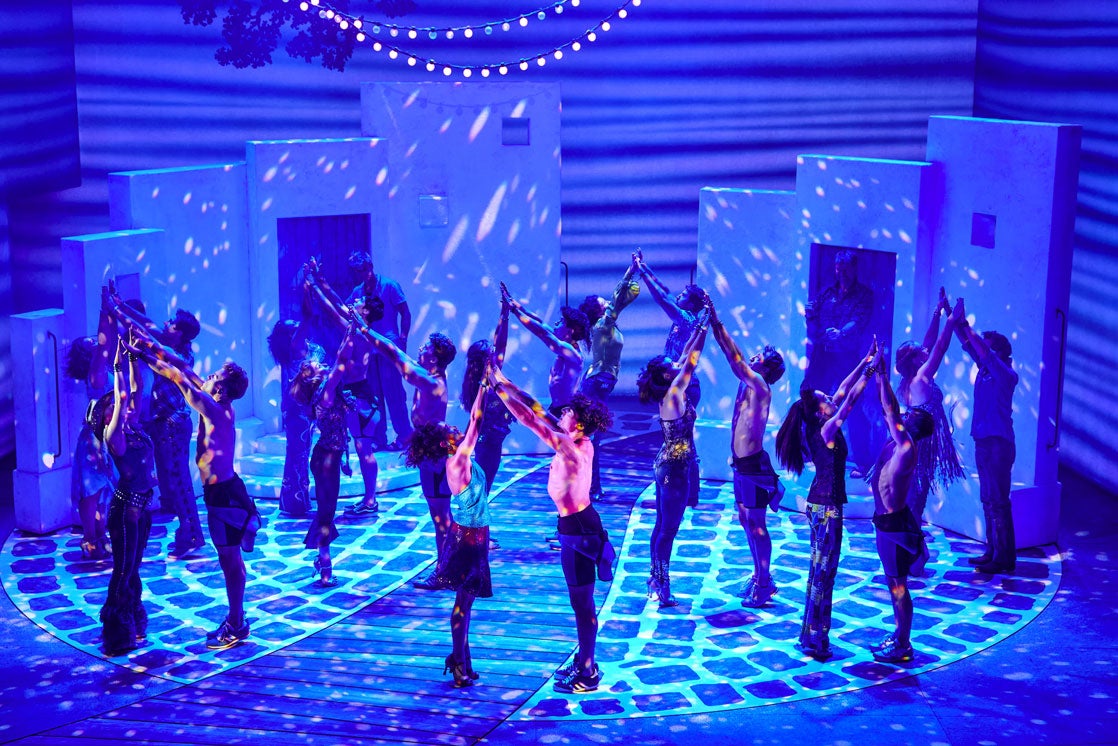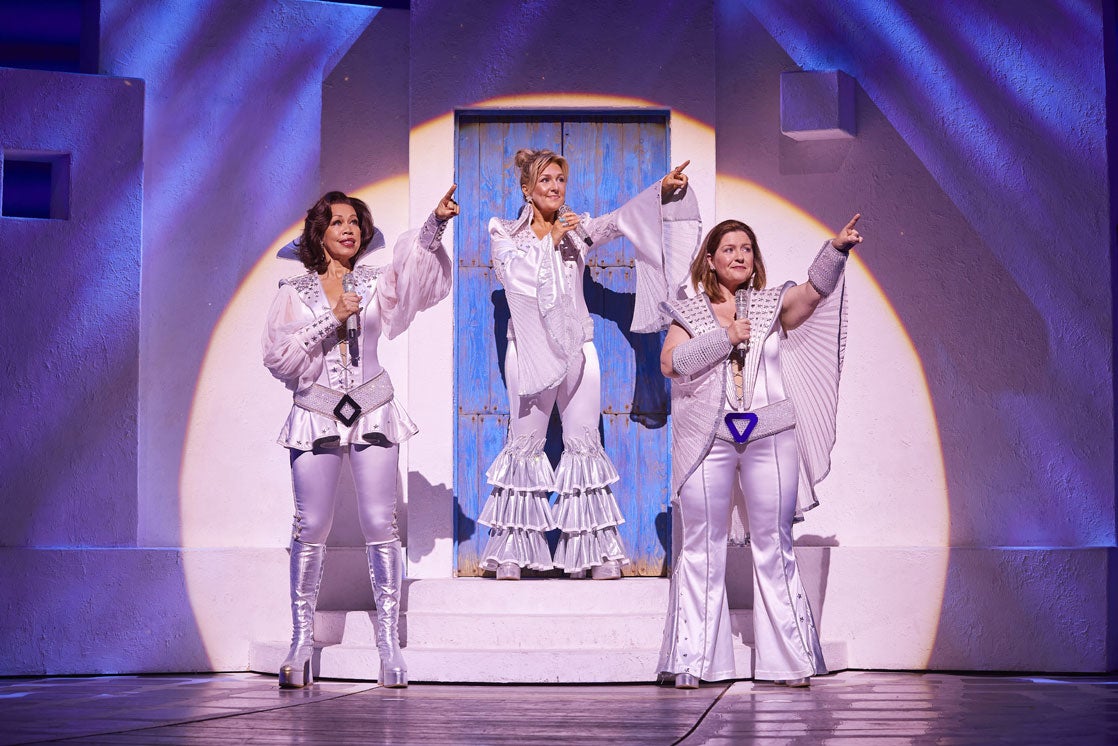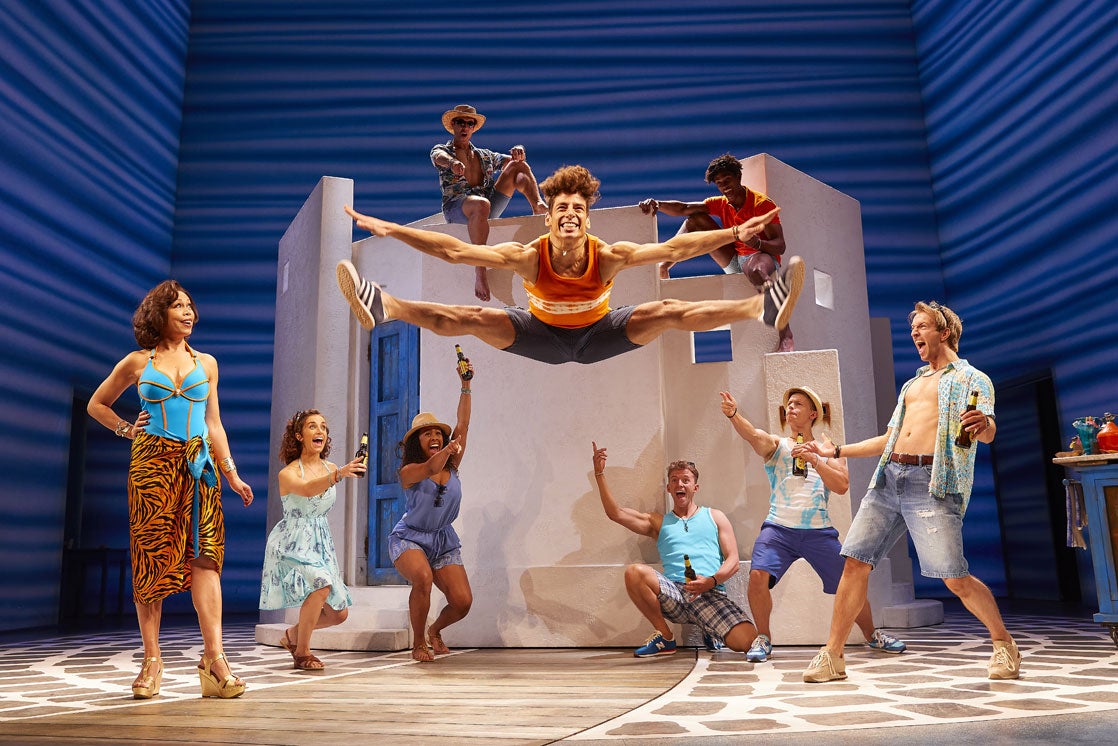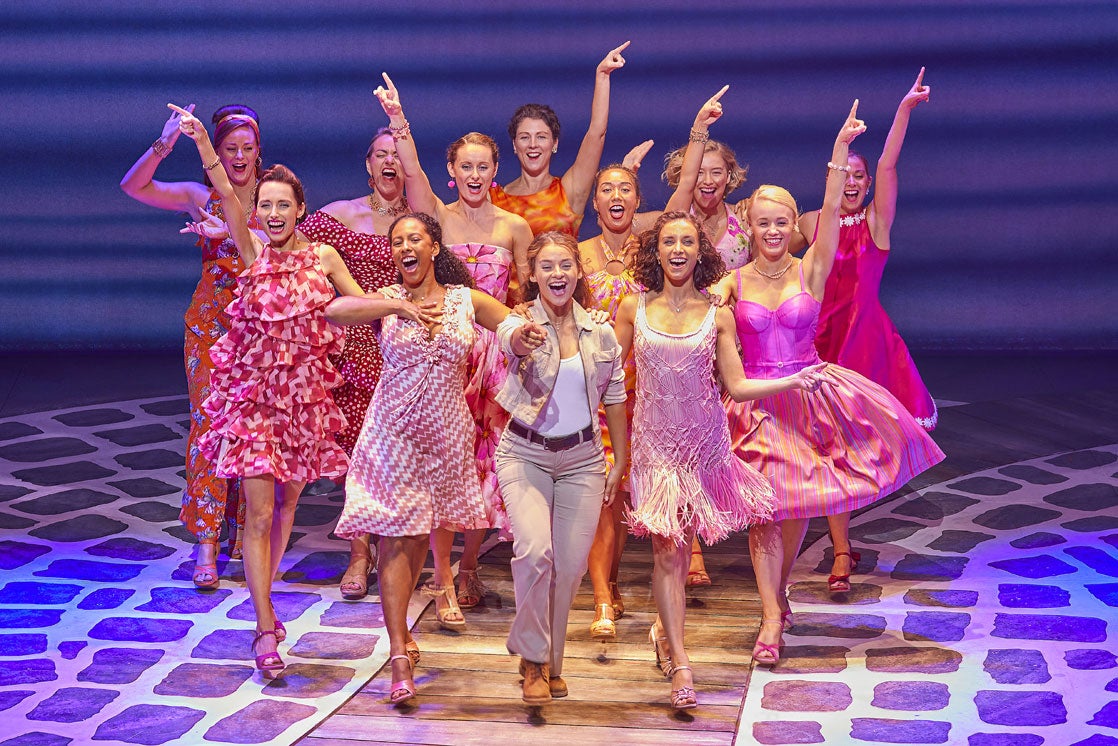 MAMMA MIA! Tickets
Tickets for MAMMA MIA! are available for the musical in London's Novello Theatre in the West End, along with Birmingham, Blackpool and Brighton as part of the show's UK tour.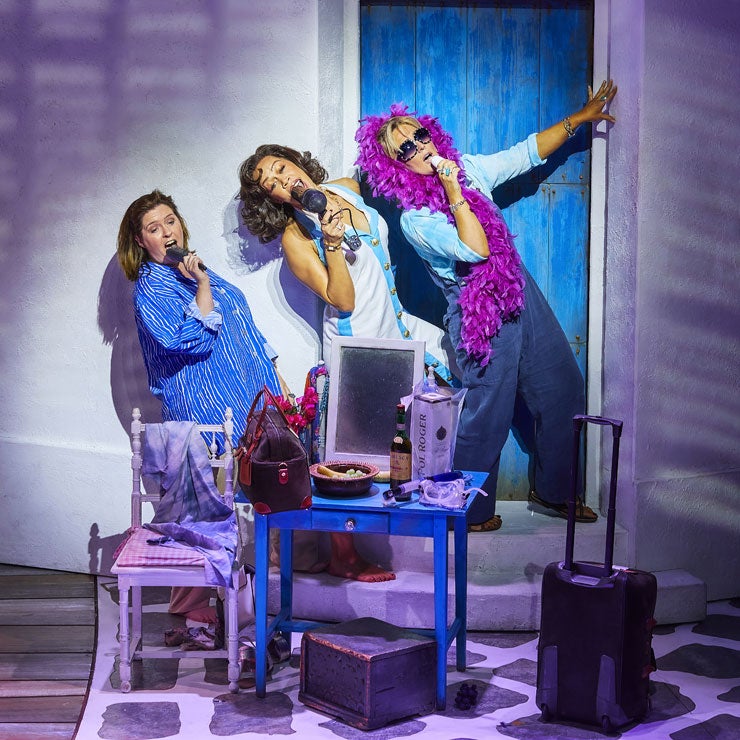 MAMMA MIA! Musical Cast and Characters
The cast and characters for the MAMMA MIA! musical in London includes the following actors:
Donna Sheridan – Mazz Murray
Sophie Sheridan – Lucy May Baker
Sky – Cameron Burt
Rosie – Ricky Butt
Tanya – Kirsty Hoiles
Harry Bright – Neil Moors
Bill Austin – Stephen Beckett
Sam Carmichael – Richard Trinder
Ali – Melissa Nettleford
Lisa – Sophie Matthew
Pepper – Danny Nattrass
The theatre show is directed by Phyllida Lloyd, with book by renowned British playwright Catherine Johnson and music and lyrics by ABBA's own Björn Ulvaeus and Benny Andersson. Please note cast and line-up are subject to change.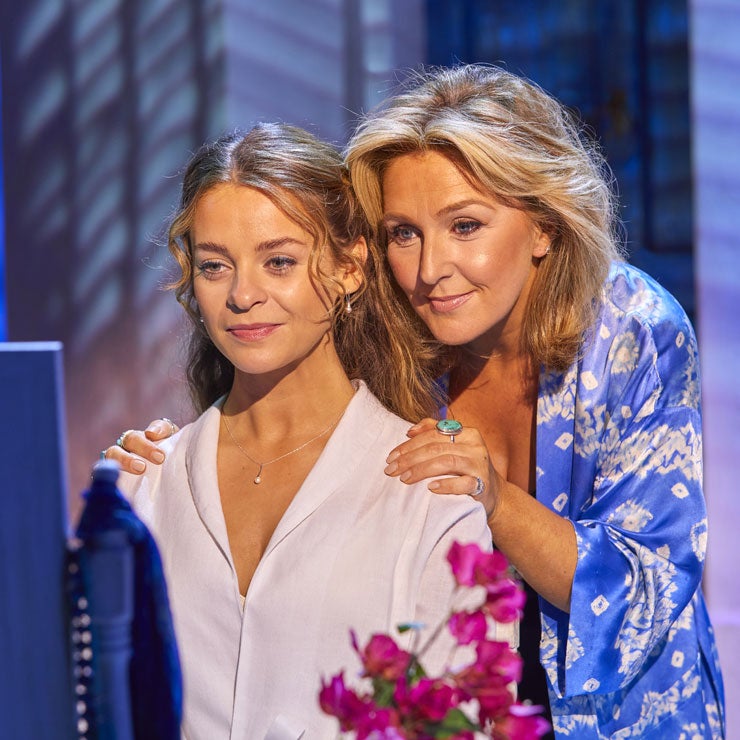 ACCESSIBILITY
MAMMA MIA! The musical welcomes guests with access requirements and strives to make the show accessible for everyone. Two-for-one tickets are available for eligible guests who require an essential companion.
---
Novello Theatre Access Information:
---
Birmingham Hippodrome Theatre Access Information:
---
Blackpool Opera House Access Information:
---
Brighton Centre Access Information:
Maps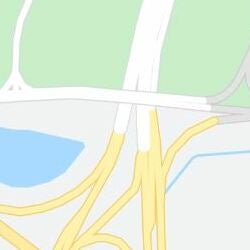 MAMMA MIA! London Novello Theatre,Aldwych
London, WC2B 4LD, UK
Get Directions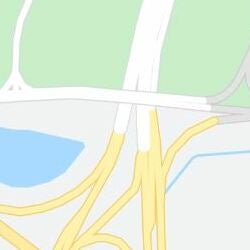 MAMMA MIA! UK Tour Birmingham Hippodrome Theatre, Hurst St, Southside,
Birmingham, B5 4TB
Get Directions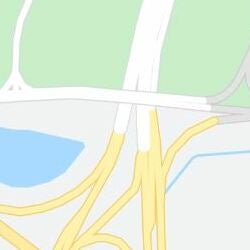 MAMMA MIA! UK Tour Blackpool Opera House,Church St, Blackpool
FY1 1HU
Get Directions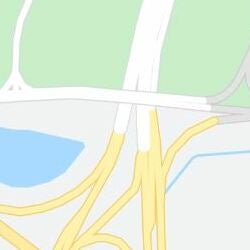 MAMMA MIA! UK Tour Brighton Centre, Kings Road,
Brighton, BN1 2GR
Get Directions
MAMMA MIA! Theatre Features
FAQs
Where is MAMMA MIA! playing in London?
The MAMMA MIA! musical takes place at the Novello Theatre in London, with an address of Aldwych, London, WC2B 4LD, UK.
How to get to Novello Theatre and MAMMA MIA! London:
By Underground - The nearest tube stops are Covent Garden and Holborn and Charing Cross. You can get the Central and Piccadilly line to Holborn, the Piccadilly line to Holborn or the Northern line or Bakerloo line to Charing Cross.
By Bus - The following bus routes stop in Aldwych and nearby: 1, 4, 6, 9, 26, 59, 68, 76, 87, 168, 171, 172, 188, 243, 341, and 521.
By Car - Public transport is recommended due to limited car and street parking. The nearest car park is in Drury Lane.
When is MAMMA MIA! Musical on in London?
Performances of MAMMA MIA! will begin on Wednesday 25 August 2021. The performance schedule will be: Monday, Wednesday, Thursday, Friday & Saturday 7.30pm. Thursday & Saturday 3pm. Sunday 2.30pm
What is the run-time for the musical?
MAMMA MIA! has a running time of 2 hours and 35 minutes, including a 15-minute interval.
Is the MAMMA MIA! musical family friendly?
Yes, the MAMMA MIA! musical is family friendly. Please note it is suitable for children aged five and over.
Where is MAMMA MIA! touring in the UK in 2022?
MAMMA MIA! is touring the UK in 2022, playing shows in Birmingham, Blackpool and Brighton until March 2023. Further UK tour dates for the musical are coming soon. Check out all UK tour tickets here.
How to get to Birmingham Hippodrome Theatre and MAMMA MIA! Birmingham:
By Rail - New Street station is a five-minute walk or Moor Street station is an eight-minute walk from the venue.
By Bus - The following bus routes 126, 35, 77, 45, 47 and most city centre buses.
By Car - On street parking available after 18:00. Or, Arcadian Car Park is on Bromsgrove Street.
Please note that in the interest of safety, security and bag checks are in place at the theatre.
Are accessible tickets and accessible facilities available?
Yes, each theatre venue has accessible facilities and ticket options. Call Novello Theatre in London on 0844 482 5137, and call Birmingham Hippodrome Theatre on 0121 689 1060. Check out our Accessibility section for access information. To find out more about accessible tickets in general, check out our Accessibility Help Page.
How much are tickets for the MAMMA MIA! musical?
Tickets for the MAMMA MIA! are available at various price points on our interactive seating map of each theatre. Depending on availability, tickets can be purchased at prices starting from £18.25 upwards for the London MAMMA MIA! show. Tickets from Ticketmaster are verified and safe to buy. Please note that all tickets and prices are subject to availability.
Are cheaper tickets available for MAMMA MIA!?
Yes, cheaper tickets are available for the MAMMA MIA! musical depending on which section you are sitting in the theatre. Our ticketing system has colour-coded ticket options at various price points to choose from, ranging from the lowest priced tickets to the highest. View all tickets here.
Keep an eye on our Offers guide for all of our theatre ticket deals, including discounted shows and 2-for-1 ticket options for multiple events. Please note that offers are limited and subject to availability.
Please note that Ticketmaster can only deal with questions and issues regarding tickets. For all other enquiries regarding the show, please visit The MAMMA MIA! website or contact them directly.
COVID Information
Do I need proof of vaccination or a negative Covid test to enter the theatre?
As capacity restrictions are lifted, audience members are asked to bring with them proof of double vaccination, a recent negative lateral flow test or natural immunity. Simple ways to demonstrate proof include the NHS Covid Pass, NHS Covid-19 test notification or an internationally recognised equivalent.
Is there anything else I should about know about going to the theatre?
Theatre goers are recommended to keep the following in mind:
Wear a face covering out of consideration for those around you.
Do not come to the theatre if you feel unwell, have any coronavirus symptoms or have been told to self-isolate.
Use the hand-sanitiser available at the theatre.
Be mindful of others and their space, where possible, particularly when moving around the theatre.
Only bring one small bag that can be stored under your seat, as the cloakrooms are not currently available.
What measures are in place to keep theatre goers safe?
Among the safety and security precautions, the theatre now:
Delivers an enhanced level of cleaning throughout the venue
Provides 100% fresh air through the ventilation system
Carries out contact-free security checks
Cannot accept cast gifts or arrange opportunities for cast autographs or photos