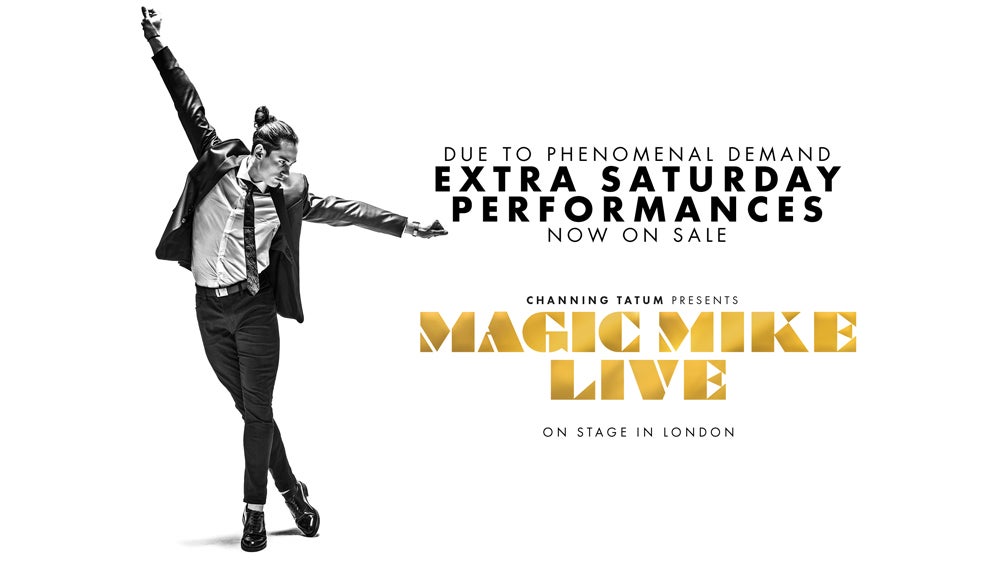 The Theatre at the Hippodrome Casino has undergone a multi-million-pound transformation to create an intimate, state-of-the-art new home for the show that The Sun calls, "...the sexiest, steamiest show in town!". The Channing Tatum crafted, 360-degree dance and acrobatic spectacular is made for a woman's gaze but directed at a woman's heart. Equal parts empowering and exhilarating, whether you're looking for the perfect date night or an unforgettable girls night out, don't miss the show that the Metro called "Red-hot magic!" Limited capacity - be sure to book now!
MAGIC MIKE LIVE TICKETS
Magic Mike Tickets are available for the live theatre production in London's West End. Find the best tickets for Magic Mike by price and date below:
BEST AVAILABILITY THIS MONTH
---
Give the gift of Magic Mike Live - e-Gift Cards are now available!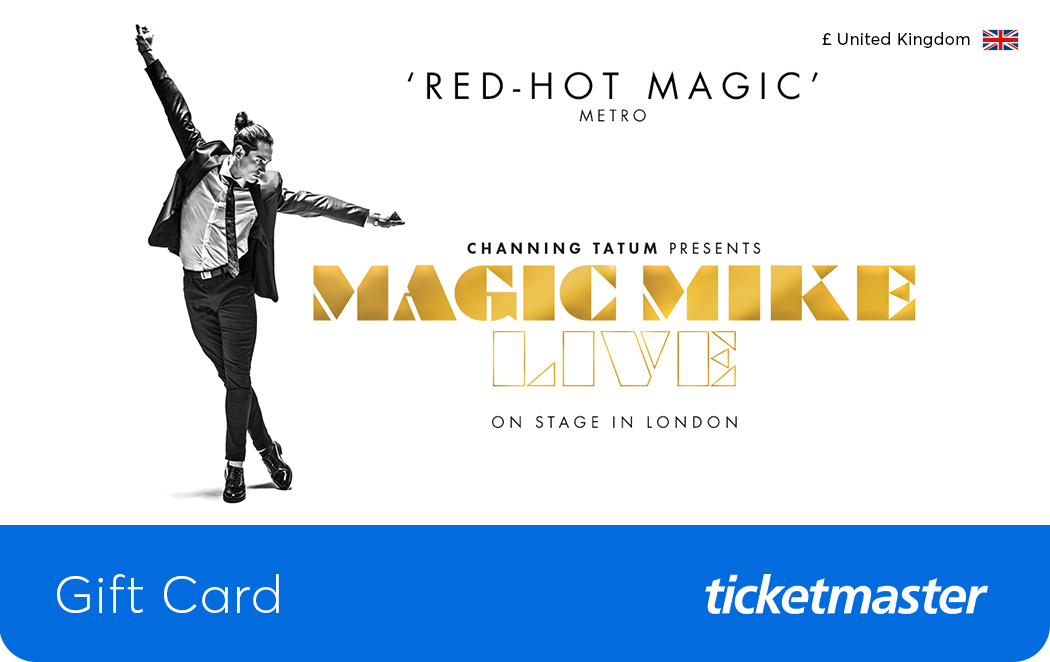 The perfect gift for any occasion, the recipient of a Magic Mike Live e-Gift Card will have the chance to experience Channing Tatum's unforgettable night out at a date and time of their choosing. e-Gift Cards are sent via email and can be loaded with up to £250. Available in the UK only. *T&Cs apply.
---
GROUP BOOKINGS
There are special rates for group bookings over 6 people.
To book for 6 - 9 people please Click here.
To book groups of 10 or more from £47.50, call our groups team on 0844 844 2121 or email groups@ticketmaster.co.uk. Now booking to October 2020.
---
ABOUT MAGIC MIKE LIVE
So, what is Magic Mike Live? Put simply, the show is a first-class entertainment experience inspired by the films Magic Mike and Magic Mike XXL, co-directed by the films' star Channing Tatum. Featuring outstanding choreography and a variety of impressive dance styles, the London theatre show brings the passion of the original movies to life before your very eyes.
The show takes place at the Theatre at the Hippodrome Casino, located on the first floor of the five-floor entertainment complex, in London's Leicester Square in the West End. Channing Tatum first brought Magic Mike Live to London in November 2018 after the production's launch at the Hard Rock Hotel in Las Vegas in April 2017. The live large-scale production seats 325 in an immersive yet intimate theatre experience.
Experience the positively magnetic Magic Men as they perform alluring dance routines witha healthy dose of audience interaction, which involves getting very, very close to the action. Showcasing aerial acrobatics, a 360-degree dance display, a diverse international dance troupe and a variety of dance styles – from street to tap – this seductive show is packed full of entertainment guaranteed to thrill audiences.
Magic Mike Live tickets are on sale now until April 2020.
---
WATCH THE TRAILER
Watch the trailer for Channing Tatum's Magic Mike Live in London:
---
---
FAQs
Where is the Magic Mike Live show in London?
Magic Mike Live takes place in The Hippodrome Casino Theatre in London, with an address of Cranbourn Street, Leicester Square, London, WC2H 7AJ, UK.
How to get to The Theatre at the Hippodrome Casino, Leicester Square:
By Underground/Tube – The nearest tube stations are Leicester Square where you can get the Northern line, which is only one-minute away, along with Piccadilly Circus which is a four-minute walk away where you can get both the Piccadilly and Bakerloo lines. Covent Garden (Piccadilly line) and Charing Cross (Northern and Bakerloo lines) are also located nearby.
By Train – The closest train stations are Charing Cross and Waterloo.
By Bus – The bus routes 24, 29, 176, N5, N20, N29, N41 and N279 stop nearby the venue.
By Car - Public transport is highly recommended. The nominated car park is Q-park in Chinatown.
When is Magic Mike Live on in London?
Performance Times and Dates: Magic Mike Live is on each week from Tuesday to Sunday at 19:30 each evening. There is an additional show on each night in the Theatre at the Hippodrome Casino from Thursday to Sunday at 22:00. There is no show on Mondays. View all performance times and dates here. Magic Mike Live is booking from now until 26 April 2020.
How long is the Magic Mike Live theatre show?
The Magic Mike Live show in London has a running time of 1 hour 30 minutes. Please note that there is no interval for the show.
How much are Magic Mike Live tickets?
Ticket prices for Magic Mike Live start from £39 subject to availability. There are cheaper ticket options along with premium seats to book for each show. View all ticket options and prices here.
Can I stay in the Hippodrome Casino after the show?
Yes, after seeing Magic Mike Live in the Theatre in Hippodrome Casino, you can stay and explore the five floors of entertainment which are open for 24 hours.
Are there age restrictions for the show?
Yes, Magic Mike Live has a strict age limit of over 18s. You will need to bring valid photographic ID or you may not be permitted entry to the show. Entry to the Hippodrome Casino and entertainment complex is strictly over 18s.
Are accessible tickets available for the show?
Accessible tickets are available. Please call 0800 988 4440 for access tickets and information. Please note that The Hippodrome requires all customers who wish to purchase access seating with a free carer to have a Nimbus Access Card. Your card number will need to be quoted when making a booking. If you do not have a Nimbus card, please call The Hippodrome on 020 7769 8888 for instructions on how to register for a complimentary card. Read more about access tickets on our Accessibility Help Page for general information about access and events.
Will Channing Tatum appear in the show?
Channing Tatum is not in the show but does attend some performances so keep an eye out in the audience!
IMPORTANT INFORMATION
Please note the Hippodrome Casino is an over 18s venue and valid ID will need to be presented by all members of your party on arrival in order to gain access to the event. For full T&Cs please click here.
Please note that Ticketmaster can only deal with questions and issues regarding tickets. For all other enquiries regarding the show, please visit the Magic Mike Live website or contact them directly.
---
---
Top