Wax Figure Attraction, London
Madame Tussauds London
About Madame Tussauds London
Madame Tussauds London is one of the capital's top tourist attractions. Located on Marylebone Road within the heart of the city centre, visitors can get up close and personal with more than 150 startlingly lifelike wax sculptures of today's biggest celebrities along with historical figures, heroes, sporting greats and many more.
Founded in 1835, Madame Tussauds now welcomes over 10 million guests each year at 23 locations around the globe. It all started in London when 16-year-old Marie Tussaud sculpted her first waxwork of the French writer Voltaire. Later, during the French Revolution, she had the gruesome task of creating death masks for those killed by the guillotine.
There are 15 interactive areas in Madame Tussauds London to make memories with family and friends. Party with A-listers like Dwayne "The Rock" Johnson, strike a super hero pose with characters from the Marvel Universe and join the Royal family in the most regal of settings. Plus use The Force to be transported to a galaxy far, far away and get in on the lightsaber battles in the Star Wars universe.
For music lovers, plenty of megastars are here too and ready to pose. Be part of the world's hottest girl band Little Mix in a recreation of the Bounce Back video set, stand beside Stormzy at Glastonbury and channel your inner diva next to Queen Bey or Dua Lipa. You can even get a snap strolling the famous Abbey Road zebra crossing with The Beatles.
More than just a wax museum, Madame Tussauds combines glitz, glamour and incredible history – while bringing stars to life in mind-blowingly accurate detail!
Madame Tussauds London photo gallery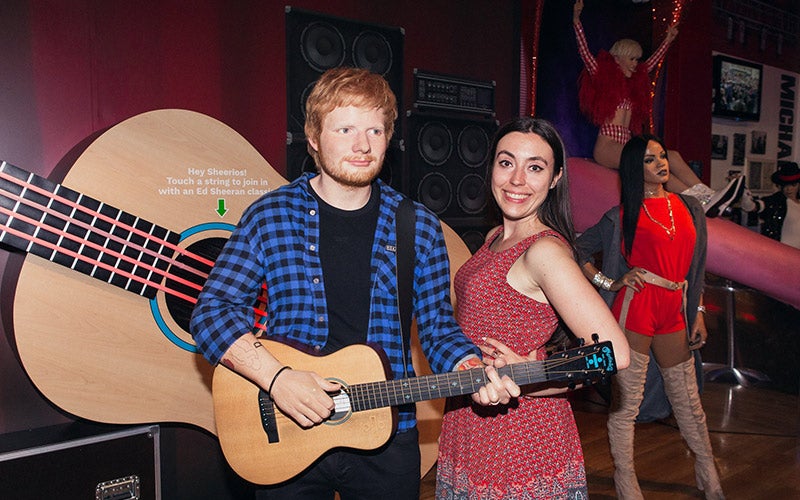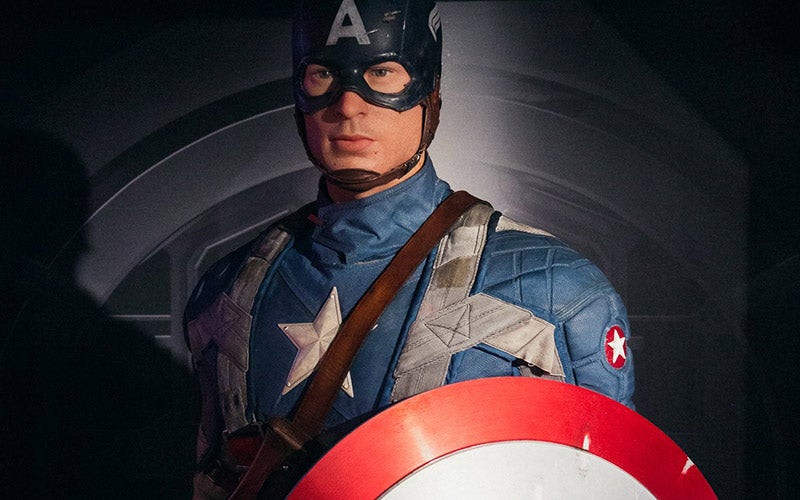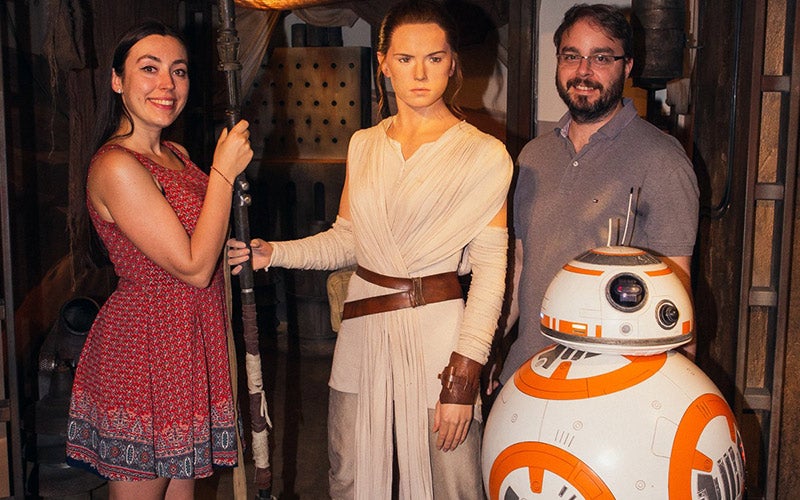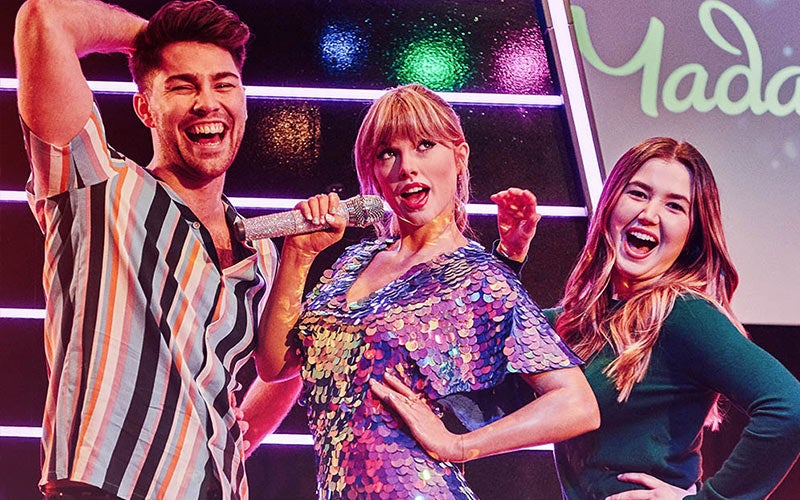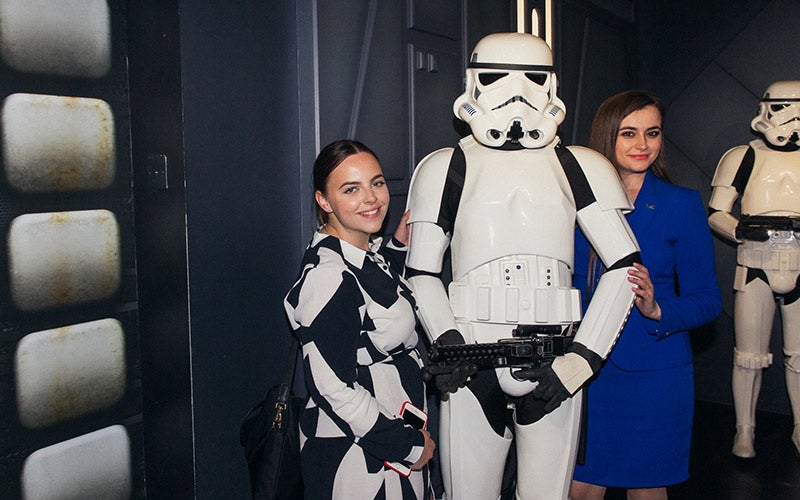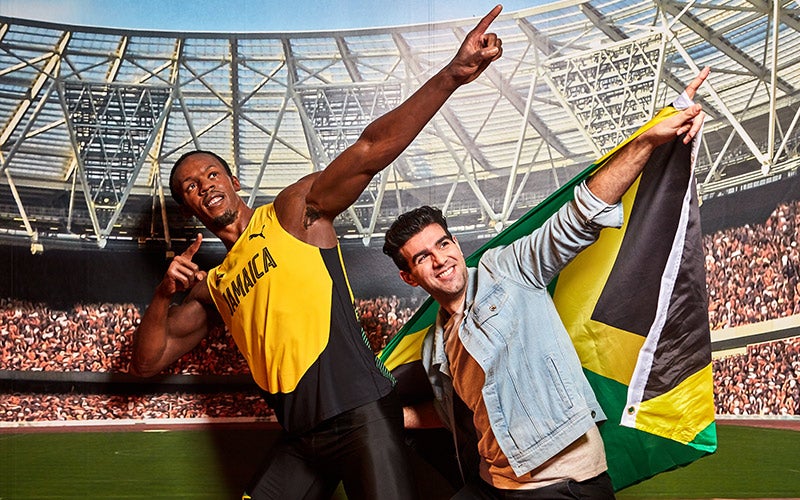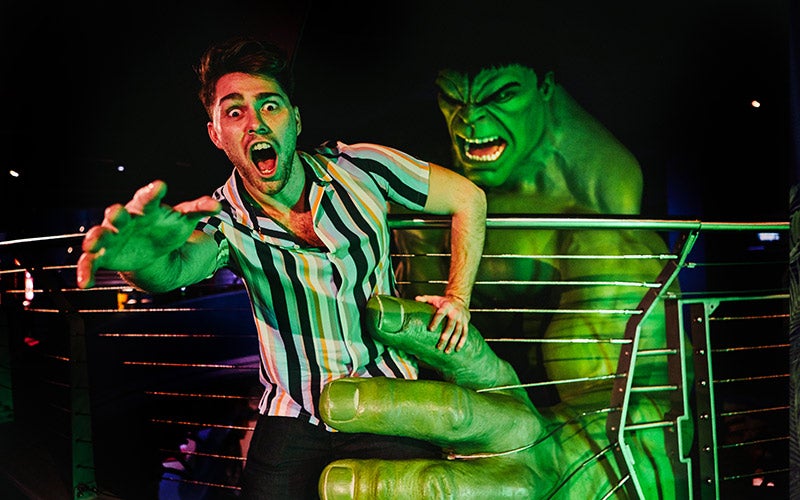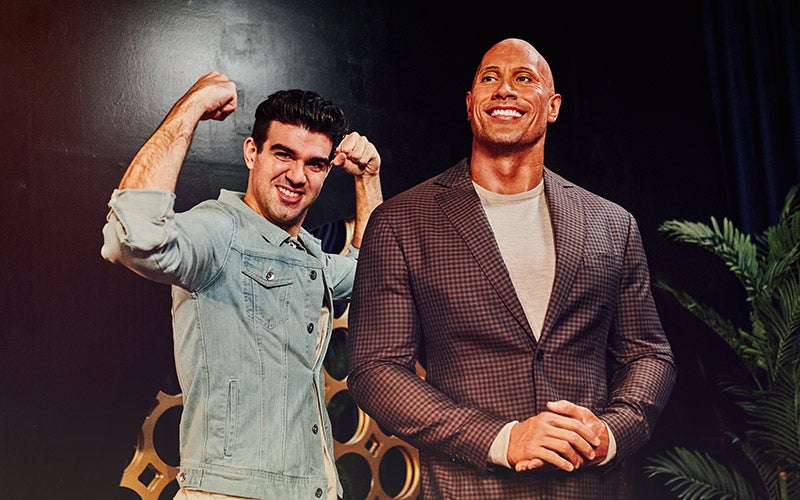 Madame Tussauds Tickets
Tickets for the Madame Tussauds in London are available here:
Madame Tussauds London Address
MADAME TUSSAUDS FAQs
Where is Madame Tussauds in London?
Madame Tussauds is located in on Marylebone Road, just one-minute walk from Baker Street underground station in central London. The full address for the famous wax museum is Marylebone Rd, Marylebone, London NW1 5LR
How to get to Madame Tussauds London:
By Underground - the attraction is a two-minute walk away from Baker Street tube station, which serves the Bakerloo, Circle, Jubilee, Metropolitan and Hammersmith & City lines, making it a short, easy journey from anywhere on the central London tube network.
By Bus - the bus routes 13, 18, 27, 30, 74, 82, 113, 139, 189, 205, 274 and 453 travel to Madame Tussauds.
By Train - the nearest rail station is Marylebone Station, which is a 10-minute walk away from Madame Tussauds. Euston, St. Pancras, Paddington, Victoria, Waterloo and Charing Cross mainline train stations are also all within five stops on the underground.
By Car - Marylebone Road is an extension of the A40, one of the major routes in and out of London. Marylebone Road joins up with the Euston Road which passes by Kings Cross. Q-Park car parking is available nearby on Harley Street and Oxford Street.
What are the opening hours for Madame Tussauds?
Madame Tussauds is typically open seven days a week. The museum generally opens at 9:00 each morning and closes between 16:00 and 18:00 each evening. View the full opening times calendar here.
What are the best times to visit Madame Tussauds?
The quieter times of the day to visit are generally towards first admission at 09:00, or towards late afternoon close to last admission between 16:00 to 18:00, however this isn't always guaranteed.
How long does Madame Tussauds take?
Madame Tussauds London is a walk-through attraction and has no time restrictions, so you can enjoy the experience in your own time. Most people take around two hours to go through all areas of the attraction, including the Spirit of London ride, Marvel experience and the immersive Star Wars Experience.
Which door should I enter through?
Buy or collect your tickets at Door One and enter via Door Two. If you already have your tickets printed you can go straight to Door Two to enter the attraction.
How many zones does Madame Tussauds have?
Madame Tussauds London offers 15 exciting interactive zones.
Are accessible facilities available?
Yes, Madame Tussauds is designed to be as accessible as possible for all guests who have special access requirements. The majority of facilities are accessible however the Spirit of London ride requires ability to walk unaided for up to 40 steps. Two-for-one essential companion/carer tickets are available for eligible guests. Please note that only three wheelchair users permitted in the attraction at any one time due to safety reasons.
For general access queries, visit Ticketmaster's access help page.
How do I book tickets for Madame Tussauds?
The easiest way to book Madame Tussauds tickets is online in advance. Save time and money by booking online - view tickets here. Madame Tussauds tickets through Ticketmaster Official are verified and safe to buy.
How much are tickets for Madame Tussauds?
Standard ticket prices start from £29, subject to availability. View latest ticket prices in our tickets section.
Are there age restrictions for Madame Tussauds in London?
The attraction is family-friendly and suitable for all ages, however some of the interactive zones have set age limits. There is an age limit of 8 and over for the Sherlock Holmes Experience, and 15 and over for the Alien: Escape experience. Children aged 15 years or under must be accompanied into the attraction with an adult aged 18 years or over.
Will I be required to wear a mask or face covering?
Yes, you must bring a mask or face covering with you. You will be required to wear it at the attraction.
What safety measures are in place to protect against the spread of viruses?
In addition to requiring masks and face coverings, several new safety measures have been introduced. This includes the following:
All tickets are digital so you must pre-book your visit.
All payments are contactless wherever possible.
Parking directions have been posted to allow for distancing.
Temperature checks are conducted prior to entry.
New signage with safety measures and instructions has been installed.
Enhanced cleaning takes place throughout the day.
New deep cleaning measures have been introduced in the event a person presents symptoms consistent with COVID-19. (Please note if you have symptoms or are feeling unwell, do not visit.)
Hand sanitiser is available for guests to use throughout the premises.
Employees will be wearing PPE.
Menu offerings in any food outlets feature "grab & go" options.
The capacity has been reduced to allow for social distancing.
How can I practice social distancing?
You can practice social distancing by remaining with your family and friends while keeping a safe distance from other guests.
In order to minimise contact with other parties, there will be empty rows and seats on various rides and attractions.
Some things may be unavailable or have restrictions on the number of guests to ensure social distancing – especially indoor experiences such as shops and restaurants.
Can you take in food to Madame Tussauds?
Yes, you are allowed to take food and soft drinks into the attraction. There are a variety of food and drink options to experience including alcoholic and non-alcoholic beverages, snacks at the 4D cinema and afternoon tea with the Queen.
Please note that Ticketmaster can only deal with questions and issues regarding tickets. For all other enquiries, please visit the Madame Tussauds London website or contact them directly.