Lovebox 2019 Tickets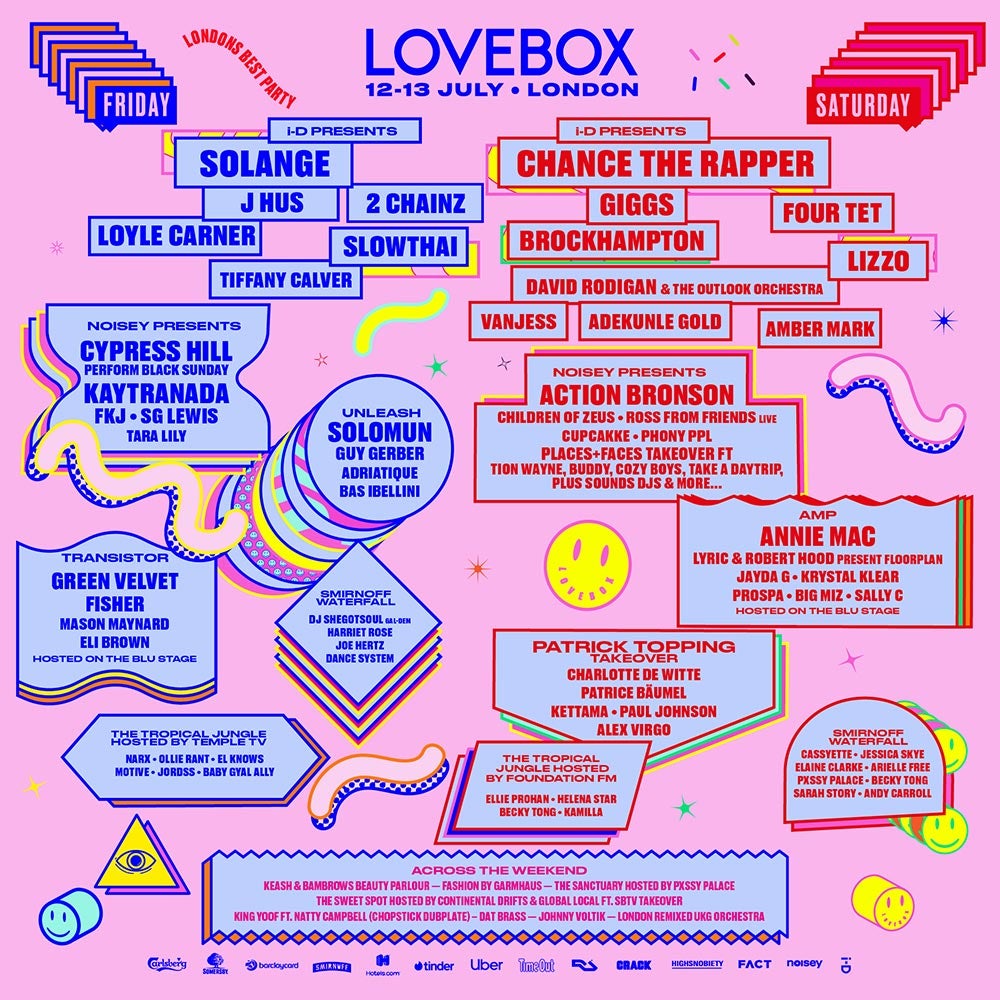 Lovebox Festival - Friday 12 July 2019 at 2:00 pm
Gunnersbury Park, London
Ticket Options
---
Friday line-up
2 Chainz
Adriatique
Cypress Hill performing their seminal album, Black Sunday
Eli Brown
Fact
Fisher
Fkj
Guy Gerber
Highsnobiety
I-D
J Hus
Mason Maynard
Noisey
Pxssy Palace
Lovebox Festival - Saturday 13 July 2019 at 12:00 pm
Gunnersbury Park, London
Ticket Options
---
Saturday line-up
David Rodigan & The Outlook Orchestra
Fact
Four Tet
Giggs
Highsnobiety
I-D
Lizzo
Lyric & Robert Hood Present Floorplan
Noisey
Patrice Baumel
Places+Faces
Pxssy Palace
Sally C
Lovebox Festival - 2 Day Tickets
Friday 12 July 2019 - Saturday 13 July 2019 | Gunnersbury Park, London
Ticket Options
VIP Lineup - Only valid with VIP ticket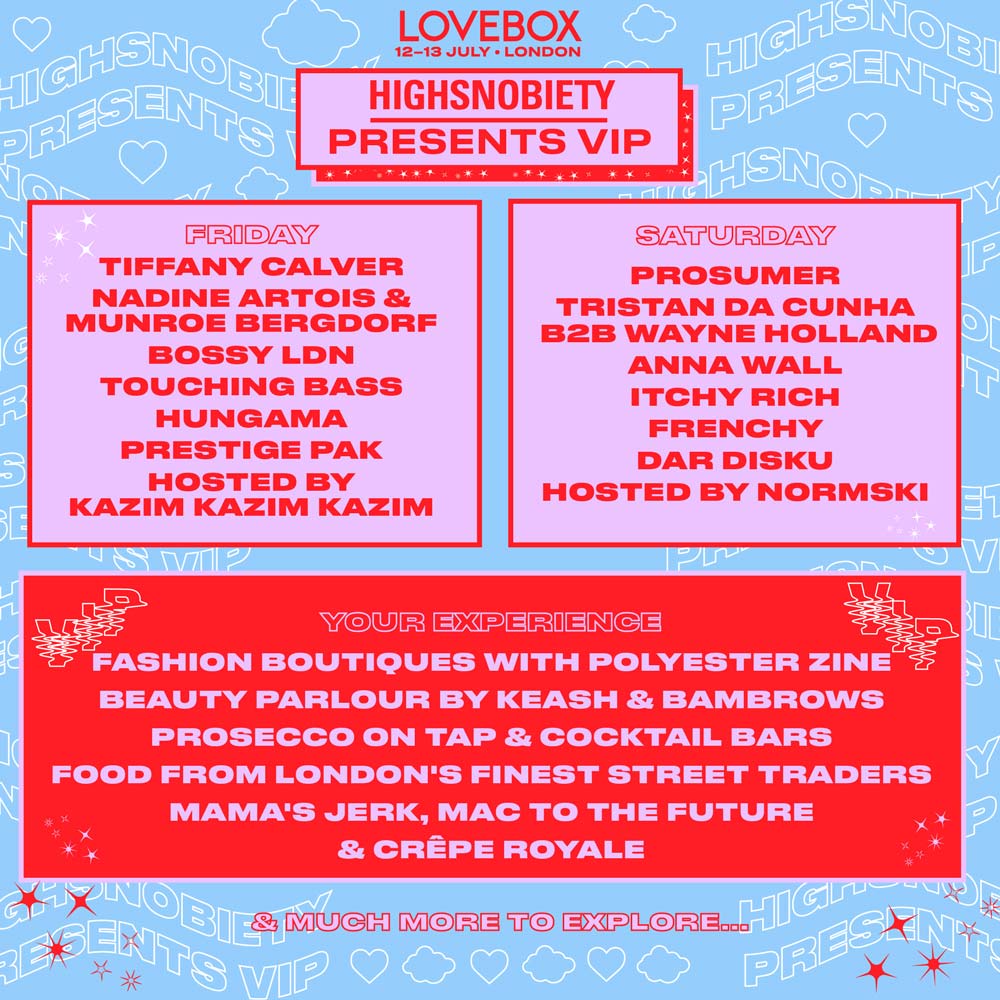 FAQs
When does the Lovebox 2019 start and end?
The festivals runs from Friday 12 July - Saturday 13 July 2019 at Gunnersbury Park On Friday, Lovebox 2019 starts 14:00 and runs until 22:30, with last entry at 20:00. On Saturday, Lovebox starts at 12:00 and runs until 22:30, with last entry at 20:00.
You can find out more about Lovebox times on help page
Does Lovebox 2019 have camping?
Unfortunately, there are no camping facilities at Lovebox but public transport makes it easy to get to the festival site on both days of the event. See our for more info.
How do I get to Lovebox 2019?
Getting to Lovebox couldn't be easier!
Via public transport:
Take the London Underground District and Piccadilly Lines to Acton Town station (this is designated station for the event).
Lovebox 2019 is located in Gunnersbury Park and it is a 7-minute walk from Acton Town station to the park's main entrance.
Please note: scheduled bus services and routes will be disrupted in the area around the park. Customers are advised to look for alternative methods of transport when leaving the festival.
By Taxi:
There will be a taxi rank within the park
Pre-book private hire vehicles will be allowed to access this area post-event.
By Car:
Do not drive to Lovebox
There are no parking facilities at the event on in the roads surrounding Gunnersbury Park
What does Lovebox VIP include and are VIP tickets worth it?
VIP experiences at Lovebox 2019 are definitely worth it. As well as access to the best views of all the action, your experience also includes fashion boutiques with Polyester Zine, access to a beauty parlour by Keash and Bambrows, procession on tap, plus exclusive cocktail bars, and amazing food to delight your tastebuds courtesy of the capital's finest street food vendors - including Mama's Jerk, Mac to the Future & Crepe Royale. Plus much more to explore on site...
Who is on the Lovebox 2019 line-up?
Headliners for Lovebox 2019 are Chance the Rapper, Solange, Giggs, J Hus and 2 Chainz. For more details on the Lovebox 2019 line-up head to our blog.
Can I attend Lovebox if I am under 18?
Under 18s must be accompanied by a person over 18 years of age. Read more about age restrictions on our help page.
How many tickets can I purchase for Lovebox 2019?
There is a ticket limit of six (6) tickets per person and per credit card for this event. For more information on ticket restrictions, head to our help page.
Can I book accessible tickets for Lovebox 2019?
We operate a 2 for 1 (free PA/carer ticket) policy for eligible guests. Read more about accessible tickets and how to book on our help page.
Can I book for Lovebox 2019 with a deposit scheme?
There are deposit schemes available for Lovebox 2019. For more information about booking with a deposit scheme head to our help page.
Where is my booking confirmation?
Booking confirmations are delivered to the email address on which the booking is made under and include a booking reference number you can use if you have any queries about your booking. For more information on booking confirmation, head to our help page.
When will I receive my tickets?
Head to our help page for information regarding ticket dispatch.
Top