About The London Eye
The Lastminute.com London Eye is the most popular paid tourist attraction in the UK. Since 2000, over 70 million people have journeyed to the top of London's stunning skyline in the cantilevered observation wheel.
Standing tall at a height of 135 metres along the South bank of the River Thames, take in the iconic sights of central London, including 360-degree views of key landmarks Big Ben, Buckingham Palace, St Paul's Cathedral, Tower of London, Westminster Abbey and Trafalgar Square.
Your visit includes a 4D cinema film which gives an introduction to the City of London and all the multi-cultural facets of the city, providing a completely new vision of the capital that is both emotional and entertaining. The film is approximately four minutes long making it the perfect prelude to an experience on the iconic London Eye, before you take flight in one of the wheel's 32 capsules - one for every London Borough.
Whether you're a seasoned Londoner or a tourist looking to explore the city, get ready to cast your eye over London's skyline.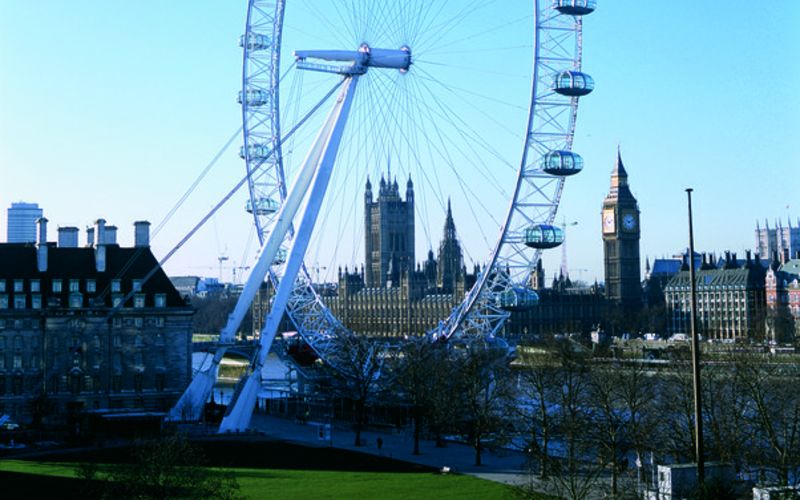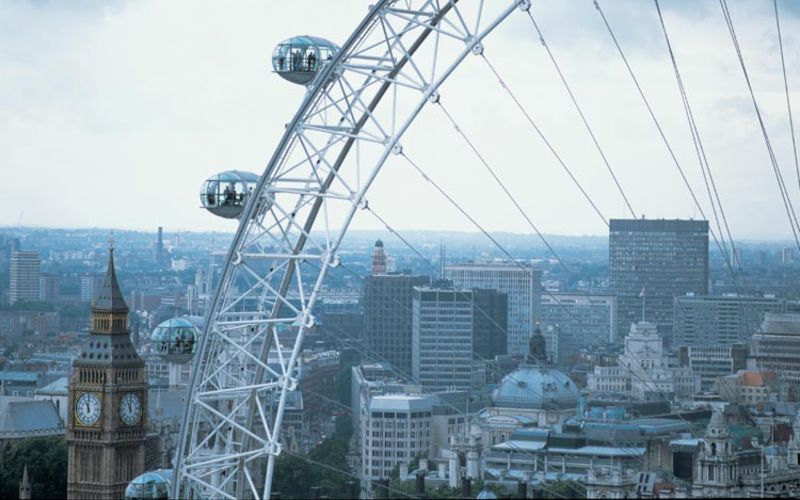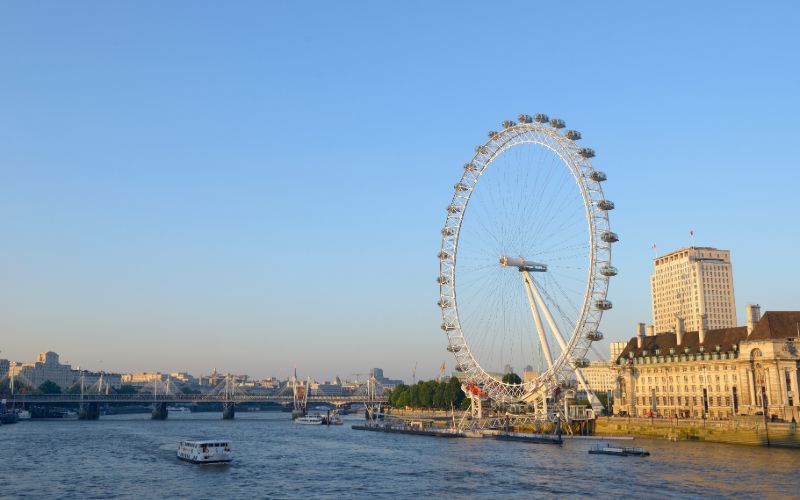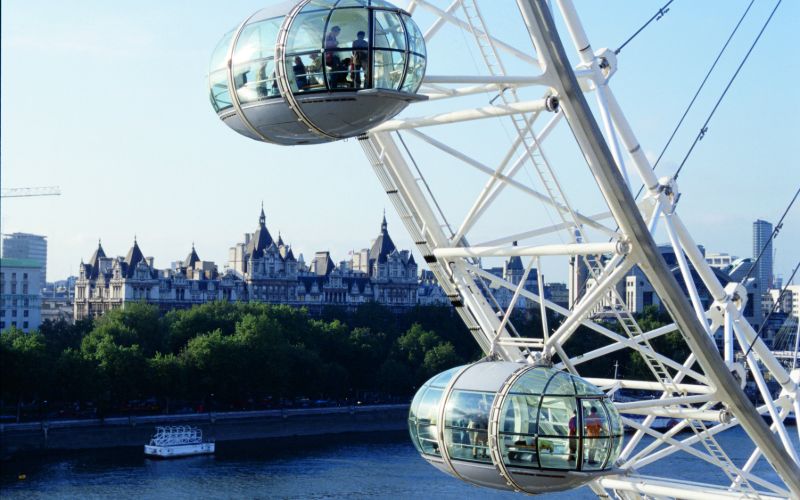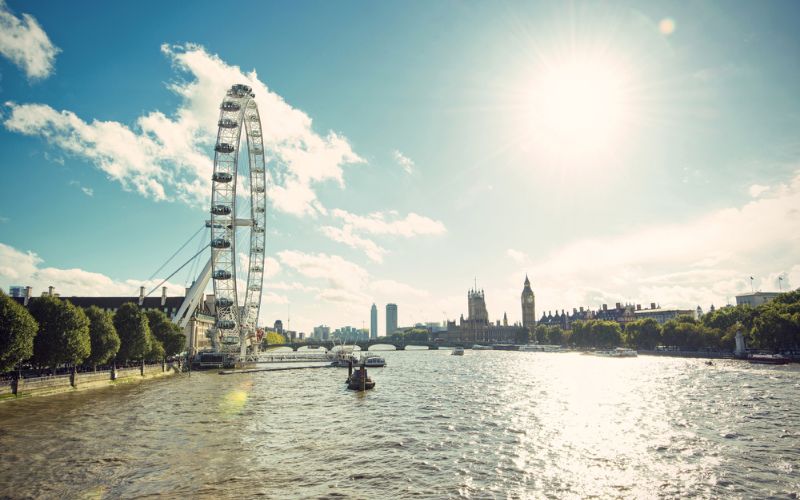 London Eye Tickets
Tickets for the London Eye are available here. Take your London Eye experience to new heights with a Priority Fast Track Pass to skip the queues. Book your tickets in advance here:
London Eye at Night Photo Gallery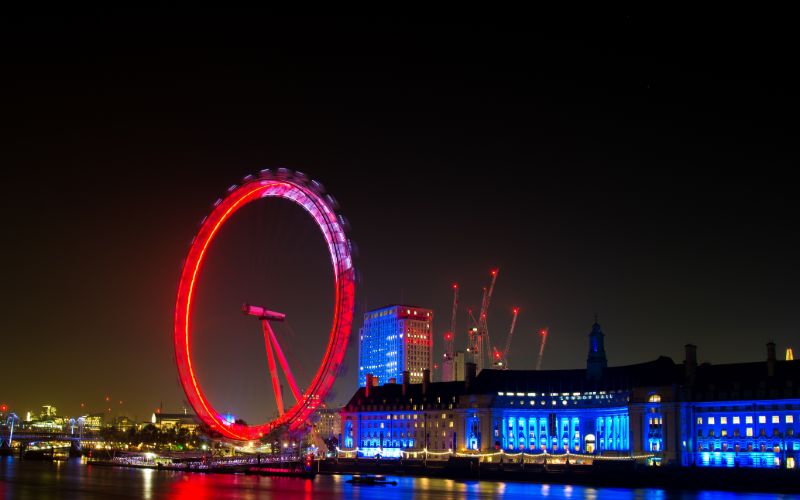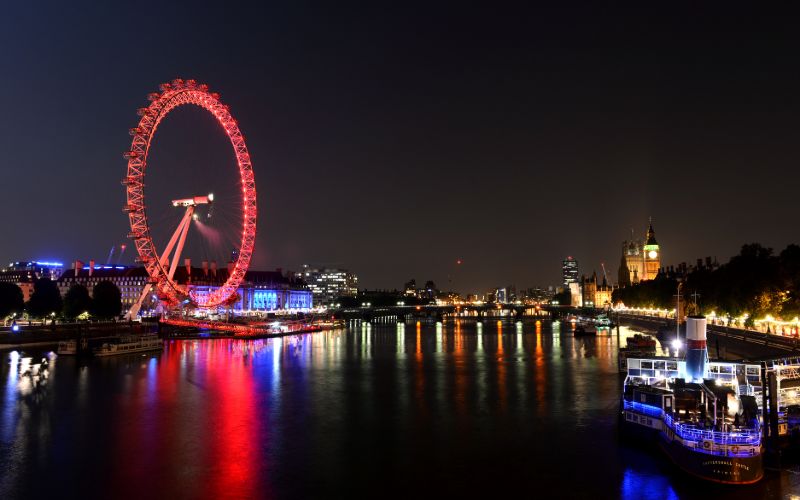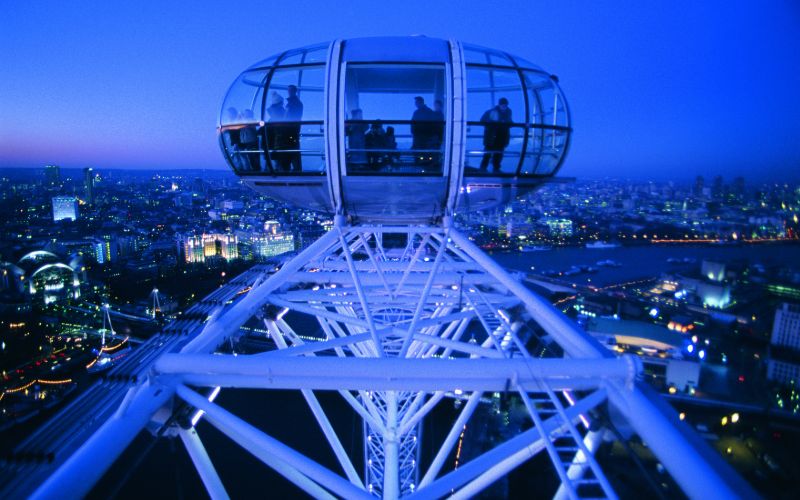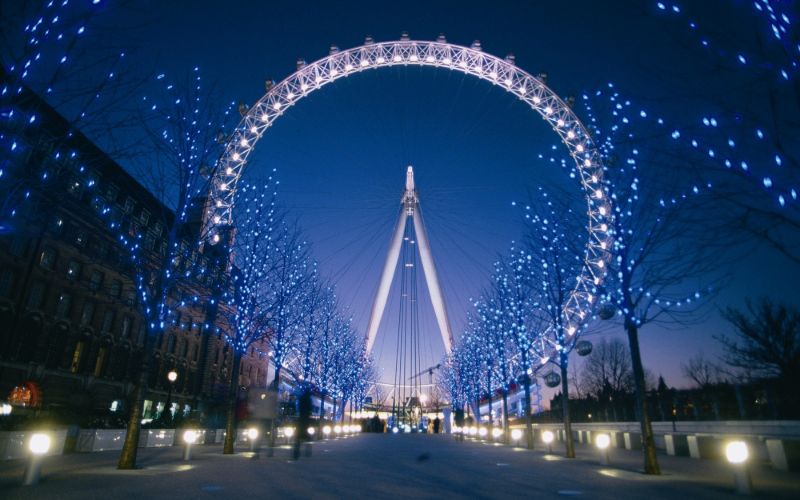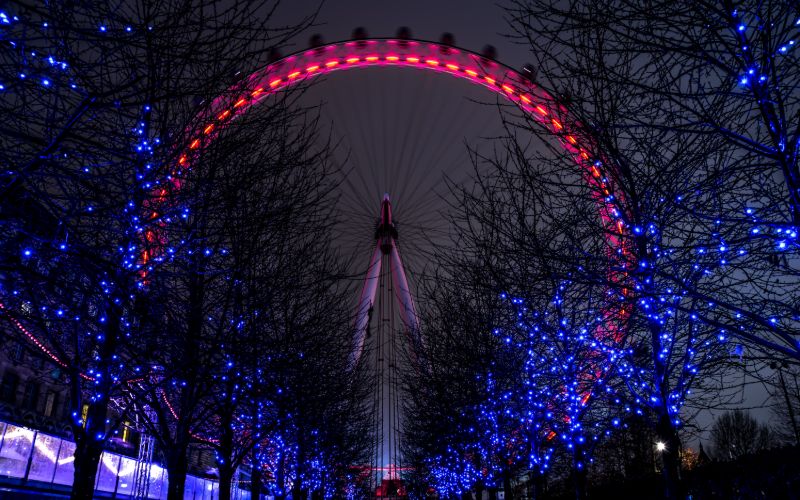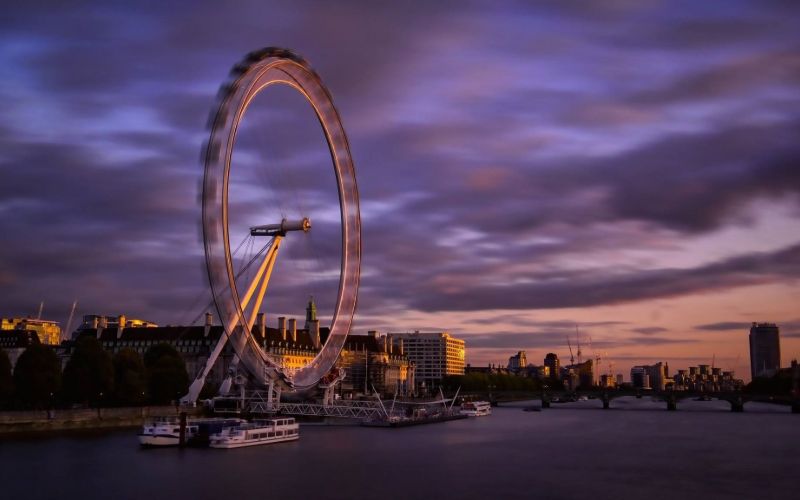 London Eye FAQs
What are the opening hours for the London Eye?
The London Eye typically opens from 10:00 each day and closes between 18:00 and 20:30 each evening. Opening and closing times may vary throughout the year, and the attraction typically closes for two weeks in January for maintenance work.
How long does each ride last?
One rotation on The London Eye takes approximately 30 minutes.
Where is the London Eye?
The London Eye is located on the South bank of the River Thames, opposite the Houses of Parliament and in viewing distance of Big Ben. The full address is The Queen's Walk, Bishop's, London, SE1 7PB. Located in central London, there are many public transport options to choose from.
How to get to the London Eye:
By Underground – the nearest Underground stations in walking distance are Waterloo (Northern, Jubilee and Bakerloo lines), Embankment (Circle, District, Northern and Bakerloo lines), Charing Cross (Northern and Bakerloo lines) and Westminster station (Circle, District and Jubilee lines).
By Bus - along with sightseeing bus tours, you can also take the 211, 77, 381 bus routes and the RV1 bus route to the attraction.
By Train – the closest rail stations are Waterloo which is a five-minute walk and Charing Cross Station, which is a 15-minute walk.
By Boat – sail down the Thames to the London Eye with a number of river boat services departing from The O2, Bankside, Embankment, Blackfriars, London Bridge, Tower, Canary Wharf, Hilton Docklands, Masthouse Terrace, Greenwich, Royal Arsenal Woolwich, St. Katherine's or Westminster Piers.
By Car - Q-Park in Westminster is the nearest car park. Please note that London Eye is in the Congestion Charge Zone.
Can I take photos?
Yes, you can take photos throughout your experience.
Are the capsules enclosed?
Each London Eye capsule pod is completely enclosed and climate-controlled so you can enjoy the experience - whatever the weather!
Are accessible facilities available?
Yes, there are wheelchair timeslots available to book and two-for-one essential companion/carer tickets are available. There is a max of two wheelchair entries per capsule and a max of eight on the London Eye at any one-time for safety reasons.
What's the best time to go on the London Eye?
Boarding the London Eye during the day or at night both offer a breath-taking experience. During the day, you can enjoy spectacular views of the city and see as far as 40 kilometres on a clear day. The London Eye at night is mesmerising - there's nothing quite like seeing the twinkling lights of the city from above.
What are the peak times for the London Eye?
Peak times tend to be from 11:00 to 15:00 during the school holidays and weekends. Quieter times tend to be as the ride opens at 10:00 and towards closing hours between 18:00 – 20:30, however this is not guaranteed.
How much are tickets for the London Eye?
Standard ticket prices start from £27, subject to availability. Children under three go free.
Priority fast track passes are also available to skip the queues through a dedicated entrance.
How do I book London Eye tickets?
The easiest way to book London Eye tickets is online in advance. Save time and money by booking online – view tickets here. You can book by time and date in advance. London Eye tickets through Ticketmaster Official are verified and safe to buy.
Will I be required to wear a mask or face covering?
Yes, you must bring a mask or face covering with you. You will be required to wear it at the attraction.
What safety measures are in place to protect against the spread of viruses?
In addition to requiring masks and face coverings, several new safety measures have been introduced. This includes the following:
All tickets are digital so you must pre-book your visit.
All payments are contactless wherever possible.
Temperature checks are conducted prior to entry.
New signage with safety measures and instructions has been installed.
Enhanced cleaning takes place throughout the day.
New deep cleaning measures have been introduced in the event a person presents symptoms consistent with COVID-19. (Please note if you have symptoms or are feeling unwell, do not visit.)
Hand sanitiser is available for guests to use throughout the premises.
Employees will be wearing PPE.
Menu offerings in any food outlets feature "grab & go" options.
The capacity has been reduced to allow for social distancing.
How can I practice social distancing?
You can practice social distancing by remaining with your family and friends while keeping a safe distance from other guests.
In order to minimise contact with other parties, there will be empty rows and seats on various rides and attractions.
Some things may be unavailable or have restrictions on the number of guests to ensure social distancing – especially indoor experiences such as shops and restaurants.
Are there seats on the London Eye?
Yes, seating is available in each capsule pod, along with standing room for up to 25 people.
Is Wi-Fi available on the London Eye?
The London Eye has Wi-Fi provided by O2. Refreshments are available at the gift shop located by the exit.
Please note that Ticketmaster can only deal with questions and issues regarding tickets. For all other enquiries regarding the show, please visit the London Eye website or contact them directly.