1 – 9 August 2021 / Cardiff Castle, Cardiff
Live Under The Stars: Cardiff
Line up
Walk Like A Man – A Night With The Jersey Boys
Events
Loaded 20 out of 25 events
About
A sensational series of theatre and music events
Live Under the Stars is a brand new festival coming to Cardiff in August 2021. It offers live entertainment lovers one-off performances spanning music, theatre, family programming and more. There'll be West End shows as well as concerts from Welsh artists – all in an intimate outdoor setting within the historic walls of Cardiff Castle.
The festival kicks off with The Cardiff Castle Summer Prom. The first live event to be held there this summer, the world-class Welsh talent includes soprano Rhian Lois (Sir Bryn Terfel Foundation Award winner), tenor Trystan Llyr Griffiths (Voice Of Wales winner) and baritone Steffan Lloyd Owen (Towyn Roberts Scholarship winner).
Along with a limited run of The Adventures Of Pinocchio, other shows at Live Under The Stars range from Bring Them Home to MY MY! ABBA. Experience the ultimate Whitney Houston tribute show with Whitney – Queen Of The Night or celebrate 60 years of incredible songs with The Magic Of Motown. Plus the male choir Only Men Aloud provides an evening of Welsh hymns and folk songs, while Cardiff's premier electric blues band, Blue Evolution, will get audiences into the groove.
The producers behind Live Under The Stars boast over 40 years experience in delivering theatre and music productions, mostly outdoors, and want to treat the public to a taste of what they've been missing this summer.
Presented in accordance with UK and Welsh government guidelines due to Covid-19, Live Under The Stars is a great way to make the most of the warm weather season while seeing and supporting some of your favourite music and theatre stars before they return to the West End's stages.
Live Under The Stars 2021 summer schedule
1 August 2021 – The Cardiff Castle Summer Prom 2021
2 August 2021 – The Adventures Of Pinocchio (matinee) / Only Men Aloud & Friends (evening)
3 August 2021 – The Adventures Of Pinocchio (matinee) / Walk Like A Man – A Night With The Jersey Boys
4 August 2021 – The Adventures Of Pinocchio (matinee) / The Magic Of Motown
5 August 2021 – The Adventures Of Pinocchio (matinee) / MY MY! ABBA
6 August 2021 – Whitney – Queen Of The Night (evening)
8 August 2021 – Bring Them Home – Wales From The West End (evening) 
9 August 2021 – Blue Evolution – Cardiff's premier electric blues band (evening) 
Location
Getting there
Use postcode CF10 3RB for satellite navigation. From M4, exit junction 32 and follow the A470 to Cardiff city centre. There are plenty of car parks and meter parking in the city centre.

Cardiff Central Station – which is served by Great Western Railway, Transport For Wales and CrossCountry – is located in the centre of the city, with Cardiff Castle being just a 10-minute walk away.

The following transport lines have routes that pass near Cardiff Castle: 26, 27, 28, 57, 58, 95, 136 and X1.

Cardiff Castle is located in the centre of the city, simply look for the finger post signs that will lead you to the castle entrance at the junction of Castle Street and High Street.

The NCR8 cycle route passes through Cardiff's Civic Centre, which is only a two-minute ride from the Cardiff Castle entrance.
News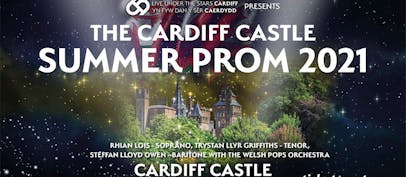 The Cardiff Castle Summer Prom announced
The event will feature world-class Welsh talent and be held on the grounds of Cardiff Castle on 1 August 2021 at the inaugural Live Under The Stars festival.
FAQS
Live Under The Stars is set to run from 1 – 9 August 2021. Guests are asked to arrive a minimum of 30 minutes before the performance time.  No performances are scheduled to finish later than 22:00 and all Pinocchio performances will run in the daytime during the school holidays.

All Live Under The Stars events are being staged on Castle Lawn at Cardiff Castle in the heart of the Cardiff city centre. Find directions and more information here.

Tickets for Live Under The Stars' 2021 shows are on sale now.

No, not unless you are the lead booker and the tickets are for your family or bubble. To keep things simple and straight forward, for Live Under The Stars everyone is being asked to arrive together in one group. This is to help comply with all the current guidelines in relation to track and trace and to ensure everyone's safety. You should book your tickets in your family group as it reduces the amount of people movement and unnecessary interaction with site staff. Plus, all tickets will be contactless on mobile phones or available to print at home.

A managed one-way pedestrian system will apply at Live Under The Stars. Toilets and walkways will be stewarded, and gels and sanitisers will be provided, while guests are asked to behave responsibly, not move around without a valid reason and stay in their seated areas. Toilets will be managed and fully sanitised after each show and attendees will be asked to clean their hands before and after a visit.   

All tickets will be e-tickets that are printed at home or stored on your phone. To minimise social contact, no shows will have intervals and attendees will have to purchase food and drink and take it to their seats before the show begins. It's recommended you arrive early, enjoy the surroundings and keep to your social group.

Live Under The Stars covers all tastes. Organisers have teamed up with Black Rat Productions, who will present The Adventures Of Pinocchio during the daytime and the evening schedules include the renowned Magic Of Motown show. In addition, the all-Wales musical celebration Bring Them Home and an evening with Only Men Aloud are being featured. Also showcased is local electric blues band Blue Evolution.  

Live Under The Stars is taking place on the flat castle lawn, which allows for easy wheelchair access plus general access to all seats will be available. There will be no space to store prams and pushchairs. Babes in arms are free to enter with some concessions available. 

Takeaway food and drink will be available before each show and you are allowed to bring them to your seats. There will be no intervals so come early. You will not be allowed to bring your own food or drink into the castle grounds.

Generally, the weather in Wales in August is dry and lovely. The stage is fully covered and the castle is fairly well protected, but dress accordingly. If an event has to be cancelled because of rain, extreme weather conditions or a change in government guidelines, full refunds will be given or tickets can be transferred to rescheduled dates.