16-20 July 2020 / Henham Park (Latitude Festival)
Discover

Latitude Festival
LATITUDE 2020 - THE EXPERIENCE
Latitude festival 2020 is a UK music festival based in Henham Park in Suffolk. The 2020 edition of the festival will take place from 16 - 19 July. Latitude has everything from top music acts across multiple stages, comedy to cabaret, theatre and arts areas. You can catch your favourite headline acts play on the main Obelisk Arena sage or discover up and coming musicians on the various smaller stages, including the hidden Alcove stage. The 2019 line up included headliners George Ezra on Friday, Stereophonics on Saturday and Lana Del Rey closed the event on Sunday. Loyle Carner and Primal Scream also played on Friday, alongside Everything Everything and Underworld on Saturday. The last day of 2019's edition also saw Chvrches and Slaves take to the stage.
Latitude is also an award winning family friendly festival, taking home the best family festival award in in 2018 and includes tickets for all age groups. Along with musical entertainment, you can also chill out and recharge. There are relaxed areas where you can enjoy a spot of lake swimming, outdoor yoga and even paddle boarding. There is also a variety of theatre and dynamic art installations to appreciate. Alongside the entertainment there will also be an array of bars and food stalls, including a theatre of food complete with cooking demonstrations, along with a unique on-site restaurant The HotHouse.
There are a variety of ticket options available, including weekend camping and a number of campsite options.
Early bird tickets are on sale now - don't miss out. Get your tickets here and secure your place at Latitude 2020!
LATITUDE LUXURY
Camping with Latitude Luxury offers an eclectic array of boutique accommodation options. Staying in the Latitude Luxury Campsite means making your festival experience as relaxing and convenient as possible. From the moment you arrive, we'll be on hand to help make Latitude the most chilled out festival experience imaginable. Arrive in style - while our concierge help with your luggage, we'll arrange your festival wristbands and guide you to your accommodation. You can then enjoy a complimentary drink from our bar to help you relax into the vibe of the weekend...
Any questions? Please contact us at vipnation@livenation.co.uk
Festival Tickets are not included in your accommodation price, and must be booked separately. Everyone staying in your Latitude Luxury accommodation must have a Weekend Camping ticket to gain entry. If you do not already have your Latitude festival tickets, you can easily choose to add these to your order when you book your accommodation.
For any Bespoke Corporate Enquiries please contact: hospitality@vipnation.co.uk.
Join our Latitude Luxury mailing list to receive email updates on new VIP packages and ticket releases.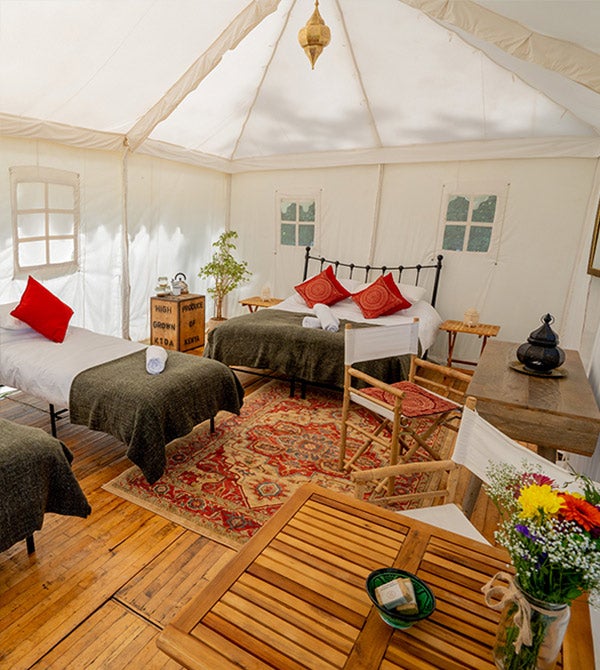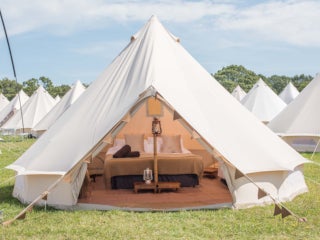 Luxury Bell Tent for 2, 3 or 4
Thursday 16 July 2020 - Monday 20 July 2020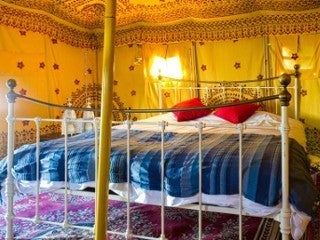 Bedouin Tent for 2 or 4
Thursday 16 July 2020 - Monday 20 July 2020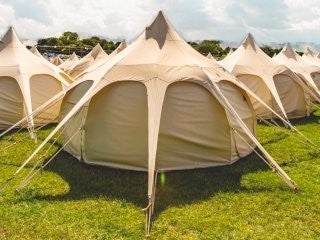 Bell House for 2, 3 or 4
Thursday 16 July 2020 - Monday 20 July 2020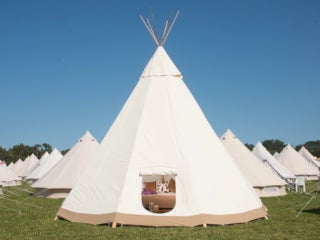 Luxury Tipi for 2 or 4
Thursday 16 July 2020 - Monday 20 July 2020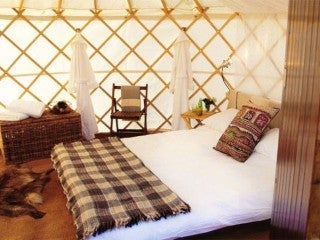 Luxury Yurt for 2
Thursday 16 July 2020 - Monday 20 July 2020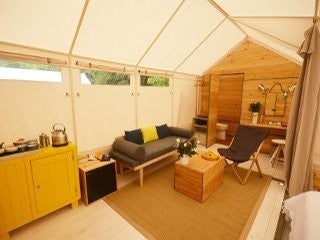 Luxury Suite for 2 (en - suite)
Thursday 16 July 2020 - Monday 20 July 2020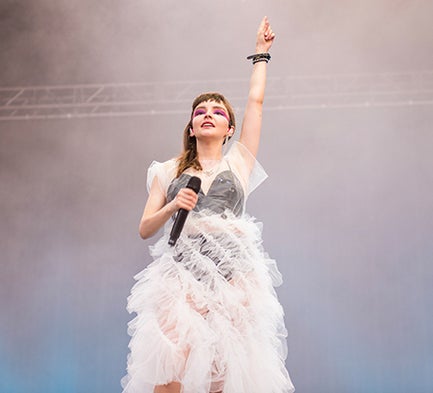 DISCOVER
Feature: Here's what happened at Latitude Festival '19
Standing on Latitude Festival's main stage in the sprawling Obelisk Arena and basked in the evening sun, Chvrches' Lauren Mayberry pauses to acknowledge the incredible achievement of women across the weekend. She laughs at the often-repeated lie that there aren't female artists strong enough to take on headline duties.
Read More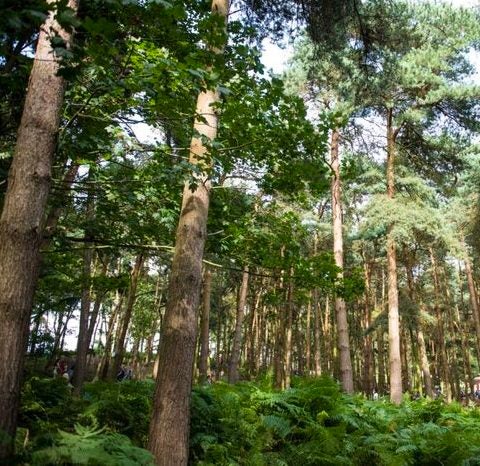 LOCATION
Latitude Address:
Henham Barns Nr, Southwold, Beccles NR34 8AQ
---
Directions
By road: The venue is located between the A12 and the A145. The A12 is off Junction 28 on the M25.
Public Transportation
Nearest rail: Halesworth (3.9 miles)
National Rail Enquiries: 08457 484950
LATITUDE FESTIVAL GALLERY
ACCESSIBILITY
Accessible Tickets
Disabled access customers should first buy a Weekend or Day Ticket.
Please buy your festival ticket first. You will then need to apply for access to disabled facilities and/or a complimentary PA ticket via https://www.latitudefestival.com/information-category/access-customers
Only buy a ticket for the Access Customer and any friends and family attending, NOT including the PA. If you are applying for a Personal Assistant Ticket, you need to apply for this by completing the Access Requirements Application form. If you are not offered a complimentary ticket for a PA but you still wish to bring someone and the event has sold out by the time we inform you, we can make one ticket available to buy.
The application period is not yet open, but if you wish to be notified when it opens please send your name and contact details to access@latitudefestival.co.uk and they will add you to the list. Once the application period is open they will send you a link to the Access Requirements Application Form.
GENERAL RULES
General Rules
FESTIVAL REPUBLIC – TICKET & ENTRY TERMS & CONDITIONS - LATITUDE
GENERAL-
a) These Terms and conditions (T&Cs) incorporate, and should be read together with, any Vendor's and/or Agent's T&Cs or regulations, which you can obtain from the point of purchase from the Official Agent.
b) Artists and billed attractions may be subject to change.
c) No trading allowed within the venue without Festival Republic's (FR's) prior consent.
d) Goods using unauthorised event logos and unauthorised professional recording equipment will be confiscated
e) Do not buy tickets or goods from unlawful street traders/touts. They are invalid.
f) You give your express consent to your actual/ simulated likeness to be included for no fee within any audio or visual recording to be used in any media for any purpose at any time. This includes filming by the police or security staff which may be carried out for the security of customers and/or the prevention of crime.
g) No unauthorised buses, coaches or trucks will be allowed on site.
REFUNDS -
a) Refunds are only considered on major cancellation, substantial alteration or by special exception determined by FR
b) Refunds should be obtained from the point of purchase, no later than 3 months after the event.
c) A minimum of the face value of the ticket will be refunded.
d) Refunds of booking fees per ticket are subject to the T&Cs of the point of sale.
TICKETS AND WRISTBANDS -
a) Tickets are non-transferable and only valid when purchased from official agents of FR.
b) Tickets/wristbands purchased from unauthorised sources will be rendered invalid and refused admission.
c) Tickets must be exchanged for a wristband on first entry at a wristband exchange.
No re-admission on ticket.
d) Tickets must be valid, presented in full, with stubs and not tampered with (in the event of accidental damage, refer to point of purchase prior to event). Tickets remain the property of Festival Republic.
e) FR will not issue duplicate tickets for lost or stolen tickets.
f) Tickets cannot be used as part of any marketing, media or sales promotion, without the prior written consent of FR.
g) The ticket holder is responsible for their tickets until it is exchanged
for a wristband and then responsible for their wristband for the duration of the event.
h) All wristbands remain the property of FR until 12 Noon the day after the last day of the event.
i) There is no readmission on day tickets/wristbands.
Tickets are exchanged for wristbands on first time entry. Weekend wristbands allow unlimited access to and from the event. There is no re-entry on ticket alone. Day wristbands allow access through the day entrance only.
SECURITY
a) FR reserves the right
to evict a customer without refund, and/or refuse admission. See Eviction Policy*
b) You may be body/bag searched at the entrances, on the site or when leaving.
c) Any item(s), reasonably considered for use as a weapon, which may cause danger, offence
or disruption to any other person, will be confiscated**.
d) Any person carrying illegal items or carrying out illegal activity will be given to the Police and refused entry. Please see confiscation policy**.
e) Anti-social behaviour may lead to eviction*.
Please act responsibly.
F) Throwing gas, aerosol or similar canisters/containers on to fires is extremely dangerous and will lead to eviction*.
DAMAGE/LOSSES FR is unable to accept any liability for personal or property damages, losses (including
confiscations) or injuries sustained at this event - other than caused as a result of our negligence.
BANNED ITEMS
a) Banned from event – Glass, aerosols over 250ml, air horns, fireworks, flares, glass, illegal substances/drugs, 'legal
highs', laser equipment/pens, megaphones, nitrous oxide, sky or 'Chinese' lanterns, sound systems, spray cans, tabards/high visibility jackets, blow torches, cameras with a lens larger than six inches.
b) Excessive amounts of food, cigarettes and alcohol. Only bring enough for personal consumption.
c) Banned from arena - Cans, disposable BBQs, campsite stoves, large and open drinks bottles (500ml are permitted). Please note: you cannot bring alcohol in to the arena (bars are available in the arena).
d) Generators with the exception of fixed in campervans.
e) Anyone resisting the confiscation of disallowed items or disregarding these conditions will face eviction*.
f) Under 18's are not permitted to bring alcohol or to purchase alcohol on site.
g) It is illegal for an over 18 to purchase alcohol on the behalf of under 18s.
FIRE AND SAFETY
a) Fires are not permitted in the arena.
b) The burning of plastics, bedding, tents, furniture etc. is not permitted anywhere on site.
c) Smoking is not permitted in enclosed public spaces or buildings including Arena big tops.
d) Excessive exposure to loud music may cause damage to your hearing.
e) Pyrotechnics, lasers, smoke machines, strobe lighting/special effects may take place during some performances.
f) The use of Drones or similar equipment for any reason is strictly forbidden on site without written permission from Festival Republic.
HOUSEKEEPING a) Please use the bins and recycling points provided on and off site.
b) No animals, other than guide or hearing dogs, are permitted on site.
INFORMATION & NOTIFICATION – ALL FESTIVAL REPUBLIC EVENTS
a) Disabled Facilities are available – please call 020 7009 3000 for further information.
b) FR events, www.festivalrepublic.com or call information line on 020 7009 3001 (Mon-Fri 10am - 6pm).
c) Event website – www.latitude.com for eviction*, confiscation** policies, safety and travel information.
d) If any of these T&C'sare unclear please contact info@festivalrepublic.com
Children Rules
Weekend Ticket - Standard Camping
This is a standard weekend ticket with standard camping included. Required for all persons 16 years and over.
Weekend Ticket - Family Camping
This is a weekend ticket with camping, with a spot in the "quiet" or "family" camping fields. Each person 16 years of age and over within the family will require one of these tickets. THIS IS NOT A GROUP TICKET and will only admit one person per ticket. Please note: No single or groups of adults will be permitted in the Family Camping area unless accompanied by children 16 or under. Due to limited space the Family Camping area is restricted to relatives and guardians of children. Groups of friends of families who arrive without children should camp in general camping.
Child Ticket
Children aged 5-12 are required to have a Child Ticket (children under 5 do not need a ticket).
Essential (Printable) Child Information at www.latitudefestival.com/kids
Children 10 and under must be accompaniedby an adult over 18 at all times at all times.
Children 10-12 years may move between the campsites and arena unaccompanied with their parents' permission. If a parent is happy to give consent they should register their child (signed form) at the arena entrance and obtain an Unaccompanied wristband for their child.
Any child aged 10-12yrs without one of these wristbands, or any child under 10 found unaccompanied will be looked after by the Lost Kids/Welfare team who will make efforts to contact you. Parents may be asked to provide ID with proof of age if the child appears to be over 13 but holding a Child Ticket.
ACCOMPANIED TEEN TICKET
A limited number of Teen tickets are available for those aged 13-15 years. Teen tickets can only be purchased when buying an adult ticket. On arrival and when leaving the festival site Teen ticket holders MUST be accompanied by and adult over 18 years Once inside the festival 13+ years do not need to be accompanied moving between areas between the hours of 7am and Midnight (they need DO to be accompanied between Midnight and 7am). Teens need to camp with or adjacent to their accompanying adult(s).
Parents may be asked to provide ID with proof of age if the child appears to be 16 or over but holding a Teen Ticket.
There are separate General and Family Camping area Teen tickets.

Age Restrictions
0-4 years are Free. No ticket is required. 5-12 years olds must be accompanied by a ticket holding adult and each child will require a Child Ticket. 13-15 Must have a Teen ticket and may move around the event unaccompanied but are not permitted to arrive or leave through the perimeter gates without an adult over 18. Children under 16 years old must be accompanied by a parent or guardian who is over 18 years old. Don't take any chances - bring proof of age. Note: Latitude Festival will contain acts unsuitable for children. Where it is possible to classify a scripted performance or film by age, this will be noted on signage outside the tent. The Cabaret Arena will contain nudity. The Comedy Arena will contain swearing. Other stages may feature material not suitable for children that we are unable to predict and classify due to the nature of live performance.
Miscellaneous
Onsite Facilities
Bars, Cash Points, First Aid and Paramedics, Food and Non Food stalls, Information Tent, Property Storage, Lockers including phone recharging facilities, Merchandise, Showers, Welfare Tent, Firewood stall, Wheelbarrows for hire.
Water
There are free drinking water points throughout the campsites and arena in most cases, next to the toilet blocks. They are all signed as suitable for drinking and the supply is tested daily. Any broken taps or flooding should be reported to the nearest steward.
Toilets & Showers
There are toilet blocks throughout the campsites and arena. At most toilet blocks, there will be a toilet service attendant based there permanently. If you notice any toilets that need servicing, please tell the attendant or the nearest CAT (Campsite Assistant Team) or HAT (Helpful Arena Team). All toilet paper supplied is made from recycled toilet paper. Any additives used in the toilets are biological and are not harmful to the environment.
Disabled toilets are availablethroughout the site at key locations.
The shower tent is situated in the Village and will be open from 6am to 1pm and from 7pm to 12.30am each day.
Seating
Latitude is an open air non seated event - some seating is available in the Obelisk Arena and there are picnic benches in the arena and deckchairs by the lake.
Wristbands
The wristbanding tents are located just inside each campsite gate so you need to swap your ticket for a wristband before you enter the campsite and pitch your tent. Please note that some queuing at these wristband exchanges at peak times is inevitable. We will be doing our best to wristband everyone as quickly as we can and will have more staff on duty at peak times than in previous years. Family Camping is accessible via Green Gate on the A145 then Memorial Gate.
The wristband exchange for day ticket holders is situated by the day ticket entrance.
Re-admittance to the site is only possible once you have been wristbanded. Entrance to the arena is only possible with a valid wristband.
Wristbands removed from the wrist or tampered with will be rendered invalid and will not be replaced.
We advise all day ticket purchasers to arrive early to avoid missing any of their chosen acts and to leave ample time to get from the entrances to the stages.
Running Order Changes
Any changes to the running order are passed on to the Information Tent and should also be posted on the large information boards situated throughout the site. HATs (Helpful Arena Team) will also be able to update you.
Weather Policy
There is no refund or exchange available. The event will go ahead regardless of rain etc. Please dress for the prevailing weather conditions. Bring sunscreen.
Top