Alternative and Indie
Killing Joke
Events
Loaded 14 out of 14 events
About
Post-punk turned visionary art metal act
Killing Joke took shape in London in the late '70s, after frontman Jaz Coleman, who'd been part of some reggae bands, decided he didn't want to be in anyone else's band anymore. Queuing for the dole, he met a man who boasted knowing the perfect drummer. That led to an introduction to Paul Ferguson. Shortly after, the pair put an ad in Melody Maker. An annoying caller, Geordie Walker, pestered them and even showed up one day with nowhere to live. Coleman said he could stay – and, after finally hearing Walker play guitar, realised he was a brilliant musician. Then Walker discovered Youth, Killing Joke's fourth member and bassist, living above a brothel.
Like their unusual formation, the band are known for their eccentric behaviour. Their debut self-titled album came out in 1980, with their follow-up What's THIS For...! arriving in 1981. After the release of the No.12-charting album Revelations in early 1982, Youth left and was replaced by Paul Raven. Later that year, immersed in the occult and fearing an apocalypse, Coleman fled to Iceland, trailed by Walker. They worked with musicians from the band Þeyr, returning to Killing Joke when an apocalypse did not arise.
The group achieved mainstream success in 1985 thanks to the album Night Time – produced by Chris Kimsey (The Rolling Stones and Led Zeppelin) – and their biggest hit Love Like Blood, which has been covered by many artists including metallers Sybreed and Australian synthpop outfit Icehouse.
Throughout the late '80s, Killing Joke released more albums and but none achieved the same level of success. The band also broke up for a time, but reformed again. In 1990, they unveiled their eighth album Extremities, Dirt & Various Repressed Emotions showcasing a heavier, industrial sound
Killing Joke made another ambitious and even heavier, harder-edged album with Pandemonium in 1994, which was recorded in such far-flung places as London, New Zealand and Cairo, where they bribed someone to allow them into the King's Chamber of the Great Pyramid of Giza.
Throughout numerous differences, line-up changes, side projects and a lengthy disbanding, Killing Joke released six more albums over the next two decades: 1996's Democracy, 2003's Killing Joke (their second self-titled album following the 1980 debut), 2006's Hosannas From The Basements Of Hell, 2010's Absolute Dissent, 2012's MMXII and 2015's Pylon.
In 2018, Killing Joke celebrated their 40th anniversary with a worldwide tour, while 2020 was filled with a series of album reissues – all coming with revised artwork from Mike Coles, the band's longstanding designer.
In June 2021, Killing Joke announced the Honour The Fire tour, their first UK headline dates in over three years. Set for 28 March – 9 April 2022, they'll have their collective nostrils flared and righteous anger carried torch-high.
News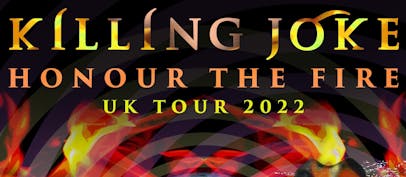 Killing Joke announce 2022 tour
The band confirmed details of Honour The Fire, their first UK tour in over three years, crossing the country from 28 March – 9 April 2022.
FAQS
Killing Joke have announced the 10-date Honour The Fire UK tour from 28 March – 9 April 2021.

Killing Joke are taking their 2022 Honour The Fire UK tour to the following cities:

Cardiff
Nottingham
Bristol
Liverpool
Birmingham
Manchester
Newcastle
Glasgow
Leeds
London

Tickets for Killing Joke's 2022 tour dates go on sale from 10:00 on Friday 25 June 2021.