Events
We're sorry, but we couldn't find any events
About
Jazz and blues singing sensation
Born in the former Soviet republic of Georgia, Katie Melua moved to Belfast with her family when she was nine years old and started singing soon after.
At the age of 18 she was signed to the Dramatico label by producer Mike Batt and released Call Off The Search in late 2003. Powered by her debut single, The Closest Thing To Crazy, it became one of the best-selling albums of 2004 in the UK.
This was the start of a run of seven top 10 albums for Melua. Her follow-up, 2005's Piece By Piece, landed in the No.1 spot, while 2007's Pictures peaked at No.2. The House arrived in 2010, trailed by Secret Symphony in 2012 and Ketevan – whose title comes from her original Georgian name – in 2013.
Melua's seventh album, In Winter, came out in 2016. Recorded in Georgia with the Gori Women's Choir, it was described by the Independent as "exquisite" and by The Sunday Times as "bewitching, ravishing, spellbinding". 
In addition to being one of UK's top-selling female recording artists of all time, she has dabbled in modelling and acting. Melua appeared in the 2007 Quentin Tarantino horror film Grindhouse and her songs have been used in the soundtracks of films including The Tourist, Nancy Drew, Miss Potter and Just Like Heaven.
Melua's eighth LP, Album No.8, came out in October 2020 and she announced a worldwide livestream show from London's Rivoli Ballroom on 4 December to support it.
News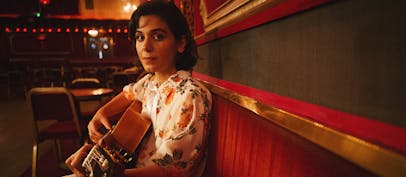 Katie Melua announces livestream from the Rivoli Ballroom
The singer will play songs from Album No.8 live for the first time on 4 December 2020. On sale now
FAQS
Katie Melua is doing an exclusive worldwide livestream from the Rivoli Ballroom in London on 4 December 2020.

Katie Melua will be playing songs from her new album, Album No.8, for the first time ever, along with a selection of fan favourites. Titled Live From The Rivoli Ballroom, the virtual gig is a one-off, multi-camera event that will be livestreamed to fans around the world, time-zoned to specific regions.

Please note: This show will not be available on-demand after it has taken place, and with no audience permitted to be there, the only way to watch Melua perform will be to purchase tickets to the livestream.

Tickets for Katie Melua's online show Live From The Rivoli Ballroom are on sale now. When purchasing a ticket, you will have an opportunity to make a charity donation to the Red Cross.