Events
International Events
2 Events
Loaded 15 out of 15 events
About
Birmingham-born presenter and stand-up star
Passionate Brummie Joe Lycett didn't grow up as a particularly funny kid, but when he attended King Edward VI Five Ways School that's what he was voted. Lycett went on to study drama and English at the University of Manchester. While there, he took in a show at The Comedy Store, got drunk, ended up on stage performing and realised – after sobering up – that he really enjoyed it.
He was named the Chortle Student Comedian of the Year in 2009, and two years later he got to the finals of the BBC New Comedy Awards. In 2012, he made his debut appearance at Edinburgh Festival Fringe with the show Some Lycett Hot and was nominated for Best Newcomer at the Edinburgh Comedy Awards.
The decade that followed saw Lycett's profile rise to becoming one of the country's most popular comedians and presenters.
Radio opportunities abounded. Lycett has been a guest on programes hosted by Scott Mills and Nick Grimshaw on BBC Radio 1. Not only does he stand in for people like Rylan and Sara Cox on BBC Radio 2, but he's been hosting It's Not What You Know since 2012 and Joe Lycett's Obsessions – a comedy chat show celebrating the country's weird hobbies and eccentric passions – since 2019 on BBC Radio 4.
He has also appeared regularly on television shows like Live At The Apollo, Never Mind The Buzzcocks, QI, Would I Lie To You? and 8 Out Of 10 Cats. Plus Lycett released a pair of live stand-up DVDs following UK tours for Joe Lycett: That's The Way A-Ha A-Ha in 2016 and Joe Lycett: I'm About to Lose Control And I Think Joe Lycett in 2018.
Even though he didn't know the first thing about sewing or dress making, in 2019 Lycett took over from Claudia Winkleman as the presenter of BBC's The Great British Sewing Bee.
That year Lycett also arranged for Birmingham Lord Mayor Yvonne Mosquito to officially open his kitchen extension, after raffling off four tickets to qualify it as a public event.
In 2020, the comedian legally changed his name by deed poll to Hugo Boss in protest of the fashion brand's heavy-handed sending of cease and desist letters to small businesses using the name "Boss" – like the Welsh craft brewery Boss Brewing. About a week later, the funnyman changed it back.
Lycett was also tapped to take over from Richard Ayoade as host of Channel 4's Travelman, but due to the coronavirus pandemic hasn't yet been able to pack his bag and go anywhere.
In June 2021, he announced his return to the stage with his Joe Lycett: More, More, More! How Do You Lycett? How Do You Lycett? tour in April and September 2022.
News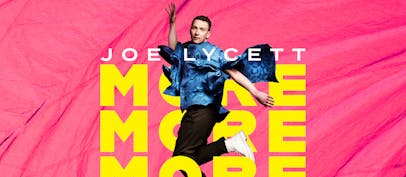 Joe Lycett announces 2022 UK tour
The comedian returns to the stage next year with Joe Lycett: More, More, More! How Do You Lycett? How Do You Lycett? Tickets on sale now.
FAQS
He's heading out with the new show Joe Lycett: More, More, More! How Do You Lycett? How Do You Lycett? in 1 – 22 April and 11 – 22 September 2022.

Joe Lycett will be taking his Joe Lycett: More, More, More! How Do You Lycett? How Do You Lycett? show to the following UK cities in 2022:

York (for two shows)
Hull
Sheffield (for two shows)
Glasgow
Portsmouth (for two shows)
Cardiff
Leeds
Manchester
Newcastle

Tickets for Joe Lycett's 2022 tour dates are on sale now.