About
Celebrated blues-rock guitarist and singer-songwriter
A versatile artist from New York, Joe Bonamassa has been blazing his own trail while amassing an innovative and soulful body of work ever since he started his career at the age of 12. That was in 1989 when he opened for larger-than-life blues giant B.B. King.
Growing up, several British and Irish blues acts were influential in shaping Bonamassa's sound and style of playing including Eric Clapton, John Mayall & The Bluesbreakers, Rory Gallagher, Cream and Jeff Beck. As a teenager, he performed in the band Bloodline alongside the sons of Miles Davis, Robby Krieger and Berry Oakley.
Called "smokin' virtuosity"  by The Times and hailed around the world as one of the greatest guitar players of his generation, Bonamassa is an ever-evolving singer-songwriter who between 2000 and 2020 released 14 solo albums and 16 live albums, all on his own label J&R Adventures.
His debut album A New Day Yesterday took its title from a Jethro Tull song by the same name and contained six original tracks ­– spawning the singles Miss You, Hate You and Colour And Shape – in addition to six cover songs by classic blues artists.
Among his other many album highlights was 2007's Slow Gin, which demonstrated his brilliance through original tracks like Around The Bend plus landed Bonamassa at No.1 on the Billboard Blues Chart. Different Shades Of Blue in 2014 also showcased his songwriting abilities with all-original material including the hits Love Ain't A Love Song and So, What Would I Do, while 2016's Blues Of Desperation and 2018's Redemption were two more milestone albums that both garnered critical acclaim as well as No.1s on the Billboard Blues Chart.
Over the years, Bonamassa has collaborated with other acts and artists on markedly diverse side projects that keep him thinking outside the box. He serves as the guitarist for the hard rock supergroup Black Country Communion, plays in the jazz-funk band Rock Candy Funk Party and regularly pairs up with Beth Hart. Bonamassa also recorded an eclectic all-instrumental album called Easy To Buy, Hard To Sell with The Sleep Eazys (his all-star road band) in 2020.
Before the coronavirus pandemic, Bonamassa's tour schedule averaged around 150 shows worldwide each year. In addition, he has been doing the weekly programming for his radio show Different Shades Of Blue. Plus in 2020, Bonamassa kicked off the at-home weekly video interview series Live From Nerdville, featuring conversations with diverse artists ranging from Neal Schon of Journey and John Oates of Hall & Oates to Paul Stanley of KISS and comedian Jeff Garlin.
In summer 2021, he released the fiery track Notches followed by The Heart That Never Waits, which are the lead singles from his 15th album Time Clocks, due out on 29 October 2021. Calling it his "most adventurous and involved record to date", Bonamassa also announced April and May 2022 UK tour dates to support it.
News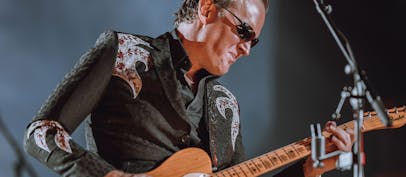 Joe Bonamassa announces 2022 UK tour
The blues maestro is returning for the first time in three years, playing five concerts that include two nights at London's Royal Albert Hall. Tickets go on sale from 09:00 on Friday 10 September 2021.
FAQS
Joe Bonamassa is touring the UK from 20 April – 6 May 2022.

Joe Bonamassa will be visiting the following UK venues on his 2022 tour:

SECC, Glasgow
Motorpoint Arena, Cardiff
Brighton Centre
Royal Albert Hall, London (for two nights)

Tickets for Joe Bonamassa's 2022 tour dates go on sale from 09:00 on Friday 10 September 2021.