Events
International Events
28 Events
Loaded 20 out of 35 events
About
Irish comedian known for her refreshingly honest, high-octane sets
Described as "joyously nuts" by The Examiner, Roscommon-born Joanne McNally gave up a grounded career in PR and brand management for the unstable world of stand-up comedy.
In a self-deprecating, down-to-earth voice, she talks about all sorts of things on stage – ranging from tracking down her biological parents (as McNally grew up obsessed with the fact she didn't look like anyone in her adoptive family) to eating disorders, lip fillers and her attraction to "boy-dad" guys.
McNally told stories about her love life in her first live comedy show Singlehood in 2014. She came into the spotlight in 2015 when she took over for a year from Jennifer Zamparelli on RTÉ 2's flagship comedy programme Republic Of Telly.
In 2016, McNally went to the Dublin Fringe with Bite Me, her one-woman show about eating disorders, and was nominated for the Best Performer, Best Production and First Fortnight awards. The following year, she took Bite Me to the Edinburgh Festival Fringe and got rave reviews as well.
McNally returned to Edinburgh Festival Fringe in 2018 to hilariously examine the gender disparity of online dating, sexual liberation and feminism in Wine Tamer, afterwards taking the show on tour around the UK and Ireland.
In 2019, she wrote and presented the Sky TV documentary Baby Hater, exploring the idea that parenting isn't something to go into blindly and may not be suited to everyone. 
McNally's other TV credits include appearing on The Blame Game, Women On The Verge, The Late Late Show and The Tommy Tiernan Chat Show. Plus, she's also been on the hit BBC podcast Evil Genius hosted by Russell Kane as well as Comedy Central's online series Comedians Solve World Problems.
Called "a truly gifted stand-up" by The Sunday Times, in 2020 McNally debuted her irreverent show The Prosecco Express, in which she tackled big questions after realising she was in her late thirties with no husband, kids, pension or plan.
In June 2021, McNally announced a special performance of The Prosecco Express at the London Palladium on 21 May 2022.
News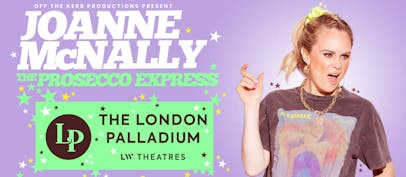 Joanne McNally announces London date
The comedian is bringing The Prosecco Express to the London Palladium for a huge show on 21 May 2022.
FAQS
Joanne McNally is doing a huge date in London with her show The Prosecco Express on 21 May 2022.

Joanne McNally is bringing The Prosecco Express to the London Palladium in spring 2022.

Tickets for Joanne McNally's 2022 London stand-up date go on sale from 11:00 on Friday 2 July 2021. Get tickets 24 hours early in our presale, which opens from 11:00 on Thursday 1 July 2021.