Events
Loaded 20 out of 37 events
About
The boys are back and feeling the beat again
JLS broke through in 2008 after appearing on TV screens across the UK in the fifth series of The X Factor. The boy band made it all the way to the finals – where a tense, nail-biting showdown saw them place second to soul singer Alexandra Burke.
Comprised of Aston Merrygold, Oritsé Williams, Jonathan "JB" Gill and Marvin Humes, they'd formed only a year earlier under the name UFO (which stood for "Unique Famous Outrageous). Combining the hallmark sounds of pop, urban and R&B, it wasn't long before they renamed themselves Jack The Lad Swing, a combination of "Jack the lad" (a cheeky guy who likes the ladies) and "new jack swing" (a twist on r&b that was at its peak in the 80s and 90s). This eventually got shortened to simply JLS.
Despite not winning The X Factor, JLS were signed to Epic Records and released their first single Beat Again in 2009. It debuted at No.1 on the UK singles chart and became their biggest hit, with over 574,000 copies sold in the country to date.
Later that same year, JLS dropped their self-titled debut album, which rocketed straight to the top of the UK albums chart. Along with Beat Again, it contained hits Everybody In Love and One Shot and propelled them into noughties pop stardom.
JLS went on to release three more studio albums: 2010's Outta This World, 2011's Jukebox and 2012's Evolution. But in making a decision to go out on top, the boys went their separate ways after their Goodbye: The Greatest Hits compilation album and ensuing arena tour in 2013.
Throughout their career, they've sold over six million albums and received two BRIT Awards in 2010 for New Artist and British Single courtesy of Beat Again. In total, the band have scored five No.1 singles (the most for any X Factor act).
After six years following their solo paths, Aston, Oritisé, JB and Marvin announced their reunion. In late 2019, they shared plans to hit the road with the Beat Again Tour. In March 2021, JLS confirmed that these comeback shows had been rescheduled, with the dates now set to take place in October and November 2021.
News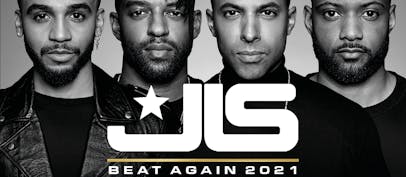 JLS announces rescheduled dates
The band's eagerly awaited comeback tour will now take place between October and November 2021. All tickets remain valid for the new dates.
FAQS
In 2019 JLS announced they are getting back together to bring their Beat Again Tour across the UK. Those tour dates have been rescheduled to 20 October – 27 November 2021.

The 2021 Beat Again Tour will stop in the following cities (some for multiple shows):

Glasgow
Newcastle
Birmingham
Cardiff
Sheffield
Leeds
Liverpool
London
Brighton
Bournemouth
Hull
Nottingham
Manchester
Birmingham

Tickets for JLS' 2021 UK tour dates are on sale now. Original tickets remain valid for rescheduled dates.

The four members of JLS are:

Aston Merrygold is from Peterborough
Marvin Humes is from Greenwich
Jonathan "JB" Gill is from Croydon
Oritsé Williams is from London

It was Oritsé Williams who first decided to form a boy band in 2007. Shortly after he partnered with his friend Marvin Humes and then they added Aston Merrygold, followed by JB Gill. Originally the band was called UFO.

JLS stands for "Jack The Lad Swing".

JLS became famous after coming in as runners-up on the fifth series of The X Factor.

JLS are best known for the following songs which were all UK No.1 hits:

Everybody In Love
Beat Again
She Makes Me Wanna
One Shot
Love You More

JLS officially announced they were debanding on 24 April 2013 with a statement on their website thanking all the fans for supporting them over the years. In other comments made, members explained that just they wanted to go out on top and try new things.

That would be Jonathan "JB" Gill. An animal lover, he converted his home into a working farm and has even appeared on the TV show Countryfile.