Jeff Wayne's The War of The Worlds: The Immersive Experience
Jeff Wayne's The War of The Worlds: The Immersive Experience
About Jeff Wayne's The War of The Worlds: The Immersive Experience
The War of The Worlds: The Immersive Experience is a new, completely unique event where live actors, virtual reality, and sensational 5D effects place you INSIDE the action.
Your journey begins under the green eyes of a giant Martian Fighting Machine in The Spirit of Man, a steampunk bar and restaurant on London's Leadenhall Street...
With journalist George Herbert as your guide, you're transported back to 1898. Feel all senses fired as you crawl, slide and weave your way through 24 extraordinary scenes, experiencing first hand the fear and destruction of the Martian invasion.
You're not just watching. It's happening and you're part of the story: from the sighting of the first capsule to the arrival of 300 foot Martian Fighting Machines and London's evacuation.
You'll visit the Royal Observatory, sneak into a deserted house, escape London by boat and even fly to Mars - all with Jeff Wayne's multi award-winning musical version of The War of The Worlds as your soundtrack!
You'll meet a colourful cast of 17 characters including holograms and VR of West End star Carrie Hope Fletcher (Heathers, Les Miserables, Chitty Chitty Bang Bang), Tom Brittney (Granchester, Make Me Famous) and Anna-Marie Wayne (The War of The World's Live) plus 12 live actors.
Don't miss it, this astonishing multi award-winning experience is only available for a limited time. "Mind blowing. All I can say is WOW. I can honestly say it's the most amazing thing I've ever seen." - Chris L. wrote on Tripadvisor.
Don't miss it… Book now before it's too late!
• 98% of guests say they'd recommend it.
• London's favourite immersive night out.
• Top 20 of ALL London nightlife according to Tripadvisor.
• 'Outstanding Achievement' Award Winner, THEA Awards 2020, Los Angeles.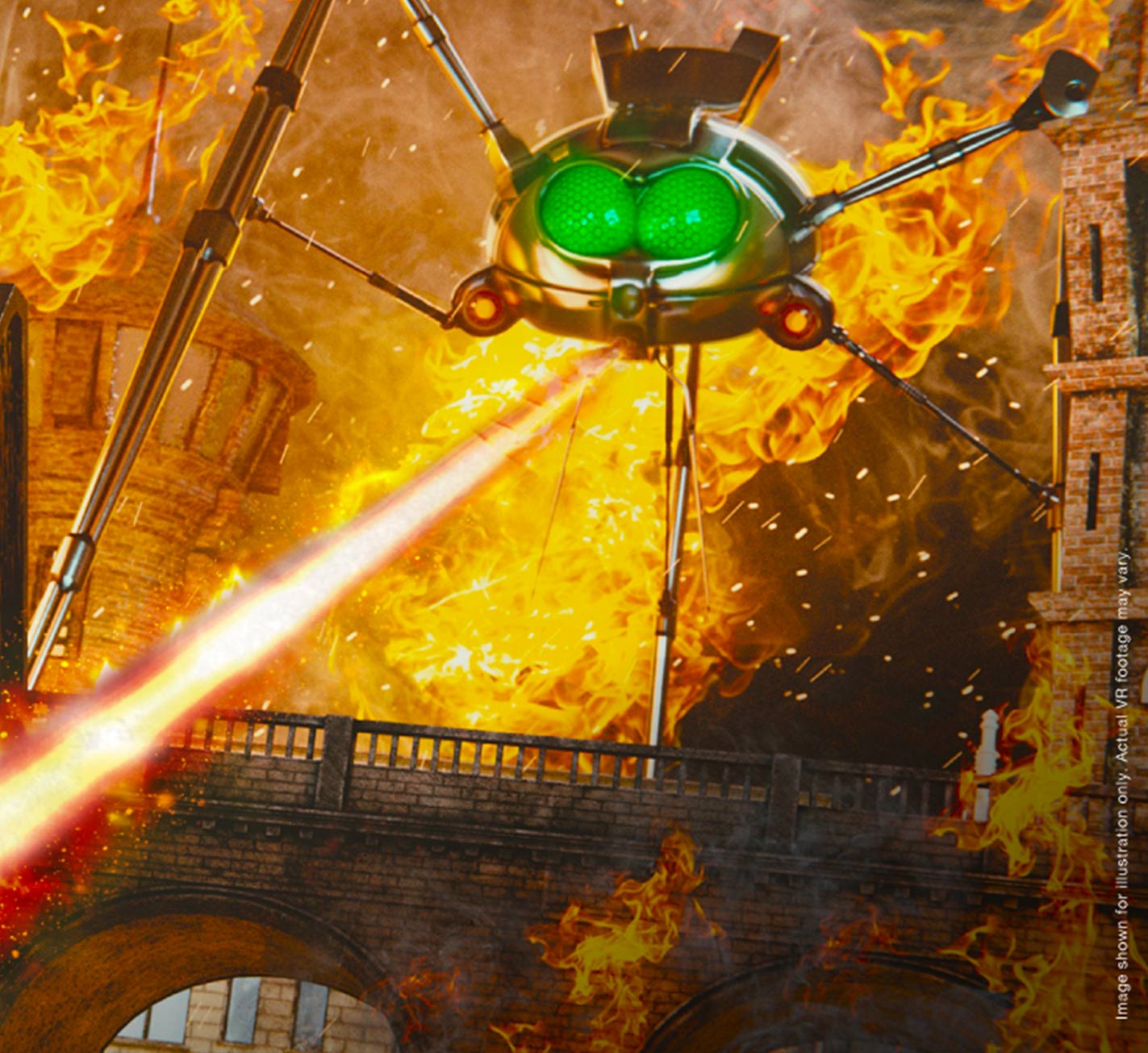 Jeff Wayne's The War of The Worlds: The Immersive Experience Tickets
Jeff Wayne's The War of The Worlds: The Immersive Experience Tickets
The War of The Worlds: The Immersive Experience Address
FAQs
What is it?
Jeff Wayne's The War of The Worlds: The Immersive Experience combines Jeff's Musical Version, immersive theatre, virtual reality, augmented reality, holograms and other cutting-edge technology; giving audiences the chance to live through the Martian invasion of 1898.
Do I need to know the story?
No, not at all! We have designed the experience to be understood and enjoyed by those who don't know anything about The War of The Worlds.
What time should I arrive?
Please arrive at least 30 minutes prior to your scheduled start time. This is to ensure you have enough time to check-in and store any personal belongings before entering the experience. We recommend arriving earlier to enjoy The Spirit of Man bar. Unfortunately, we are unable to accommodate latecomers.
How long is the experience?
Your experience will last for around 2 hours, including a 20 minute intermission in the Red Weed Bar. We also have our very own steampunk themed bar - The Spirit of Man, where you can enjoy drinks and delicious meals before and after your experience.
What is the minimum age?
The recommended minimum age is 10yrs. Please note that some scenes are very dark with loud noises, which some children may not enjoy. Children aged 10-15yrs will require written parental consent prior to admission and must be accompanied by an adult at all times. Under 18s must vacate the main bar area by 8pm.
Can children attend unaccompanied?
Children under the age of 16yrs must be accompanied and supervised by an adult aged 18yrs or over.
How many tickets can I purchase?
You can currently book up to 6 tickets per order, as per the government guidelines. To aid social distancing we're selling tickets in pairs and limiting capacity to 8 per timeslot.
Why are tickets being sold in pairs?
We are selling tickets in pairs until further notice to aid social distancing. You'll be asked to stay in your pair throughout the experience.
Do you serve food and drink at the venue?
Yes, we have two bars. The Spirit of Man bar has a full range of cocktails, beers, wines, spirits, pizzas & snacks. The interval Red Weed bar offers a selection of drinks & snacks including ice creams and our signature Red Weed Cocktail.
Do you sell merchandise?
Yes, we have a full range of themed merchandise available to purchase at the venue.
I have a medical condition, is this experience suitable for me?
For safety reasons, you should be in good health and free from high blood pressure, heart conditions, asthma, back or neck conditions, epilepsy, or any type of medical condition affecting the senses of smell, vision, or hearing.
Is the experience fully accessible?
The experience is not wheelchair accessible.
Can I do the experience if I'm pregnant?
This experience is not suitable for guests who are pregnant.