About
Internationally acclaimed DJ, multi-instrumentalist and house-pop connoisseur
South Londoner Timucin Lam, better known by his artist name Jax Jones, carved his own unique path while pursuing a career in music. Initially, he produced beats during the burgeoning garage and grime scene of the early '00s, working with North West London's N-Dubz. He came into the spotlight after being featured on Duke Dumont's 2014 chart-toping single I Got U.
In the years that followed, Jones began releasing a steady stream of his own tracks including 2016's You Don't Know Me with RAYE, 2017's Instruction with Demi Lovato and Stefflon Don, and 2018's Ring Ring with Mabel and Rich The Kid.
All of these songs and more formed his debut EP Snacks, which arrived in late 2018. As part of an experimental release strategy, Jones unveiled his debut album Snacks (Supersize) in autumn 2019 through Polydor Records. It expanded on his 2018 EP with six new songs added to complete the full tracklist.
In 2020, to celebrate the London Eye's 20th anniversary, Jones took over one of the UK landmark's pods to perform a special live set (watch a recording of it in the video gallery above).
He released the four-track EP Deep Joy in July 2021 on his own label WUGD, launched in partnership with Polydor Records to promote genre-crossing innovators. Rooted in personal experience, the EP featured the collaboration You Broke My Heart Again with Teqkoi and Aiko.
In August, Jones joined forces with fellow producer Joel Corry and unveiled the TikTok dancefloor sensation Out Out featuring Charli XCX and Saweetie that peaked at No. 6 in the UK charts. He also announced six live UK shows for March 2022.
About the tour, Jones said, "You can expect all the bangers in ways you've never heard, unreleased stuff and of course next level production! I can't wait to see you all there, all I ask is that you bring max energy and posi vibes!"
News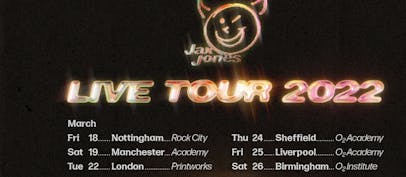 Jax Jones announces 2022 UK tour
On the heels of his new single Out Out, the South London-raised DJ confirmed details of an immersive six-date tour in March 2022, kicking off in Nottingham's Rock City. Tickets go on sale from 10:00 on Friday 10 September 2021.
FAQS
Jax Jones is touring the UK from 18 – 26 March 2022.

Jax Jones will be visiting the following UK cities on his 2022 tour:

Nottingham
Manchester
London
Sheffield
Liverpool
Birmingham

Tickets for Jax Jones' 2022 tour dates go on sale from 10:00 on Friday 10 September 2021.