Events
International Events
1 Events
Loaded 10 out of 10 events
About
The trailblazing multi-instrumentalist
Get the album Djesse Vol. 3 here
Raised in Finchley, North London, Jacob Collier proved a prolific talent from a young age. With his mother being a violinist, conductor and professor, he grew up immersed in everything from Bach to Beck. Collier also enjoyed spending time in the family's music room messing around on the piano. By the age of seven, he began experimenting with making music on computers.
Collier attended various music programmes as a young boy and briefly studied jazz piano at the Royal Academy. In addition, he performed as a treble singer in a variety of classical productions.
In 2012, Collier showcased his growing technical virtuosity by uploading imaginative videos of cover songs to YouTube. Utilising split screens, he played a variety of instruments as well as performed a cappella. His funk-jazz arrangement of Stevie Wonder's Don't You Worry 'Bout A Thing not only went viral, but also caught the eye of Quincy Jones, who became his manager.
Collier's debut album, In My Room, came out in 2016. Crafted entirely in his beloved family music room, it went on to win two Grammys and turned the 21-year-old into a wunderkind. At the end of the year, Collier joined forces with 150 Massachusetts Institute of Technology students to produce a live concert called Imagination Off The Charts alongside orchestral arrangements of his repertoire, with the whole experience filmed for a documentary.
In early 2018, Collier began an ambitious and unprecedented recording project – a quadruple album. Called DJESSE, it was designed to include 50 songs across four volumes, each with its own musical universe of sound, style and genre. Thanks to Collier's reputation for unrivalled musicianship, he got artists like Laura Mvula, Take 6, Voces8, Dodie Clark, JoJo, Lianne La Havas, Steve Vai and Oumou Sangaré – along with his mother Suzie Collier – on board.
Boasting those countless collaborators from all facets of music, 2018's Djesse Vol. 1 and 2019's Djesse Vol. 2 both won Grammys.
In late 2019, Collier contributed backing vocals to several tracks on Coldplay's album Everyday Life – including the title song, Church and Cry, Cry, Cry.
Summer 2020 brought Djesse Vol. 3 as well as a whole host of new contributors including Tori Kelly, Chris Martin, Ty Dolla $ign, Charlie Puth, Mahalia, Jessie Reyez, SZA and many others.
In March 2021, Collier collected the Best Arrangement, Instruments and Vocals award for the single He Won't Hold You ft. Rapsody on Djesse Vol. 3, making him the first British artist to win Grammys for each of his first four albums.
Following his history-making win, Collier also announced the 67-date DJESSE World Tour, which includes a run of UK shows in June 2022.
News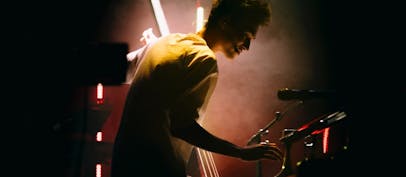 Jacob Collier announces world tour
Following his historic fifth Grammy, the artist revealed details for the DJESSE World Tour with eight UK dates in spring 2022, including his biggest headline performance yet at London's O2 Academy Brixton.
FAQS
Jacob Collier is taking his DJESSE World Tour across the UK from 3 – 15 June 2022.

Jacob Collier will be visiting the following UK cities in 2022:

Brighton
Bristol
Oxford
Manchester
Gateshead
Glasgow
Cambridge
London

Tickets for Jacob Collier's 2022 tour dates go on sale from 10:00 on Friday 26 March 2021.