Isle of Wight Festival Tickets 2020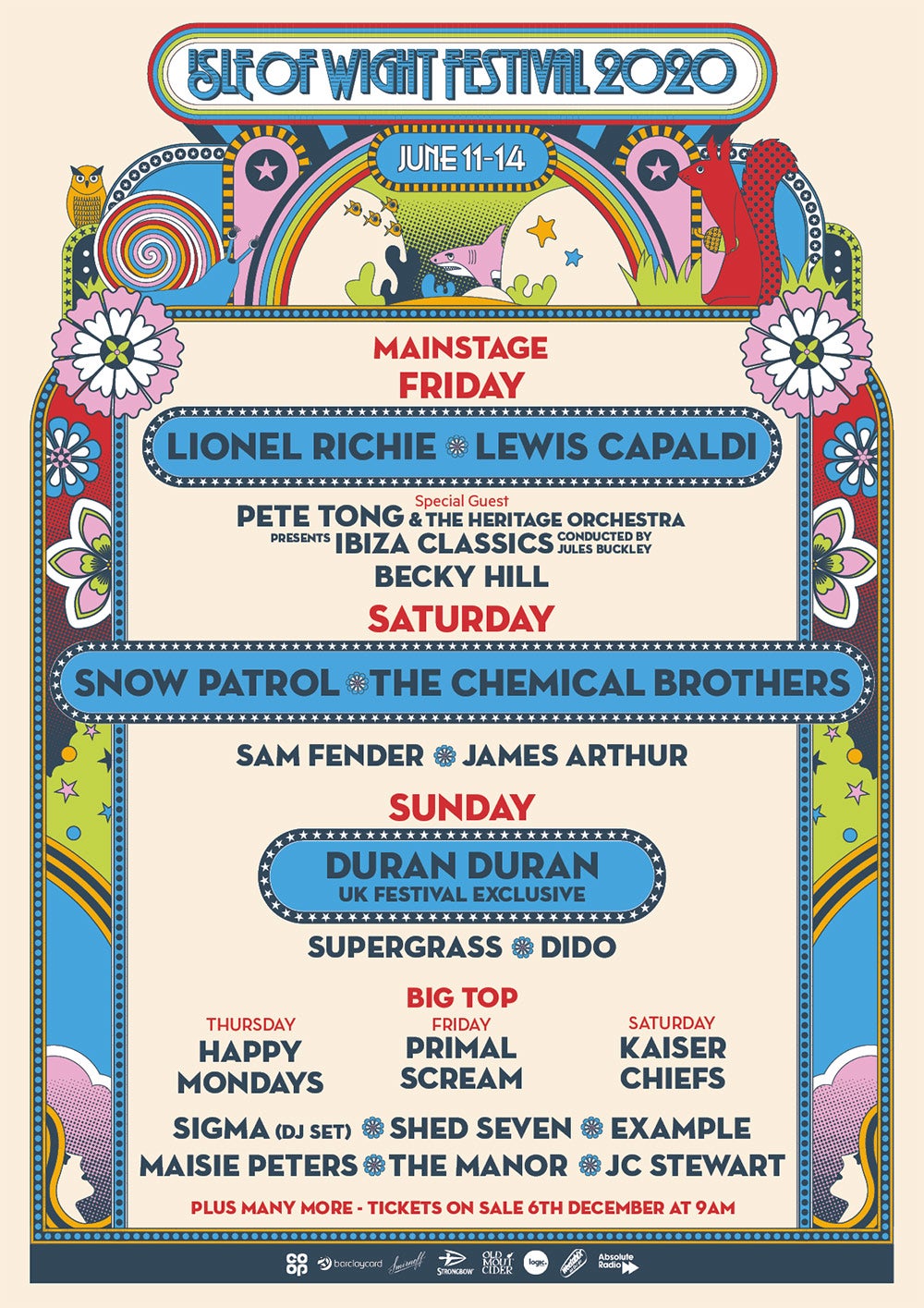 Isle of Wight Festival Line-up 2020
Lionel Richie, Lewis Capaldi, Snow Patrol, The Chemical Brothers, and Duran Duran are headlining Isle of Wight Festival in 2020. View the full line-up of music acts announced so far by day here:
Friday 12 June 2020
Main Stage
Big Top Stage
Saturday 13 June 2020
Main Stage
Big Top Stage
Sunday 14 June 2020
Main Stage
Big Top Stage
Also playing across the Isle of Wight festival weekend are:
About Isle of Wight Festival 2020
Isle of Wight festival takes place from Thursday 11 - Sunday 14 June 2020 in Seaclose Park, Newport on the Isle of Wight. As one of the UK's longest running and biggest music festivals, fans escape to the island for a weekend retreat of top music this summer.
Isle of Wight is a family-friendly festival with entertainment to suit all ages, from festival veterans to little ones making their first festival debut. Along with child-friendly activities, the event also has additional programming such as comedy, theatre, fairground rides, arts and film along with plenty of food and drink options to enjoy.
The Isle of Wight line-up for 2020 spans multiple music genes, from rock, pop, dance and everything in between. Lionel Richie is performing for the first time ever at the Newport festival, with Grammy-nominee Lewis Capaldi also gracing the stage on Friday night for a soulful start to 2020's festival.
Here we go - The Chemical Brothers are set to bring the house down on Saturday night with their trippy techno and supersonic electronic beats. Indie-rockers Snow Patrol bring their two decades of experience in the music industry to the stage on Saturday.
Closing out the Isle of Wight festival weekend in 2020 in a huge UK festival exclusive are Duran Duran, as the 80's icons bring their new wave sound to Seaclose Park on Sunday. Also playing Isle of Wight are Becky Hill, Pete Tong & The Heritage Orchestra Presents Ibiza Classics, Sam Fender, James Artur, Supergrass, Dido and many more.
An extraordinary world of music awaits - get your Isle of Wight tickets here.
Festival History
Isle of Wight festival first took place in 1968 and has gone from strength to strength since. Havingcelebrated its 50-anniversary weekend in 2018, the festival has an iconic line-up history. Isle of Wight has welcomed acclaimed music stars such as Jimi Hendrix, David Bowie, The Who, Pearl Jam and The Doors. The festival has also hosted such musical icons as Foo Fighters, Arcade Fire, Bruce Springsteen, Paul McCartney, The Rolling Stones alongside Fleetwood Mac, Coldplay, Kings of Leon and Jay Z who also graced the island.
The 2019 line-up included performances from headliners such as Noel Gallagher's High Flying Birds, George Ezra, and Biffy Clyro. Courteeneers,Fatboy Slim and Richard Ashcroft also entertained the crowd last June.
Isle of Wight Festival FAQs
When is Isle of Wight 2020 and what time does it start and end?
Isle of Wight Festival 2020 will take place from Thursday 11 June to Sunday 14 June. The gates will open from 12:00 on Thursday and you will need to leave the campsite by 2:00 on Monday 15 June after the festival is over. Stage and line-up times for acts will be announced closer to the festival.
Where is Isle of Wight Festival and how can I get there?
Isle of Wight Festival is based at Seaclose Park in Newport, Isle of Wight PO30 1UD, UK. You can enjoy a peaceful sail over to the island by boat.
By Ferry - You can get the ferry to Isle of Wight from four main ports. These are Southhampton, Portsmouth, Lymington and Southsea. Each ferry port has good rail and road links. There are shuttle buses to bring you to the festival once you arrive on the island.
By Bus - There will be a shuttle bus service from the ports directly to the festival site. There are also buses which will bring you to Newport, which leaves you a short walk to the main festival site.
By Coach - You can get the Big Green Coach service from various locations in the UK. These are Birmingham, Bournemouth, Brighton, Bristol, Cardiff, Leeds, Liverpool, London Croydon, London Victoria, London Richmond, Manchester, Nottingham, Oxford, Reading and Sheffield. The coach will also board the ferry to the island, with the coach then bringing you directly to the festival site upon arrival.
By Train - Portsmouth and Southampton Train stations are closest to the Isle of Wight, and from there you can get the ferry.
Is Isle of Wight festival family friendly?
Yes, Isle of Wight is a very family friendly festival with activities to enjoy for all ages. The festival has tickets for the whole family, including:
Teen Tickets - There are teenager tickets for those aged between 13 - 17 years old which also includes camping.
Child tickets - There are child tickets for children aged between 6 - 12 years old.
Infant Tickets - Infants and young children under 5 years of age have free access to the festival.
There is a max of four children and/or infants per booking. Teenagers and younger children must be accompanied by a responsible adult aged 18 years or older. Please bring proof of age as ID may be checked upon entering the festival
Can I camp at Isle of Wight Festival?
Yes, Isle of Wight is a camping festival and there are weekend camping tickets for the festival which allow you to stay on the island all weekend. You can also exit and re-enter the festival throughout the weekend with a camping ticket. You can also get day tickets and stay in local accommodation if camping is not for you.
Can I book accessible tickets for the festival?
Yes, Isle of Wight offer accessible tickets that also operate a two for one (free PA/carer ticket) policy for eligible guests. Read more about accessible tickets and how to book on our help page here by clicking the "Accessible Tickets" section.
When will I receive my tickets?
You should receive your tickets five days before the event. If the tickets have yet to arrive five days before, please contact us. You can check ticket dispatch information here.
Head to our Isle of Wight Festival help page for more info.
Can I sell my Isle of Wight festival tickets?
Yes, if you can no longer go to the festival, you can head to our verified fan to fan ticket exchange site to sell your tickets safely and securely so another fan gets to enjoy the festival. See our Ticket Exchange site here.
Please note that Ticketmaster can only deal with questions and issues regarding tickets. For all other enquiries regarding the festival, please visit the Isle of Wight website or contact them directly.
Ticketmaster has published their State of Play Festivals report for 2019 which delves into all aspects of UK festivals. Check out the festival findings here based on research from over 4000 fans.
Top