Alternative and Indie
Interpol
About
Brooding NYC post-punk band
Few bands sum up a time and a place quite like Interpol. With their angular post punk and jet-black suits, they were more NYC than NYC, leading a whole scene out of the city's coolest clubs and into the mainstream.
Founding member Daniel Kessler (guitar) formed Interpol with friend Paul Banks (vocals, guitar), Greg Drudy (drums) and Carlos Dengler (bass). Drudy left in 2000, replaced by Sam Foggarino on drums. The quartet signed to Matador and released their debut album in 2002.
Turn On The Bright Lights became an instant classic of the era, a brooding, nocturnal record that tapped into the jagged corners of Joy Division, the suave menace of The Afghan Whigs and the inscrutable poetry of The Smiths. Tracks like NYC, Leif Erikson and Obstacle 1 positioned Interpol as the urbane counterpoint to the scruffy Strokes at the forefront of New York's new rock movement.
Creating a defining moment with your debut leaves little room to grow on your follow-up, so Interpol wisely used Antics as an opportunity to refine rather than radicalise or improve. The hype may have been more measured but the quality proved they were in it for the long haul, with three songs charting in the US.
Interpol made the jump to a major label for their third album, 2007's Our Love To Admire, but were back on Matador – albeit without Carlos Dengler – for 2010's Interpol. Another long gap followed while the members pursued their own solo projects outside of Interpol, including Banks's solo material under his own name and his Julian Plenti alter ego, and Foggarino's work with EmptyMansions.
Banks, Foggarino and Kessler came back together for 2014's El Pintor, but it would be another wait for the band's sixth studio album, during which time they celebrated the 15th anniversary of Turn On The Bright Lights with a tour and reissue. Marauder arrived in 2018, followed by an EP of bonus tracks in 2019.
In August 2021, an Interpol 2022 UK show was confirmed at London's Roundhouse.
News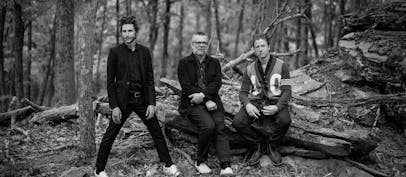 Interpol announce 2022 London date
The New York City post-punk outfit are playing a show at the Roundhouse on 14 June 2022. Tickets go on sale from 10:00 Friday 3 September 2021.
FAQS
Interpol announced a London performance on Tuesday 14 June 2022.

Interpol are doing a one-off performance at London's Roundhouse in June 2022.

Tickets for Interpol's 2022 London date go on sale from 10:00 on Friday 3 September 2021.