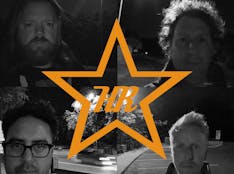 About
The early 2000s alt-rock talismans are back for a mega UK tour
Twenty years after the release of their magnum opus Ideas Above Our Station, Hundred Reasons break an effective hiatus with a major UK tour in 2022 with support from longtime pals Hell Is For Heroes. 
Hundred Reasons were born against the backdrop of an all-American pop-punk and metal scene at the tail end of the MTV era, sharply standing out with their distinct home county, guy-next-door sincerity as they wove jolting guitar anthems and tender melodies into what is surely remembered as a high point of British alt-rock.  
The four-piece formed in Hampshire in late 1999 when two local hardcore bands, Jetpak and Floor, disbanded and combined to become Hundred Reasons, with Colin Doran as the lead vocalist, Andy Gilmour on bass, Larry Hibbitt and Paul Townsend on guitar and vocals and drummer Andy Bews; they supposedly took their name from an extreme sports poster at Bews' work.  
Sidestepping the slow and static early period that many bands never escape, the quartet began attracting press attention within months and in March 2000 caught the glance of Fierce Panda Records' Simon Williams whilst supporting the Canadian heavy metal group Kittie at a Kerrang! show. They released the fittingly titled debut EPOne on Fierce Panda and began a relentless touring campaign, continuing to garner hype as ones to watch from UK's top music press outlets and even earning airplay time on national radio. 
By the time they came to record their second EP in early 2001, Hundred Reasons had gained so much momentum that Colombia Records stepped in to offer them a major label record deal. That summer saw the band record their debut full-length in New York at Magic Shop Studio (where David Bowie would later record The Next Day), in between touring with the likes of Incubus and Muse as well as making their debut appearance at Reading and Leeds Festival. 
In May 2002 the group released their debut album Ideas Above Our Station, peaking at No.6 in the UK charts and solidifying their status as something of a household rock name with a Top Of The Pops appearance. Explosive opener I'll Find You, with chugging riffs and cathartic choruses, set the tone for the band's favoured form of so-called "emotional hardcore". The record won Best Album at the Kerrang! Awards later that year, fending off stiff competition from the likes of System Of A Down, Sum 41 and Nickelback. 
2004's Shatterproof Is Not A Challenge built on its predecessor's winning formula, albeit with a touch more grit and even a modicum of groove. Despite a similarly successful reception, the band broke away from its label, signing with V2 in September 2005 for their third album Kill Your Own. 
After an amicable parting with founding member Townsend (who would return for a reunion in 2012), the band recruited Ben Doyle as they set to record Quick The Word Sharp The Action, their fourth and final LP. 
Without an official ending or break up, fans of this down-to-earth bunch from Hampshire who enjoyed a brief but prolific moment in the spotlight have often been teased with their return, and in many ways their rare reappearance here and there in the years since always been leading to a monumental return.
FAQS
Hundred Reasons announced headline UK tour dates for February and March 2022.

Southampton
Bristol
Birmingham
Leeds
Glasgow
Manchester
Norwich
Nottingham
London

Tickets for Hundred Reasons' 2022 UK tour are on sale now.

Hell Is For Heroes will support Hundred Reasons on all dates.