Events
We're sorry, but we couldn't find any events
About
The singer, dancer and television presenter announces his debut album
Buy HRVY's Can Anybody Hear Me? here
Born Harvey Cantwell in Kent in 1999, HRVY turned to social media at an early age to share his vocal performances with the world. Having grown up with a love of pop music, his videos attracted the attention of former East 17 member Blair Dreelan who quickly took on management duties. The pairing led to a record deal with Universal Music, through which HRVY released his debut single Thank You in 2013.
Building on his online presence, HRVY simultaneously nurtured his music and TV career, securing a guest presenter role and subsequent full-time host duties on the BBC's Friday Download. All the while continually uploading performance videos to his YouTube channel, HRVY eventually dropped his debut Holiday EP in 2017 through Universal and Virgin EMI. His sophomore EP, Talk To Ya, followed only a few months later.
HRVY's 2018 collaborative single Hasta Luego saw him team up with Malu Trevejo, cementing his global appeal and securing his first Brazilian award nomination. As well as being hyped by BBC Radio 1 in the UK, HRVY continued his rise across social media, spending much of 2019 releasing well-received singles. During this time he teamed up with the likes of Jonas Blue, NOTD and K-pop stars NCT Dream.
Kicking off 2020 with new single Me Because Of You, HRVY announced his long-awaited debut full-length Can Anybody Hear Me? would be released on 20 November 2020. Although the album would arrive seven years after this debut single, the performer had wasted no time amassing almost five million followers on Instagram and over a billion combined streams. As well as Me Because Of You, the album featured a plethora of tracks from across his career to date, plus new material.
Celebrating the album's release, HRVY announced headline UK shows for 2021. In December 2020, those shows were rescheduled to October 2021 with a second date added in London and a new show in Bristol.
News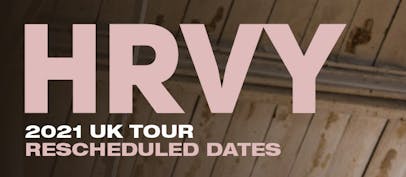 HRVY reschedules and adds new dates
The singer will now head out on his 2021 tour in October with venue upgrades in Birmingham and Manchester. New dates added in London and Bristol go on sale at 10:00 on Friday 18 December 2020.
FAQS
HRVY announced headline UK dates for October 2021.

HRVY has announced headline UK dates in the following towns and cities:

Birmingham
Manchester
Glasgow
Newcastle
Leeds
Oxford
London (two shows)
Bristol
Oxford

Tickets for HRVY's extra London date, new Bristol show and upgraded Birmingham and Manchester venues go on sale from 10:00 on 18 Friday December 2021. All other HRVY tour dates are on sale now.