Events
International Events
1 Events
About
The LA sister act deliver their most revealing songs yet
New album Women In Music Pt. III is available here.
The sister trio HAIM have been cultivating their soft indie rock sound and celebrating their sunny San Fernando Valley roots for more than a decade. Often compared to Fleetwood Mac and Wilson Phillips, they're a band with an innate ability to craft music.
Born and raised in Southern California, Este, Danielle and Alana Haim grew up in a musical family. Having learned multiple instruments from an early age, they performed with their parents, Mordechai and Donna, as Rockinhaim. More a fun family activity than a serious band, Rockinhaim played songs like Brown Eyed Girl, Mustang Sally and Proud Mary at charity events and even in a deli where they were paid in matzah ball soup.
For a short time in 2005, elder siblings Este and Danielle joined the all-girl pop band Valli Girls, but by 2007 the Haim sisters were writing songs together and performing without their parents. They booked their first show as HAIM at a clown museum.
Their debut album, Days Are Gone, came out in 2013. Widely praised, it boasts a bright and breezy collection of songs – from the titular track to Falling and If I Could Change Your Mind – mixing SoCal dreaminess with defiance and reckless abandon. In the years that followed the sisters supported, collaborated and developed friendships with artists like Stevie Nicks, Calvin Harris and Taylor Swift.
In 2017 HAIM released their sophomore album Something To Tell You, which has a bittersweet edge lyrically while balancing elements of soft rock and R&B. The album's opening track, Want You Back, became a huge hit, which was made even more popular by the cool video they filmed singing, dancing and strutting down LA's iconic Ventura Boulevard.
To promote Something To Tell You, HAIM set off in 2018 on their Sister Sister Sister headlining concert tour which included a UK leg.
The sister act have returned in June 2020 with their third studio album, Women In Music Pt. III. Showcasing their sophisticated musicality, the songs are embedded with everything from hip hop to funk and rock. In addition the album contains three bonus tracks – Summer Girl, Now I'm In It and the stripped back, tear-inducing ballad Hallelujah that weaves together three stories of strong sisterly love.
On 31 July 2020, they announced The One More HAIM UK Tour in support of WIMPIII stopping at arenas across the country in June 2021. Due to demand, a special outdoor show was also added at Leeds' Millennium Square.
In May 2021, HAIM confirmed that their UK indoor dates would be moving to September 2021.
News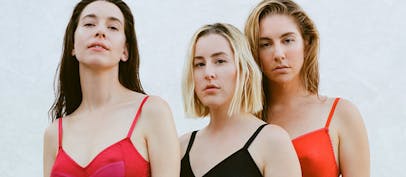 5 new HAIM songs that will sound massive live
The trio have released their celebrated third studio album, Women In Music Pt. III.
FAQS
The sisters are bringing The One More HAIM UK Tour to arenas across the country in June and September 2021.

HAIM's UK tour in support of Women In Music Pt. III will stop in the following venues:

HAIM are a pop-rock trio made up of three sisters: Este, Danielle and Alana Haim.

HAIM is pronounced with two syllables – just imagine saying "hi" followed closely by "I'm".

The sisters were all born and raised in Southern California's San Fernando Valley.

HAIM are known for their laid-back indie blend of pop, rock and folk music.

HAIM have had several hits over the years including the following songs:

Want You Back
Right Now
Now I'm In It
Little Of Your Love
Forever
If I Could Change Your Mind
Falling
Walking Away

The band's third and most recent album is Women In Music Pt. III, which came out on 26 June 2020. It follows 2017's Something To Tell You and 2013's Days Are Gone.

Released in 2019, Hallelujah is a bonus track on HAIM's Women In Music Pt. III album. The emotive song is about family, love, loss and the bond of sisterhood. Each of the sisters wrote their verse separately, with Alana opening up about a friend of hers who had passed away at the age of 20. Hallelujah reflects on how important it is to have "angels" in your life who truly understand, support and lift you up.