Events
International Events
1 Events
About
French extreme metal act famous for their unrelenting yet reflective music
Originally formed as Godzilla in 1996 in Bayonne, France, the group changed their name to Gojira in 2001. Comprised of Joe Duplantier on vocals and guitar, his brother Mario on drums, Christian Andreu on guitar and Jean-Michel Labadie on bass, the four-piece often operate in polar extremes.
From the beginning, Gojira was inspired by duality while creating their distinctive dark, epic, heavy sound – merging crushing progressive and technical death metal with emotionally charged arena rock melodies. Plus, they've had a penchant for spiritual and environment-focused lyrics.
Their first two albums, 2001's Terra Incognita and 2003's The Link, established them on the French metal scene. Gojira's acclaimed third album, 2005's From Mars To Sirius, about the resurrection of a dead planet, was critically acclaimed in Europe as well as the UK. It spawned the singles Backbone, The Heaviest Matter Of The Universe and Flying Whales.
In 2006, Gojira signed with Prosthetic Records to bring their futuristically heavy sound across the Atlantic. When the quartet released their fourth album The Way Of All Flesh in 2008, it broke into the Billboard 200 chart.
Gojira became free agents again in 2011, but were quickly signed by Roadrunner Records. A year later, L'Enfant Sauvage, which means " the wild child" in French and was partly inspired by François Truffaut's film of the same name, came out and saw the band launch a worldwide tour.
It wasn't until 2016's Magma that Gojira experienced crossover success after penning their most personal record in memory of the Duplantier brothers' late mother. Not only did the album debut at No.24 on both the Billboard 200 and UK albums charts, but it also netted them nominations for Best Rock Album and Best Metal Performance (for the song Silvera) at the 2017 Grammy Awards.
On the heels of that dark, grief-driven period, Gojira made the conscious decision that their seventh album Fortitude would convey positivity and be fun. Recorded at the band's studio in New York City and mixed by Andy Wallace (Feeder, Sheryl Crow, The Cult), it was released in April 2021 and peaked at No.6 on the UK albums chart. Fortitude bears Gojira's trademark duality in that many of the tracks are hyper-focused yet unhinged, confrontational yet compassionate. Plus continuing their long tradition of using music for environmental action, the proceeds from the song Amazonia, which is interwoven with indigenous folk instruments, will benefit the area's Guarani and Kaiowa tribes.
On 1 July 2021, Gojira announced a UK tour to support Fortitude for March 2022 with support from Alien Weaponry and Employed To Serve.
News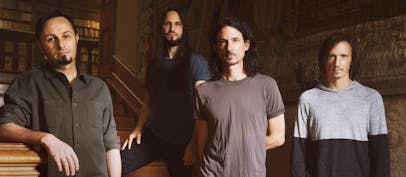 Gojira announce 2022 UK tour
The French metal titans are playing several dates across the country next March with support from Alien Weaponry and Employed To Serve.
FAQS
Gojira are touring the UK from 4 – 14 March 2022 in support of their new album Fortitude.

Gojira will be visiting the following UK cities in 2022:

London
Nottingham
Newcastle
Manchester
Cardiff

Alien Weaponry and Employed To Serve are supporting Gojira on the 2022 UK tour.

Tickets for Gojira's tour dates go on sale from 10:00 on Monday 5 July 2021.