Events
We're sorry, but we couldn't find any events
About
The genre-defying quartet
Get Glass Animals' Dreamland here
Glass Animals vocalist Dave Bayley forewent his medical studies when Adele's producer Paul Epworth signed the band to his Wolf Tone label in 2013. Their debut self-titled EP followed, a further milestone in Bayley's life which had seen him move to the UK at the age of 13 after spending his early years in Texas. Meeting fellow US born youngster Drew MacFarlane on his first day at Bayley's new secondary school in Oxford, Glass Animals took shape when linking up with Ed Irwin-Singer and Joe Seaward through the city's vibrant live music scene.
Working closely with Epworth, Glass Animals cemented their genre-breaking electronic pop sound on their Zaba debut, an album that would largely be overlooked in the UK but which saw them rise to prominence in the United States. Frustrated with their lack of attention at home, the four-piece escaped stateside for a rigorous touring schedule which ultimately saw their Gooey single certified Platinum.
It would take their 2016 sophomore album How To Be A Human Being to get them attention back home, rising to No.23 on the official UK albums chart and securing a coveted Mercury Music Prize nomination. The album itself was built around stories Bayley had extracted from individuals across the globe during their touring cycle, each song interpreting a unique tale.
The album featured the single Pork Soda, whose lyric "pineapples in my head" led to a slew of both inflatable and real life pineapples making appearances at their live shows, with Reading and Leeds Festival eventually banning the fruit from its 2017 outing.
Rising from strength to strength, the band were forced into an indefinite hiatus following a traffic accident that resulted in Seaward suffering with a complex skull fracture and subsequent brain damage. With no short-term memory, the drummer began the long journey of rehabilitation. Unable to continue with Glass Animals, Bayley turned to songwriting for the likes of Khalid, Joey Bada$$ and Flume.
In May 2020, the band – complete with a recovering Seaward – triumphantly announced their return with the title track from their third studio album Dreamland. It signalled a shift in Bayley's songwriting. Inspired by his prior collaborative partners and by Seaward's immensely personal journey, the lyrics moved away from third party stories in favour of introspection – something Bayley had previously expressed discomfort over.
In support of the record, Glass Animals did a livestream performance in October 2020 and also announced a run of headline shows across the UK. In early 2021, The Dreamland Tour was rescheduled to November 2021, with extra dates added in Sheffield and Liverpool.
News
Glass Animals announce extra dates
Two new shows have been added to their upcoming Dreamland tour in Sheffield and Liverpool. Tickets go on sale from 09:00 on Friday 9 April 2021.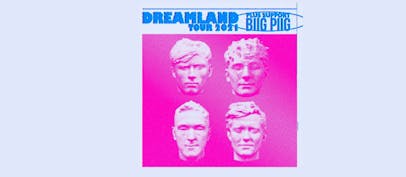 Glass Animals reschedule dates
The band announces their UK tour supporting new album Dreamland has been moved to November 2021. Tickets remain valid for rescheduled dates.
FAQS
Glass Animals are touring the UK from 8 – 26 November 2021.

Glass Animals have announced The Dreamland Tour in the following UK towns and cities:

Glasgow
Birmingham
Manchester
Brighton
Portsmouth
Nottingham
Leeds
Bristol
London
Sheffield
Edinburgh
Liverpool

Biig Piig are supporting Glass Animals on The Dreamland Tour in 2021.

Tickets for Glass Animals' new Sheffield and Liverpool dates go on sale from 09:00 on Friday 9 April 2021. Tickets for the rest of their 2021 tour dates are on sale now. Original tickets remain valid for rescheduled dates.

Glass Animals are:

Dave Bayley
Drew MacFarlane
Ed Irwin-Singer
Joe Seaward

Glass Animals have released three albums:

Zaba (2014)
How To Be A Human Being (2016)
Dreamland (2020)

Moving to Oxford at the age of 13, Dave Bayley met Drew MacFarlane on his first day at his new secondary school. They would go on to meet Ed Irwin-Singer and Joe Seaward through the city's vibrant music scene.