Events
Loaded 20 out of 22 events
About
Singer-songwriter who's topped the charts as both a solo musician and lead singer of Take That
Buy Music Played By Humans here
Born in Cheshire in 1971, Gary Barlow took to the piano at an early age, inspired by Depeche Mode's Just Can't Get Enough. Following a number of years performing around the north of England, and a TV appearance on the BBC's Pebble Mill At One, Barlow eventually drew the attention of manager Nigel Martin-Smith. Looking to replicate the success of New Kids On The Block – the first band to be adorned with the boy band title – Martin-Smith enlisted Barlow as the creative centre-piece of Take That.
Dominating the charts, airwaves and stages across the globe throughout the '90s, Take That secured three No.1 albums before their notorious split in 1996. Barlow quickly released his debut solo single Forever Love, and reached the top of the UK album chart with Open Road in 1997. Taking a two-year break during which former bandmate Robbie Williams launched a comparably raucous solo career, Barlow returned in 1999 with Twelve Months Eleven Days and its lead single, Stronger. Failing to make a significant dent on the musical landscape, it would be another 13 years before Barlow released more solo material.
Yet far from taking a step back, Barlow signed a publishing deal with Sony, writing successful hits for the likes of Blue, Delta Goodrum and Will Young. His true resurgence occurred when teaming back up with Take That (minus Williams) in 2005, surpassing their prior success with the likes of albums Beautiful World and The Circus. Alongside writing music for TV shows and starting his own Future Records label, Barlow eventually rekindled his friendship with Williams and unveiled the duet, Shame. With bridges firmly mended, Take That once again became a five-piece and released the record-breaking Progress in 2010.
Re-invigorated by his recent successes, Barlow returned to his solo work and unveiled Sing in May 2012, climbing to the top of the UK album chart. At just 24 minutes long, it was the shortest album ever to reach No.1 in the UK. Just over a year later, he returned with the full-length Since I Saw You Last, declared 2x Platinum. In the meantime, Barlow had also taken on judging duties on the UK's The X Factor. Honouring the role for three series, he eventually moved on to focus on solo touring and the release of Take That's seventh studio album III in 2014.
The subsequent years saw Barlow release another album with Take That – 2017's Wonderland – as well as turning to musical theatre. He co-wrote the musical score for Finding Neverland, and teamed up with Tim Firth to create the West End show, The Girls.
In September 2020, Gary Barlow announced the release of his fifth solo studio album, Music Played By Humans, for 27 November 2020. Its lead single Elita features Canadian artist Michael Bublé and Columbian vocalist Sebastian Yatra, plus the record also includes guest appearances by Beverley Knight, Alesha Dixon, James Corden, Chilly Gonzales, Ibrahim Maalouf and Avishai Cohen.
On 19 November 2020, Barlow rescheduled his headline tour dates to winter 2021, when he'll celebrate the new album as well as play his biggest hits. In June 2021, Barlow added a new date in Bournemouth to his All The Hits Live tour.
News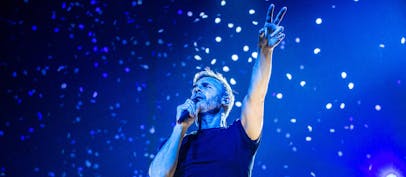 Gary Barlow adds a date in Bournemouth
The singer-songwriter will play a show at Bournemouth International Centre on 15 December 2021 during his All The Hits Live tour later this year with special guest Leona Lewis. Tickets go on sale from 09:30 on Friday 11 June 2021.
FAQS
Gary Barlow has announced All The Hits Live headline UK shows throughout November and December 2021.

Gary Barlow has announced headline shows in the following UK towns and cities:

Aberdeen
Glasgow
Sheffield
Cardiff
Nottingham
Manchester
Birmingham
Leeds
Liverpool
Bournemouth (new date added)
London
Newcastle

Tickets for Gary Barlow's newly announced Bournemouth date go on sale from 09:30 on Friday 11 June 2021. Tickets for all other Gary Barlow tour dates are on sale now. Original tickets remain valid for rescheduled dates.