Fusion Festival 2019 Tickets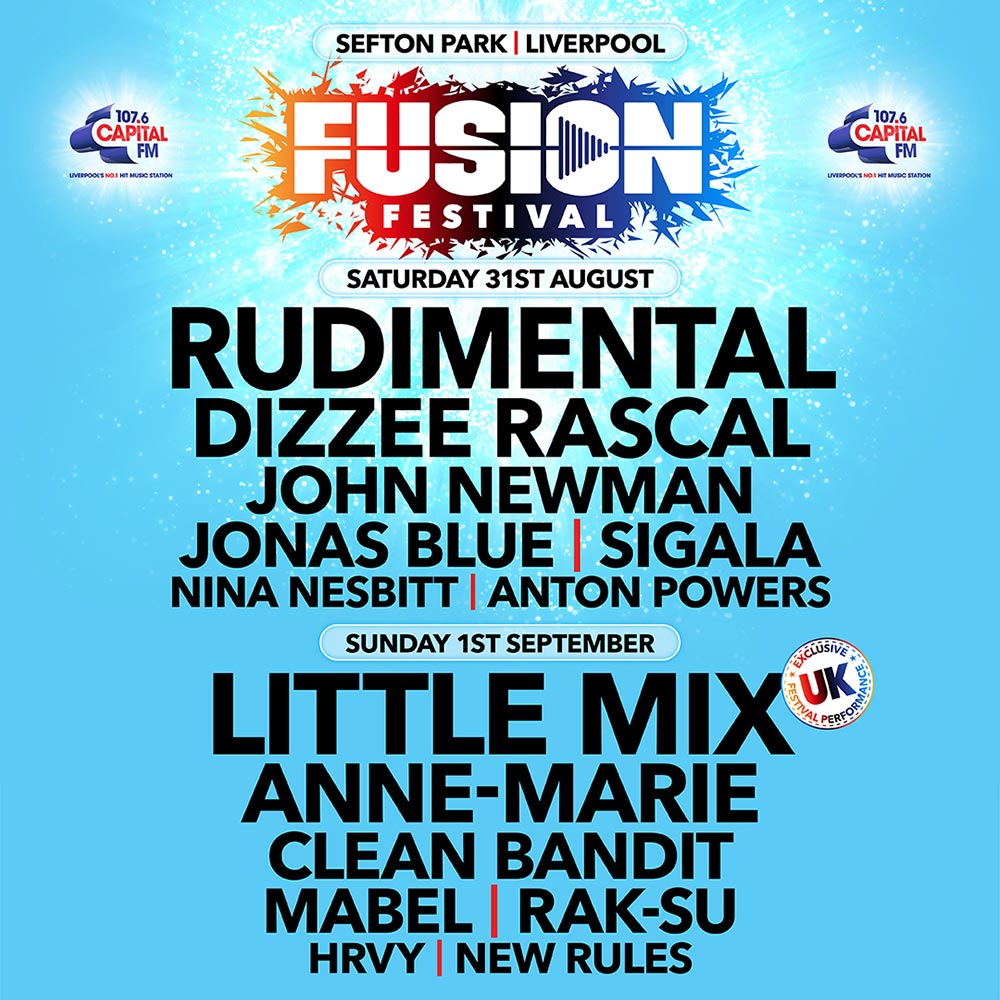 Fusion Festival - Weekend Tickets
Saturday 31 August 2019 - Sunday 1 September 2019 | Sefton Park, Liverpool
About Fusion Festival
Fusion Festival 2019 is a UK music festival which takes place on Saturday 31 August and Sunday 1 September. Fusion Festival in Liverpool takes place in Sefton Park. The festival line up includes headliners Rudimental, Dizzee Rascal and John Newman on Saturday. The Sunday line up also includes headlining sets from Little Mix, Anne-Marie and Clean Bandit. The festival showcases some of the UK's best pop music talent across the Liverpool weekend. Fusion Festival's final line up announcement adds Nina Nesbitt and Liverpool's own talented DJ Anton Powers to the Saturday bill, along with rising R&B star Mabel and New Rules completing Sunday's event.
There are a variety of ticket options available including general admission tickets, Gold Circle tickets, VIP tickets, deposit scheme tickets and day tickets for Saturday and Sunday.
Fusion festival tickets are available now. Get your tickets here.
The creators of Fusion have also launched Fusion Presents, where Kings of Leon will headline on Friday 30 August at the same venue in Sefton Park, Liverpool. Get your tickets here.
Fusion Festival 2019 Line Up Info
FAQs
When is Fusion Festival and what time does it start and finish?
Fusion Festival 2019 is on Saturday 31 August and Sunday 1 September at Sefton Park, Liverpool. Gates open at 12:30 (VIP and Golden Circle at 12.00) with live music acts starting at 14:00 until 22:30.
Where is Fusion Festival 2019 and how do I get there?
Fusion Festival is based in Sefton Park, Liverpool in the UK.
To get to the festival, you can go:
By Car - You can travel by car or public transport. Car parks are clearly signposted, and passes can be purchased in advance at £10 per day through Ticketmaster here. You can also pay £15 on the day. Once you get close to Sefton Park, please follow the festival signage.
By Train - St Micheal's is the closest train station with a 20-minute walk to the festival entrance, and Liverpool South Parkway will also be linked to the festival site with frequent trains.
By Bus - There will be a Fusion Shuttle bus service (£2 per person, per journey) operating each day between Liverpool Lime Street and Fusion Festival from 10:00 to 18:00 and then again at 20:00 to 00:00.

Are there any age restrictions?

Children 14 and under must be accompanied by a responsible adult with no more than three under 14's per adult. Ages five and under are free with a paying adult ticket.

Is Fusion Festival the same as Fusion Presents?

No, Fusion Presents is on Friday 30 August and is brought to you by the same people as Fusion Festival, but has an alternative rock line-up. You will need Fusion Festival tickets to attend on Saturday and Sunday. Get your Fusion Presents tickets here.
What do Fusion VIP tickets include?
VIP Tickets allow you to enjoy the festival in comfort and style. VIP customers have a dedicated entrance that opens up to 30 minutes before the main gates. There is also a private viewing area to watch main stage performances. You have access to the VIP lounge with exclusive VIP food outlets and bar, along with a complimentary meal voucher, souvenir wristband and lanyard. Plus, there will be additional comfortable seating and luxury toilet facilities.
Can I book accessible tickets for the festival?
Yes, the festival offer accessible tickets and also operate a two for one (free PA/carer ticket) policy for eligible guests. Read more about accessible tickets and how to book on our help page.
Can you camp at Fusion Festival in Liverpool?
No, the festival does not have camping facilities, so you will need to exit and re-enter the festival each day.
When will I receive my Fusion tickets?
The latest you will receive your tickets is five days before the event. You can also check ticket dispatch information here.
Can I sell my Fusion Festival tickets?
Yes, if you can no longer go to the festival, you can head to our verified fan to fan ticket exchange site to sell your tickets safely and securely so another fan gets to enjoy the festival. See our Ticket Exchange site here.
Head to our help page for more ticket information.
Please note that Ticketmaster can only deal with questions and issues regarding tickets. For all other enquiries regarding the festival, please visit the Fusion website or contact them directly.
Ticketmaster has published their State of Play Festivals report for 2019 which delves into all aspects of UK festivals. Check out the festival findings here based on research from over 4000 fans.
Top