Alternative and Indie
Frank Turner
Events
Loaded 20 out of 27 events
About
Socially minded anthemic folk-punk troubadour
Pre-order FTHC for presale access to Frank Turner's 2022 UK tour
There's a decades old intersection between the seemingly opposing camps of folk and punk. It could be the whole "three chords and the truth" back-to-basics approach or it could be the shared principles of protest and activism, but ever since a Woody Guthrie-obsessed folkie moved to London, cut his hair and formed The Clash, the relationship has been vital. From Chuck Ragan (Hot Water Music) going folk to Conor Oberst (Bright Eyes, Desaparecidos) going punk, it's a busy bridge.
Frank Turner is very much in the same socially conscious vein as Joe Strummer, along with other political troubadours such as Billy Bragg and Steve Earle. When his punk band Million Dead split in 2005, Turner unplugged and delved into folk and country music on the appropriately titled 2006 EP Campfire Punkrock. The reception was enthusiastic and Turner kept hold of the muse all the way to his 2007 debut album, Sleep Is For The Week.
A relentless work ethic kept Turner touring almost constantly through 2007, although he still found time for another EP, The Real Damage, and a DVD, All About The Destination. It's a wonder that he found any time for recording, but his second full-length, Love, Ire & Song, arrived in 2008, with his third (and first in the US) Poetry Of The Deed following in 2009 and fourth, England Keep My Bones, in 2011.
The retrospective and B-sides collection Last Minutes & Lost Evenings was issued as something of a Frank Turner 101 for prospective US fans, before Turner headed stateside himself to record his fifth album, 2013's Tape Deck Heart, in California. He remained in the US for his sixth album, Positive Songs For Negative People, and his seventh, Be More Kind, which used the election of Donald Trump as a rallying cry to combat racism and hatred with kindness and compassion.
Turner took a surprise left turn with his next album, No Man's Land, which told the stories of 11 important historical women, from blues pioneer Sister Rosetta Tharpe to Nannie Doss (who killed 11 men who had abused her) to Turner's own mother, Rosemary. Bar Turner himself, it was an all-female affair, produced by Catherine Marks (Alanis Morissette, Manchester Orchestra) and featuring a new backing band made up of Charlotte Hatherley (ex-Ash), Holly Madge, Gill Sandell (Emily Barker & The Red Clay Halo) and Andrea Goldsworthy (Paloma Faith). A podcast series accompanied the album.
In 2020, Turner teamed up with long-running punks NOFX for a split release which saw each act cover five of the other's songs. In June 2021, Turner announced that a new album, FTHC (Frank Turner Hardcore), was on its way in February 2022. That September, Frank Turner confirmed a UK tour for January and February 2022 to support the new album.
News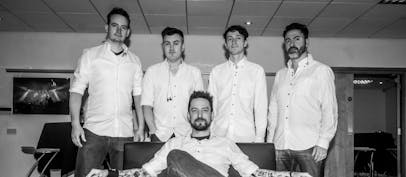 Get tickets early for Frank Turner's 2022 tour
Pre-order FTHC before 17:00 on 21 September 2021 to get presale access to Frank Turner's 2022 UK tour. Presale opens at 12:00 on 22 September 2021.