Clubs and Dance
Fatboy Slim
Events
International Events
1 Events
About
The superstar DJ, producer and songwriter
Norman Cook, who is known by his stage name Fatboy Slim among many other aliases, has topped the charts, winning numerous BRIT, Grammy and MTV Awards for his music as well as setting records for the big way he takes to the decks.
Before he became revered for his floor-filling tunes, Cook played bass for the indie-rock band The Housemartins in the late '80s.
In the '90s, he got into producing and started experimenting with bassline, dub, house and reggae. By 1996, he'd adopted name Fatboy Slim and released the album Better Living Through Chemistry.
His second album – You've Come A Long Way, Baby – arrived two years later and saw him break through all over the world. Not only did it peak at No.1 on the UK albums chart, but it spawned four huge singles: Gangster Tripping, Praise You, The Rockafeller Skank and Right Here, Right Now. That album was also certified four times platinum and led to Fatboy Slim taking home his first BRIT Award for Best British Dance Act in 1999.
In 2000, Fatboy Slim's third record Halfway Between The Gutter And The Stars came out, followed by Palookaville in 2004. That spring he played a free gig on a Rio de Janeiro beach to an estimated 350,000 fans.
Fatboy Slim won an Ivor Novello award for his contribution to music in 2007.
Throughout the '00s and '10s, often donning a Hawaiian shirt, he held numerous club residencies and made many unforgettable live performances playing festivals, stadiums and even boats. In late 2016, Fatboy Slim decided to go even bigger by creating an in-the-round experience, where huge venues like arenas are essentially transformed into nightclubs.
In 2017, he played a big set at Reading & Leeds. Not satisfied with providing just listening and visual pleasure, Fatboy Slim promised festival goers they would "eat my set" because he'd added taste to his live experience. That year he also released the hit club tracks Where U Iz and Boom F**king Boom featuring Beardyman.
Fatboy Slim took his in-the-round experience on a headline arena tour in 2019 and broke records including the biggest capacity DJ event ever held at The SSE Arena, Wembley.
In 2020, due to the coronavirus pandemic, Fatboy Slim started streaming from home unveiling a series of 20 lockdown mixes every Friday during the summer. As part of the mix series, he also released his Back To Mine groove collection.
In early 2021, Fatboy Slim announced the return of his popular in-the-round shows as part of the We've Come A Long Long Way Together Tour in November 2021. On 6 April 2021, he added an extra date to the run at the Brighton Centre on 10 November 2021.
News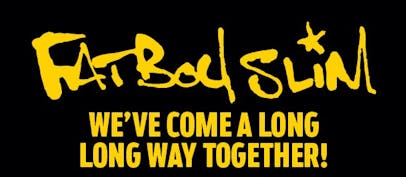 Fatboy Slim adds extra Brighton show to his tour
He'll play a new date at the Brighton Centre on 10 November 2021. Tickets are on sale now.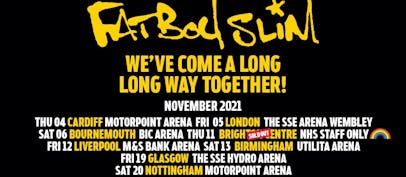 Fatboy Slim announces November 2021 tour
Called the We've Come A Long Long Way Together! Tour, he'll take his immersive in-the-round shows across the UK to turn the country's arenas into unique nightclub experiences.
FAQS
Fatboy Slim is heading across the UK from 4 – 20 November 2021 on his We've Come A Long Long Way Together Tour.

Fatboy Slim will be visiting the following UK cities in 2021:

Cardiff
London
Bournemouth
Brighton (for two shows)
Liverpool
Birmingham
Glasgow
Nottingham

Support for Fatboy Slim's Long Way Together! tour is as follows:

4 November 2021 – Eats Everything and Bklava  
5 November 2021 – Jaguar and Sasha B 
6 November 2021 – Sarah Story and Aldo Vanucci
10 November 2021 – Prock | Fitch and Woody Cook
11 November 2021 – Bodalia and Woody Cook
12 November 2021 – Yousef and Bklava
13 November 2021 – Tom Shorterz and Bodalia
19 November 2021 – Big Miz and Wuh Oh
20 November 2021 – Jaguar and Junior Simba

Tickets for Fatboy Slim's tour dates are on sale now.