Alternative and Indie
Echo and the Bunnymen
Events
International Events
1 Events
Loaded 20 out of 20 events
About
One of the most influential British bands in modern history
Atmospheric post-punkers Echo & The Bunnymen formed in Liverpool in the late '70s out of the ashes of The Crucial Three. When founding member Julian Cope left to form Teardrop Explodes, vocalist Ian McCulloch joined up with guitarist Will Sergeant and a drum machine called Echo, resulting in the group's very first demos. In 1978, they made their official first live appearance as Echo & The Bunnymen at Eric's in Liverpool with Les Pattinson joining on bass.
The band's first single Pictures On My Wall/Read It In Books arrived in 1979, after which the drum machine was replaced by Pete de Freitas. Their debut album Crocodiles landed in 1980, followed a year later by the well-reviewed Heaven Up Here. With their third album Porcupine in 1983, the band not only reached No.2 in the UK album charts but also scored their first top ten single with The Cutter.
Early 1984 saw the release of the band's seminal single (and second top ten hit) The Killing Moon, followed by their critically acclaimed fourth album Ocean Rain. A self-titled album followed suit in 1987, peaking at No.4 in the UK and also becoming their highest charting album in the US.
A turbulent period followed for the band. McCulloch left in 1988 to pursue a solo career, while the band released one album, Reverberation, without him. In 1989, Pete de Freitas was tragically killed in a motorbike crash. McCulloch and Sergeant came back together to form the band Electrafixion in 1995, but in 1997 they reunited with Pattinson once more as Echo & The Bunnymen. Two more albums followed in 1997 and 1999.
The new millennium brought with it a ninth studio album, Flowers, in 2001 and a live album in 2002. Their tenth album Siberia arrived in 2005 and was widely heralded as the band's best since the '80s. A second live album, Me, I'm All Smiles, recorded at O2 Shepherd's Bush Empire on the ensuing tour, was released in 2006. In 2008, they celebrated their 30th anniversary with a new album The Fountain and a show at Radio City Music Hall.
The band continued in earnest through the '10s, embarking on a UK tour in 2013 with James and releasing their 12th album Meteorites in 2015. This was followed by an album of re-recorded classics and two new songs in 2018. Echo & The Bunnymen's enduring relevance was writ large when hit Netflix series Stranger Things and 13 Reasons Why featured their songs Nocturnal Me and The Killing Moon, respectively.
On 3 March 2021, Echo & The Bunnymen announced rescheduled dates from 1 February – 6 April 2022 for their UK tour, celebrating the four decades since their debut album.
News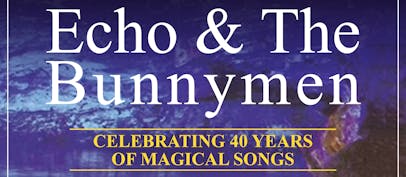 Echo & The Bunnymen announce rescheduled dates
The UK tour celebrating four decades since their debut album has been moved to 1 February – 6 April 2022. Original tickets remain valid.
FAQS
Echo & The Bunnymen are celebrating four decades since their debut album with a UK tour from 1 February – 6 April 2022.

The band will play in the following UK cities:

• Sheffield

• Leeds

• Bournemouth

• Cardiff

• London

• Norwich

• Gateshead

• Liverpool

• Manchester

• Nottingham

• Cambridge

• Bristol

• Northampton

• Birmingham

• Glasgow

• Bexhill

Tickets for Echo & The Bunnymen's 2022 tour dates are on sale now. Original tickets remain valid for rescheduled dates.