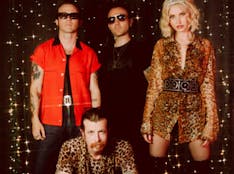 Alternative and Indie
Eagles of Death Metal
Events
International Events
1 Events
Loaded 16 out of 16 events
About
The rockers known for over-the-top swagger, volume and antics
Eagles Of Death Metal were co-founded in 1998 in Palm Desert, California by best friends Jesse "Boots Electric" Hughes and Josh Homme, who is also the frontman for Queens Of The Stone Age.
Despite the band's name, EODM is not a death metal band. Rumour had it that a friend of theirs was performing at a bar and introduced them to the genre, when Homme wondered aloud what a cross between the Eagles and a death metal band would sound like. With that, the Eagles Of Death Metal were born.
The band released the album Peace, Love, Death Metal in 2004, followed by Death By Sexy in 2006 and Heart On in 2008. Their fourth record, Zipper Down, came out in October 2015 and featured the lead single Complexity. EODM are best known for hits like Miss Alissa, Wannabe In L.A., Speaking In Tongues, Cherry Cola, I Want You So Hard (Boy's Bad News) and Save A Prayer, which reached No.53 on the UK official singles chart.
Hughes and Homme are the only permanent members of Eagles Of Death Metal, however Homme rarely performs at live shows because of his QOTSA commitments. Currently, EODM's live touring band includes Hughes along with Jennie Vee on bass, Jorma Vik on drums and Joshua Jove on guitar.
Over the years, Eagles Of Death Metal have attracted numerous collaborators on their albums as well as performing with them on stage during their global tours – including famous faces like Jack Black, Juliette Lewis, Dave Grohl and Kat Von D. They are drawn to EODM's rockabilly-meets-hard rock sound, which boasts an eclectic mix of bluegrass slide guitar with firing drumbeats.
On 13 November 2015, tragedy struck at the Bataclan in Paris when a show that the Eagles Of Death Metal were playing was stormed by terrorists and 89 people lost their lives. Many more died in separate attacks in the French capital that night. A month later, EODM made a highly emotional guest appearance with Irish rockers U2, who had also been performing in Paris at the AccorHotels Arena that night and returned to the city to finish the last two gigs of their tour.
In early 2019, the band released the album Eagles Of Death Metal Presents Boots Electric Performing The Best Songs We Never Wrote, which featured 13 covers of tracks by the likes of AC/DC, KISS, David Bowie, Guns N' Roses and The Ramones, among others. They followed it up with a slot at 2019's Download Festival, a European tour and two big homecoming gigs in Southern California.
In May 2021, EDOM announced a series of shows in the UK in celebration of their 24th anniversary from 22 November – 6 December 2021.
About the tour, Hughes said, "Having been stuck in and around the house for over a year has had me pacing like a caged animal. I cannot wait to let loose and get back out on stage to do my thing for all the lovely people around the world."
News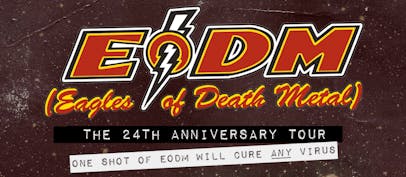 Eagles Of Death Metal announce 2021 headline shows
The 24th Anniversary Tour will cross country from 22 November – 6 December, highlighted by an evening at London's Roundhouse on 2 December 2021. Bones UK will provide support.
FAQS
EODM are celebrating their 24th anniversary with a UK tour running from 22 November – 6 December 2021.

Eagles Of Death Metal will be visiting the following UK cities in 2021:

Brighton
Cardiff
Newcastle
Birmingham
Glasgow
Leeds
London
Nottingham
Manchester
Bristol

Bones UK will support EODM on all dates.

Tickets for Eagles Of Death Metals' 2021 tour dates go on sale from 10:00 on Friday 21 March 2021.