Events
Loaded 10 out of 10 events
About
Bedford pop-inflected rock outfit
Don Broco's roots go back to the late 2000s when vocalist Rob Damiani, guitarist Simon Delaney, drummer Matt Donnelly and bassist Luke Rayner were attending Bedford Modern School together. After secondary school, they went on hiatus to attend university, but made a pact to return to playing post-graduation.
Between 2009 and 2011, Don Broco performed at several UK festivals including Camden Crawl, Underage, Download, Sonisphere, Slam Dunk and Reading & Leeds. Although Rayner departed the band in 2012, they released their debut album Priorities that year and it broke into the UK top 40 singles chart. Tom Doyle also joined the group around that time as the new bassist. The standalone song You Wanna Know came out in 2013 and topped the UK rock singles chart.
Don Broco scored their first UK top 10 album with Automatic, which came out in 2015 and reached the No.6 spot. It also helped them land a support slot on Bring Me The Horizon's 2016 UK tour.
Known for mixing massive hooks with brilliant melodies and clever, observational lyrics, by this time Don Broco's sound had grown to encompass elements of funk, dance and new wave.
In autumn 2016, the band signed with the US independent label SharpTone Records and released the track Everybody, which would become the lead single for their third album.
When Technology arrived in 2018, it was their first to break into the top five of the UK albums chart. Produced by Dan Lancaster (blink-182, Good Charlotte) and Jason Perry (Fatherson, Get Cape. Wear Cape. Fly.), the record was preceded by five other singles: Pretty, Technology, Stay Ignorant, T-Shirt Song and Come Out To L.A. In addition to playing Vans Warped Tour in North America, Don Broco made their seventh appearance at Reading & Leeds on the BBC Radio 1 Stage that summer.
The band embarked on a huge UK tour in 2019 and were nominated for Best British Live Act at the Kerrang! Awards.
In May 2021, Don Broco revealed the track Manchester Super Reds No.1 Fan plus announced their fourth album, Amazing Things, due out on 17 September 2021 as well as a UK tour in October and November 2021 to support it.
Don Broco's 2021 UK tour dates
25 October 2021 – O2 Academy Newcastle
27 October 2021 – Glasgow Barrowland
28-29 October 2021 – Manchester Academy
31 October 2021 – Portsmouth Guildhall
1-2 November 2021 – Nottingham Rock City (and DHP)
4 November 2021 – UEA, Norwich
5-6 November 2021 – O2 Academy Brixton, London
News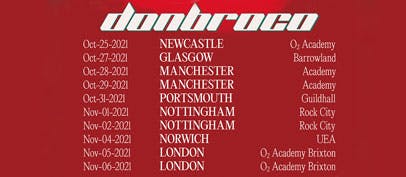 Don Broco announce 2021 UK tour
The Bedford for rockers are hitting the road in support of their latest album this autumn with stops in Newcastle, Glasgow, Manchester, Portsmouth, Nottingham, Norwich and London. Tickets go on sale from 10:00 on Friday 21 May 2021.
FAQS
Don Broco doing two headline sets at Slam Dunk festival on 4 – 5 September 2021 and are touring the UK from 25 October – 6 November 2021 in support of their fourth studio album Amazing Things.

In addition to sets in Leeds and Hatfield for Slam Dunk festival, Don Broco will be visiting the following UK cities in 2021:

Newcastle
Glasgow
Manchester (for two shows)
Portsmouth
Nottingham (for two shows)
Norwich
London (for two shows)

Tickets for Don Broco's tour dates go on sale from 10:00 on Friday 21 May 2021. Tickets for Slam Dunk festival are on sale now.