Events
We're sorry, but we couldn't find any events
About
Brighton-based alt-rock trio
Demob Happy formed in Newcastle in 2008 when vocalist Matthew Marcantonio, drummer Thomas Armstrong and guitarists Adam Godfrey and Mathew Renforth met as teenagers in their native hometown. The band didn't have an easy start – battling in court to get their gear back from the noise police, making music videos on a £10 budget and hastily recording and producing their music before returning the gear to the shop for a refund. This included their self-released 2011 single Rattlesnake and the 2012 EP You Shook The Soul.
In the mid '10s, Demob Happy moved to Brighton and found a home in the city's fertile alt-rock scene. After signing with the label So Recordings in 2015, the band unveiled a limited-edition Record Store Day release, the Young & Numb EP, with their debut album Dream Soda following that autumn.
In 2016, Renforth departed and Demob Happy continued as a three-piece, building a reputation for raucous live shows and freewheeling spirit. The 2017 single Dead Dreamers, produced by Tom Dalgety (Pixies, Royal Blood), was followed by their sophomore album Holy Doom in spring 2018. To record it, Demob Happy tuned out all outside distractions by decamping to a cottage in Carmarthenshire, Wales with no phone or internet access. They wrote all the record's songs over a pair of two-week sessions. That October, the trio promoted Holy Doom by opening for Jack White on the UK leg of his Boarding House Reach tour.
The band remained busy through 2019, releasing the singles Less Is More and Autoportait, appearing at Mad Cool festival in Madrid and supporting The Amazons on their UK tour.
In June 2021, Demob Happy announced a six-date UK headline tour in August and September 2021.
News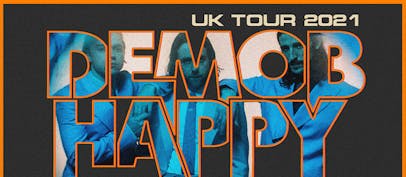 Demob Happy announces 2021 UK tour
The English alt-rock trio will be playing shows across the country this August and September. Tickets go on sale from 10:00 on Friday 11 June 2021.
FAQS
Demob Happy are touring the UK from 26 August – 9 September 2021.

Demob Happy will be visiting the following UK cities in 2021:

Bristol
Oxford
Manchester
Northumbria
Birmingham
London

Tickets for Demob Happy's 2021 tour dates go on sale from 10:00 on Friday 11 June 2021.