About
Laid-back comedian who blends side-splitting storytelling with insightful and provocative social commentary
The son of university professors, Dave Chappelle grew up dividing his time between Ohio where his father taught and Maryland where his mother taught. He started performing stand-up at the young age of 14, appearing at local venues and later on Star Search.
Chappelle attended the Duke Ellington School of the Arts in Washington, DC and after graduating in 1991 moved to New York City to pursue comedy full-time. He landed roles on television and in films early on, including Mel Brooks' Robin Hood: Men In Tights in 1993, The Nutty Professor in 1996, Con Air in 1997 and Half Baked – which he'd co-written with Neal Brennan – in 1998.
At the same time, Chappelle's stature was growing on the stand-up stage. Garnering a reputation for his rascal sensibility, shows often contained no-holds-barred takes on race and society, delivered with a wry, impish charm. His first one-hour stand-up special, Dave Chappelle: Killin' Them Softly, came out in 2000.
In 2003, he launched Chappelle's Show, a weekly sketch comedy programme with musical performances on Comedy Central that became massively popular. Unique for its unapologetic vulgarity, the show often parodied racial stereotypes. However, Chappelle walked away from the groundbreaking series and a rumoured network offer of over $50 million in 2005 to focus on his stand-up career. He also took a trip to South Africa at the time to escape the stress of fame and reflect.
In the decade that followed, Chappelle shifted between spells of reclusiveness and returning to stand-up, either by heading out on tour – throughout North America, the UK and Australia – or often just by making impromptu appearances at intimate comedy clubs. That's where he began delivering long sets, breaking records in 2007 with a show that lasted more than six hours.
Chappelle was featured on the cover of GQ magazine's Man of the Year issue in 2015. He returned to television in 2017 with a couple of critically acclaimed Netflix specials: The Age Of Spin filmed in Hollywood and Deep In The Heart Of Texas recorded in Austin. That year Rolling Stone magazine also ranked Chappelle No.9 on their list of the 50 Best Stand-Up Comics of All Time, and he won an Emmy Award for his guest appearance on the hit comedy sketch show Saturday Night Live.
In 2018, Chappelle released Equanimity & The Bird Revelation, another Netflix special that scored him a second Emmy for Outstanding Variety Special. He also played a series of stand-up gigs in the UK and returned later that year with Jon Stewart for two shows at London's Royal Albert Hall.
Chappelle became the 22nd recipient of the Mark Twain Prize for American Humour, considered a top honour in comedy, in early 2020. He was saluted by an all-star line-up of entertainers that included Aziz Ansari, Erykah Badu, John Legend, Bradley Cooper and many more at the Kennedy Centre.
Later that year, Chappelle was among the first entertainers to ease back into live performances amid the ongoing coronavirus pandemic by hosting a series of intimate outdoor events called Dave Chappelle & Friends: A Talk With Punchlines near his Ohio hometown. One of the first shows on 6 June 2020 ended with him delivering a powerful and moving performance called 8:46 in which he shared his thoughts about George Floyd's death, Black Lives Matter, the protests and everything going on in the world at the time.
In 2021, Chappelle launched a podcast called The Midnight Miracle that he hosts alongside two of his oldest friends, New York rappers Talib Kweli and Yasiin Bey. He also announced a run of stand-up shows at London's Eventim Apollo that were rescheduled to October 2021, with a new date added.
News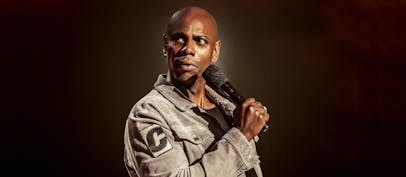 Dave Chappelle reschedules tour + adds new date
The comedian is moving his London shows to October 2021. Original tickets remain valid. Due to demand, an extra date has been added on 20 October 2021, with tickets going on sale from 10:00 on Wednesday 4 October 2021.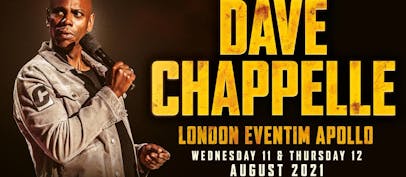 Dave Chappelle announces London dates
One of the most respected entertainers of his generation, the comedian is bringing his sharp, irreverent wit back to the capital for two shows in August 2021.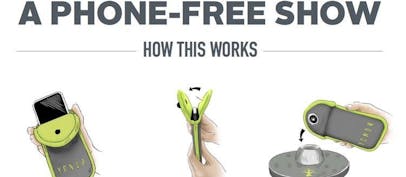 Dave Chappelle's shows utilise YONDR
There is a strict NO CELL PHONES ALLOWED policy for his August 2021 performances. Upon arrival, all phones will be secured in YONDR pouches that will be unlocked after the show.
FAQS
Dave Chappelle is coming to London for six shows from 13 – 21 October 2021.

Dave Chappelle is performing a series of stand-up gigs at London's Hammersmith Apollo in October 2021.

No mobile phones, cameras or recording devices will be allowed at Dave Chappelle's London shows. 

You are advised to leave your phones in your cars or at home. Anyone who brings a mobile phone will be required to place it in a locked Yondr pouch that will be unlocked at the end of the show. Everyone is subject to a pat down and wanding.  Anyone caught with a mobile phone inside the venue will be immediately ejected. 

Tickets for Dave Chappelle's newly announced 20 October 2021 tour date go on sale from 10:00 on Wednesday 4 October 2021. Tickets for all Dave Chappelle's previously announced tour dates are on sale now. Original tickets remain valid for rescheduled dates.