Rap and Hip-Hop
D Double E
About
One of grime's all-time most popular mic controllers
Darren Dixon is best known by the artist name D Double E, or just DEE for short. Born in East London, he began his music career in the mid '90s as DJ Dan. Raised on reggae and rap, he started out spinning jungle beats before getting into garage and then making his voice heard in the early grime scene.
Originally part of the N.A.S.T.Y Crew alongside Kano, Jammer and many more, he left in 2004 and co-founded the grime collective Newham Generals with Footsie and Monkstar. After releasing The Best Of Newham Generals mixtape in 2006, Monkstar departed, while DEE and Footsie continued on as the frontmen. In 2009, they unveiled the album Generally Speaking and have continued to collaborate over the years.
Since 2010, DEE embarked on a solo career, releasing the track Street Fighter Riddim, which would go on to become a grime classic. Over the next half decade, he not only set up his own label called Bluku Music, but also unveiled a steady steam of singles including Pumpin' It Out, Be Like Me, Wolly, Lovely Jubbly, Bad 2 Tha Bone, Grim Reaper, How I Like It and Bluku, Bluku.
A master at skillful word play, DEE's music is known for being irreverent as well as for having a unique take on street philosophy.
D Double E's debut album Jackuum! arrived in summer 2018, peaked at No.61 on the UK albums chart and spawned the singles Shenanigans and Better Than The Rest.
Throughout his career, DEE's collaborative discography has been impressive. He's worked with The Streets, Swindle, The Bug, Katy B, Rustie, Lethal B and Starkey as well as featured on Wiley's Joe Bloggs, Skepta's Ladies Hit Squad, JME's Again and Chip's School Of Grime. He's also been a regular on the summer festival circuit playing twice at Glastonbury and at Wireless, Reading & Leeds, Creamfields, Bestival, Lovebox, Field Day and more.
In October 2020, D Double E released his second studio album D.O.N (Double Or Nothing) and announced a five-city UK for December 2021 to support it.
News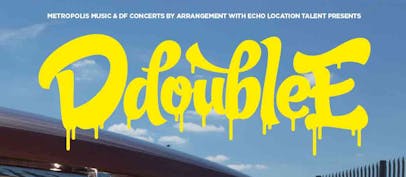 D Double E reschedules tour
The grime MC has moved his UK tour to December 2021. Original tickets remain valid for rescheduled dates.
FAQS
D Double E is touring the UK from 13 – 17 December 2021.

D Double E is visiting the following UK cities in 2021:

Manchester
Leeds
Birmingham
London
Bristol

Tickets for D Double E's 2021 tour dates are on sale now. Original tickets remain valid for rescheduled dates.