Alternative and Indie
Culture Club
Events
We're sorry, but we couldn't find any events
About
UK pop insitution behind Karma Chamaleon and Do You Really Want To Hurt Me
Singer-songwriter Boy George joined bassist Mikey Craig and drummer Jon Moss to form a band called In Praise Of Lemmings in 1981. Within a year, they had changed their name to Culture Club, added Roy Hay on guitar and keyboards, and released three singles including the reggae-influenced Do You Really Want To Hurt Me. It went straight to No.1 on charts all over the world, quickly putting them on course to become one of the biggest bands of the '80s.
At the end of 1982, Culture Club released their first full-length album Kissing To Be Clever, which featured those singles along with the huge hits Time (Clock Of The Heart) and I'll Tumble 4 Ya.
Three more albums followed – 1983's Colour By Numbers, 1984's Waking Up With The House On Fire and 1986's From Luxury To Heartache – before the new wave band's dissolution in late 1986. They contained numerous chart-toppers including Karma Chameleon, Church Of The Poison Mind, Victims, The War Song and It's A Miracle.
To date, Culture Club have sold more than 150 million records worldwide. As the first multi-racial band with an openly gay frontman known for his glamorous androgynous style, they broke stereotypes and challenged norms while establishing themselves as icons of British musical history and popular culture. Culture Club also won numerous awards including three BRITs for Best British Breakthrough Act, Best British Group and Best British Single (for Karma Chameleon), one Grammy for Best New Artist and two Ivor Novello Awards for Best Pop Song and Best Selling A-Side (both also for Karma Chameleon). Their song Time (Clock Of The Heart) was named No.107 on the Rock And Roll Hall Of Fame's list of 500 Songs That Shaped Rock And Roll.
Culture Club have reunited for several performances and projects since splitting up. After about 12 years, they got back together and released the 1999 album Don't Mind If I Do before calling it quits again in 2002. They also returned in 2018 with their sixth studio album Life – containing their first original material in nearly 20 years – and went out on a huge tour to support it.
In late 2020, Culture Club announced a special exclusive livestream from The SSE Arena, Wembley on 19 December 2020 called Rainbow In The Dark (find more details in the FAQs).
News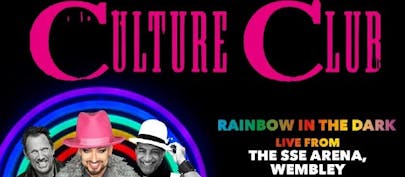 Culture Club announce special livestream
Boy George et al. are doing an exclusive show on 19 December, livestreamed for audiences around the world.
FAQS
Culture Club have announced a livestream from The SSE Arena, Wembley on 19 December 2020 titled Rainbow In The Dark.

Tickets for Culture Club's special livestream on 19 December 2020 are on sale now

Rainbow In The Dark will be streamed online. Ticket holders will receive instructions on how to watch the livestream.