Events
Loaded 19 out of 19 events
About
Mancunian quintet who evolved from raw rockers to groove-laden indie
Coming from Manchester and playing anthemic indie rock will lead to some inevitable comparisons. So it proved for Courteeners, whose arrival in 2008 was seen in some quarters as the city's fourth wave, after those spearheaded by The Smiths, The Stone Roses and Oasis. The quartet even worked with The Smiths and Morrissey producer Stephen Street on their 2008 debut St. Jude.
In reality, Courteeners' debut aligned them more closely with other '00s UK indie movers and shakers like Kaiser Chiefs, The Kooks, Kasabian and Editors. Finding its place among the guitar band boom, it peaked at No.4 in the UK album charts.
The brash Mancunian attitude of their debut was totally absent on the band's second album, 2010's Falcon, which found the quartet easing back and opening up their sound with the addition of brass and strings. Courteeners split the difference between the two poles on their third album, 2013's Anna. Synths and strings added a sweeping 80s-influence to their fourth offering, 2014's Concrete Love.
When the band returned with Mapping The Rendezvous in 2016, almost all traces of their raw, raucous debut had been smoothed out into a mature pop sheen with an emphasis on danceability. Courteeners followed this path resolutely through to More. Again. Forever., emerging with an even tighter set that delved into electronica and disco grooves.
In 2021, the band announced a huge outdoor homecoming show at Emirates Old Trafford with support from Johnny Marr, Blossoms, The Big Moon and Zuzu as well as performances at Scarborough Open Air Theatre and TRNSMT for September 2021. In advance of these appearances, Courteeners revealed a series of warm-up dates in Leicester, Stoke-on-Trent and Halifax.
News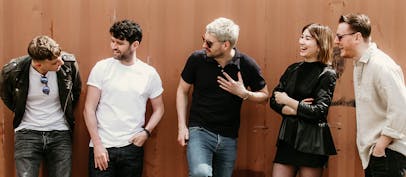 Courteeners announce three warm-up dates
In advance of their big shows at TRNSMT, SOAT and Emirates Old Trafford, the band will perform in Leicester on 7 September plus Stoke-on-Trent and Halifax on 21 & 22 September 2021. Tickets go on sale from 09:00 on Friday 16 July 2021.
FAQS
Courteeners have announced UK appearances for 2021 at Scarborough Open Air Theatre on 8 September, TRNSMT on 10 September and Emirates Old Trafford cricket ground on 25 September 2021. In advance of these shows, the band will play gigs in Leicester on 7 September, Stoke-on-Trent on 21 September and Halifax on 22 September 2021.

Courteeners will be appearing at the following UK festivals, venues and cities in 2021:

O2 Academy 1 Leicester
Scarborough Open Air Theatre
TRNSMT, Glasgow
Victoria Hall, Stoke-on-Trent
Victoria Theatre, Halifax
Emirates Old Trafford, Manchester

Special guests for Courteeners at Emirates Old Trafford Cricket Ground are Johnny Marr, Blossoms, The Big Moon and Zuzu.

Tickets for Courteeners' newly announced September 2021 warm-up shows go on sale from 09:00 on Friday 16 July 2021. Tickets for all of Courteeners other appearances are on sale now.