More Arts, Theatre & Comedy
Cirque du Soleil: Corteo
Events
Loaded 20 out of 51 events
About
An extravagant spectacle where illusion teases reality
One of Cirque du Soleil's most enchanting arena productions, Corteo, is coming to the UK for the very first time.
The word "corteo" means cortege in Italian – and it's truly a joyous procession.
This unique production by the revered circus company first premiered in Montreal under the big top in 2005. Since then and including its transformation into an arena show in 2018, Corteo has amazed audiences of over nine million people in 20 countries on four continents. Its cast includes 51 acrobats, musicians, singers and actors from all around the world.
Essentially a festive parade imagined by a clown, Cirque du Soleil's Corteo features jaw-dropping aerial feats in a timeless celebration. It merges the passion of the actor with the grace of the acrobat, plunging audiences into a theatrical world of comedy, fun and spontaneity situated in a mysterious space between heaven and earth.
Corteo boasts staging that brings the audience into a theatrical atmosphere like never before. Inspired by the Eiffel Tower, the hand-painted curtains convey a grandiose feeling – one that also sets the tone for the poetic enchantment.
The storyline goes something like this: A clown pictures his own funeral taking place in a carnival atmosphere, watched over by quietly caring angels. Juxtaposing the large with the small, the ridiculous with the tragic and the magic of perfection with the charm of imperfection, the show highlights the strength and fragility of the clown, as well as his wisdom and kindness, to illustrate the portion of humanity that is within each of us. 
In March 2021, Cirque du Soleil rescheduled its tour of Corteo, with the show now visiting The O2 in London from 13 – 17 July 2022 and then returning to First Direct Arena in Leeds from 27 – 30 October 2022.
News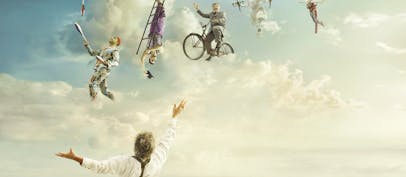 Cirque du Soleil reschedule dates + add two London shows
The acclaimed circus company have moved their UK tour of Corteo to July 2022 in London and October 2022 in Leeds. Two extra dates were added in London, with tickets on sale from 14:00 on Friday 12 March 2021.
FAQS
Cirque du Soleil: Corteo will visit the UK twice. The show will come to London from 13 – 17 July 2022 and Leeds from 27 – 30 October 2022.

Cirque du Soleil: Corteo will play at The O2 in London in July 2022 and then at the First Direct Arena in Leeds in October 2022.

Tickets for Cirque du Soleil: Corteo's two newly added London shows go on sale from 14:00 on Friday 12 March 2021. Tickets for all other Cirque du Soleil tour dates are on sale now. Original tickets remain valid for rescheduled dates.