Events
We're sorry, but we couldn't find any events
About
Prolific solo artist as well as the heart and soul of the Pretenders
Get the album Standing In The Doorway: Chrissie Hynde Sings Bob Dylan here
Akron, Ohio native Chrissie Hynde fell in love with rock'n'roll as a teenager while attending concerts with her friends. She learned to play guitar, but only dabbled in music at that time.
Hynde joined a band named Sat. Sun. Mat. while attending Kent State University to study art. She was present in 1970 when the National Guard opened fire on a crowd of demonstrators and knew one of the four students who lost their lives. Hynde dropped out of school shortly after the shootings.
Over the next two years, she continued to not only immerse herself in rock – driving to Cleveland regularly to see her favourite performers – but also in drinking, drugs and bikers.
Feeling restless in the US, in 1973 Hynde moved to London, where she met journalist Nick Kent and started writing articles for the music magazine NME. After a short stint there, she worked at SEX, Vivienne Westwood and Malcolm McLaren's clothing boutique, and then travelled to France and back to Ohio – all while attempting to join or form bands of her own.
Hynde returned to England again in 1978, arriving just in time to experience the dawn of the punk era. This was also when she struck gold musically by meeting three like-minded spirits – guitarist and keyboardist James Honeyman-Scott, bassist Pete Farndon and drummer Martin Chambers – with whom she formed the Pretenders. Blending punk with traditional rock, the band came to fame in 1980 with the UK No.1 single Brass In Pocket.
Led by Hynde as the lead vocalist and rhythm guitarist for more than four decades the Pretenders were responsible for a slew of timeless songs including My City Was Gone, Back On The Chain Gang, Precious, Middle Of The Road, I'll Stand By You and 2,000 Miles.
Tough and tireless, Hynde endured much turmoil including losing two band members to drug overdoses plus she managed to raise children at the peak of her fame. Never afraid to speak her mind, she became a pioneer for women while navigating the male-dominated rock world of the late '70s and '80s.
About 30 years after forming the Pretenders, Hynde launched her solo career in order to experiment with different material and new collaborators. In 2010, she teamed up with Welsh songwriter JP Jones and his band the Fairground Boys to release the album Fidelity!
A long-time vegetarian, animal rights activist and outspoken environmentalist, she also opened The VegiTerranean vegan restaurant in her hometown of Akron that same year, but it closed in 2011.
Hynde's power-pop debut solo album Stockholm arrived in 2014. Recorded in Sweden and created with the notion of blending the styles of ABBA and John Lennon, she wrote its songs with Björn Yttling of Peter Björn And John. Hynde recruited friends to play guitar on a couple of tracks – Neil Young on Down The Wrong Way and tennis star John McEnroe on A Plan Too Far.
In 2015, she published the book Reckless: My Life As A Pretender. The no-holds-barred memoir was filled with her fearless candor as well as captured her enduring belief in the power of rock'n'roll.
Hynde made a detour into jazz with 2019's Valve Bone Woe, an album whose tracklist also featured a blend of rock and pop classics.
In addition to her music, Hynde remained passionate about art through the decades. Westwood and Andreas Kronthaler even transformed several of her abstract paintings into prints for their spring and summer 2021 collection, donating to Hynde's no kill dairy farm initiative Ahimsa Milk in return.
Also in 2021, Hynde announced her tribute to one of her enduring inspirations with the album Standing In The Doorway: Chrissie Hynde Sings Bob Dylan. Made with Pretenders' guitarist James Walbourne, the project comprised nine renditions of Bob Dylan's songs. It was released digitally in May – a few days before Dylan's 80th birthday – alongside the film Tomorrow Is A Long Time directed by Michael Nunn and William Trevitt that followed their creative process.
In June 2021, Hynde announced a pair of socially distanced shows at the Royal Opera Theatre in London on 29 and 30 July along with four shows at Queens Hall in Edinburgh from 22 – 25 August 2021.
News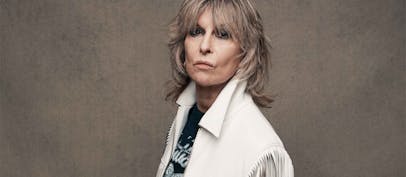 Chrissie Hynde announces socially distanced shows
The successful solo artist as well as frontwoman of the Pretenders is playing at London's Royal Opera House on 29 – 30 July and Edinburgh's Queens Hall on 22 – 25 August 2021.
FAQS
Chrissie Hynde is playing some socially distant concerts in London on 29 – 30 July and Edinburgh on 22 – 25 August 2021 .

Chrissie Hynde is playing two shows this summer at London's Royal Opera House and four shows at Edinburgh's Queens Hall.

Tickets for Chrissie Hynde's tour dates go on sale from Friday 25 June 2021 at 12:00 (midday). You can get tickets early for her London dates in our presale which opens from Thursday 24 June 2021 at 12:00 (midday).