More Sport
Cazoo Players Championships
Events
Loaded 17 out of 17 events
About
One of snooker's biggest tournaments
Boasting high stakes with a total prize fund of £385,000, the Cazoo Players Championship is more than just a trophy and title.
The ranking tournament on the World Snooker Tour (WST) has roots dating back to 2011. Called the Players Tour Championship Finals, it took place at The Helix in Dublin, with Shawn "The Magician" Murphy becoming the event's first winner.
The competition originally consisted of the top 24 players, before expanding to 32 players in 2013. There have also been a variety of different sponsors, venues and formats over the years.
In 2017, the main event was retitled the Players Championship as well as slimmed down to an elite field of the top 16 snooker players from the season's one-year ranking list. Held in Llandudno, Wales, Judd Trump from Bristol took home the title.
Ronnie O'Sullivan put in a pair of impressive performances to claim victory in Llandudno in 2018 and Preston in 2019, with Trump winning back the title in Southport in 2020. 
In 2021, the Cazoo Players Championship was held at Marshall Arena in Milton Keynes. John Higgins lost only four frames on his way to lifting the trophy for his first time. His 31st ranking win, it was also his first ranking title in three years and saw him beat the likes of cue kings O'Sullivan and Trump, as well as Mark Selby and Neil Robertson.
Organisers announced the Cazoo Players Championship would head to Wolverhampton in 2022. Held from 7 – 13 February, this will be Aldersley Leisure Village's first time staging a major snooker event with a strong field expected to battle it out again.
News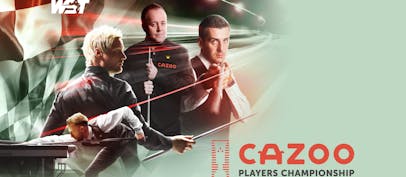 Cazoo Players Championship on cue for 2022
One of snooker's biggest tournaments is heading to Wolverhampton next year when the sport's leading stars will compete in the world-ranking event from 7 – 13 February 2022. Tickets on sale now.
FAQS
The Cazoo Players Championship, one of snooker's biggest tournaments, will take place from 7 – 13 February 2022.

The Cazoo Players Championship is heading to Aldersley Leisure Village in Wolverhampton in 2022.

Tickets for Cazoo Players Championship's 2022 snooker tournament are on sale now.