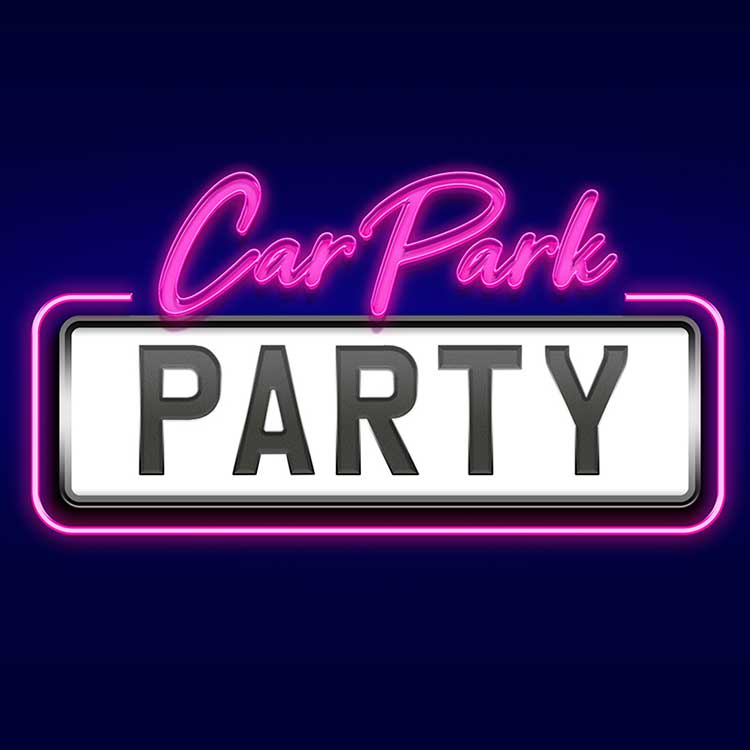 ABOUT Car Park Party
Car Park Party is bringing you a safe, socially distanced, American drive-in experience! Enjoy Car Park Comedy, Car Park Karaoke and Car Park Theatre, with more entertainment still to be announced.
This means that even in these unusual times you can still laugh out loud at a stand-up gig, belt out karaoke tracks or get swept up in a theatrical production with your family and friends - all from the comfort of your own car.
Being launched this summer, Car Park Party is providing some much-needed escapism for live entertainment lovers - while keeping you cocooned in the security of your vehicle the whole time.
FAQ
Who is behind Car Park Party?
Created by Coalition Agency, Car Park Party brings together top names from the worlds of karaoke, comedy, theatre and family entertainment for a socially distant drive-in experience.
What events can I choose from?
Currently, there are three different Car Park Party events, with more entertainment announcements to follow.
Car Park Comedy - Partnering with the world-famous Comedy Store, they have 40 years' experience guaranteed to get you giggling. Lorryloads of laughs are ensured with big names and 'up and coming' talent teaming up to put smiles on faces everywhere.
Car Park Karaoke - Can you imagine a car sing-along? The Massaoke Band, one of the most exhilarating live acts around, will play the greatest anthems of all time while giant screens project the lyrics. Having performed at festivals like Glastonbury and Latitude as well as for the Rugby World Cup, you can trust them to bring the party wherever they appear. Enjoy three different themes:

Family Movies featuring hits from Frozen, Aladdin, The Greatest Showman, Jungle Book, Mamma Mia!, Grease, Mary Poppins and more
Back To The '80s with songs from A-ha, Queen, Bonnie Tyler, Bon Jovi, Whitney Houston, Madonna, Journey and more
A Night At The Musicals with music from Grease, Mamma Mia!, The Greatest Showman, Frozen, Aladdin, Les Misérables, Jungle Book, The Phantom Of The Opera and many more

Car Park Theatre - In partnership with the award-winning Birmingham Stage Company, prepare to meet the most famous, infamous and dangerous people in British history! These figures will come alive before your eyes in Horrible Histories: Barmy Britain. Will you be shaken or stirred by Richard III? Can you beat battling Boudicca? Will you lose your heart or head to horrible Henry VIII? They'll all be here, along with dastardly Dick Turpin, murderers Burke and Hare, gunpower Guy and many more. Entertaining for all the family, this is a peek at the country's past with the nasty bits left in!

Please note: All events are also subject to license and all times are subject to change.
Where is Car Park Party and how do I get there?
All attendees must arrive by car. Car Park Party is being held at the following venues:
Powderham Castle, Kenton, EX6 8JQ
Henley Festival, Henley-on-Thames, RG9 2LY
How much are tickets for Car Park Party?
At Powderham Castle, there are up to three sessions per evening. Early bird tickets are available for £25 per car plus booking fee for the first 25 cars per session. The cost thereafter for tickets is £35 per car plus booking fee.
At Henley Festival, there are two sessions per evening. The cost for tickets is £35 per car plus booking fee.
Is there a limit on tickets?
No, however you will be required to purchase one ticket per vehicle.
What happens if the government changes guidelines?
All tickets have a 100% money back guarantee, so if government guidelines change or in the event of cancellation, full refunds will be given.
Is there an age limit for the events?
Due to the use of some adult language, the recommended minimum age for Car Park Comedy is 18.
Is there a limit on people in cars?
No, but you must adhere to your vehicle's legal limits.
Is it safe to go to Car Park Party?
Organisers have been working closely with local authorities to make sure that Car Park Party is in line with the latest social distancing measures. They will be adhering to all the current Covid-19 social distancing guidelines to ensure everybody has an enjoyable and very safe experience.
How is the parking done at Car Park Party?
A traffic management team will be on site and all vehicles will be parked two metres apart, with number plates checked on entry. Plus, the traffic management team will ensure that small cars are not behind 4x4s – in such cases you will be directed to park in a more appropriate place.
How do I present my tickets to enter?
Tickets will be scanned through the windows, so no human contact is necessary.
Will there be food available to purchase?
There will be a range of food and beverages available at the events that will adhere to all the COVID-19 government guidelines.
Will there be toilets available at Car Park Party?
Toilet facilities will be provided with social distancing health and safety management and sanitisation measures in place.
Will I be allowed out of my car?
Only to use the toilets and you must observe social distancing guidelines.
Is Car Park Party only for people from the same household?
Please refer to the current government advice on mixing households and social distancing.
Is there hearing assistance available for guests?
No, all audio is controlled by your own vehicle.
Is there disabled access at Car Park Party?
All vehicles will enter through the same route, however accessible toilets will be provided.
Can you leave your car overnight if you are drinking?
No, vehicles can't be left on site. You must have a designated driver if you are drinking.
Do I have to leave straight after the event has finished?
Yes, for your own safety you will be asked to exit the site when your event finishes.
Can I bring my boat?
No. (But… maybe next year!?)